Everybody makes too much efforts to get his interior walls perfectly functional and beautiful to look at! We always need certain different types of decors and stuff for proper functioning and visual attractiveness of our interior wall areas! For all fancy and functional statements of your interior wall areas, we have provided here this mini list of 12 DIY pallet ideas that guides you for all the detail that how to reinstall pallets and put together those pallet leftovers for diverse types of wall organizers, wall signs and also for precious wall decors!
Let the single pallet slats or cut down bottoms of pallets come with custom hardware hooks for gorgeous wall hooks, coat racks and custom types of organizers that can even hold your key chains, mails and other types of accessories beautifully! Build stylish towel racks for bathroom wall and also cloth storage tower with pallets, get inspired of given creative suggestions and samples!
Just put together the single slats of pallets to build custom wooden boards which can be painted for lovely wall art, can be overwritten for quoted love signs and can be added with custom metal or wooden accents for praiseworthy religious signs or shop signs also! The given cock wall art and mother's love wall art sign are perfect examples in this regard!
Pallet Mail & Accessory Organizer: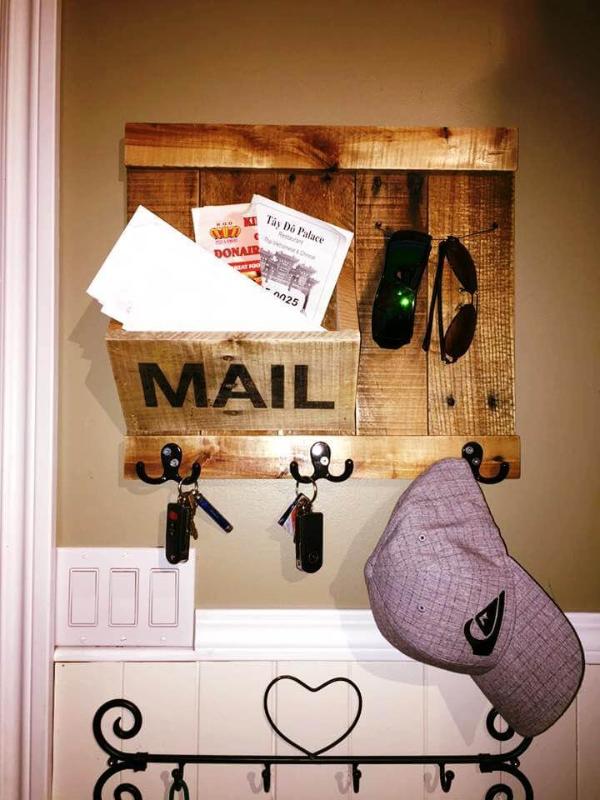 Here we would like to share this handsome pallet gift, an all in one pallet wall organizer, built without spending a bit of money!! Few of pallet slats and some hardware hook have been used for this mail and accessory organizer!
Pallet Sliding Gate: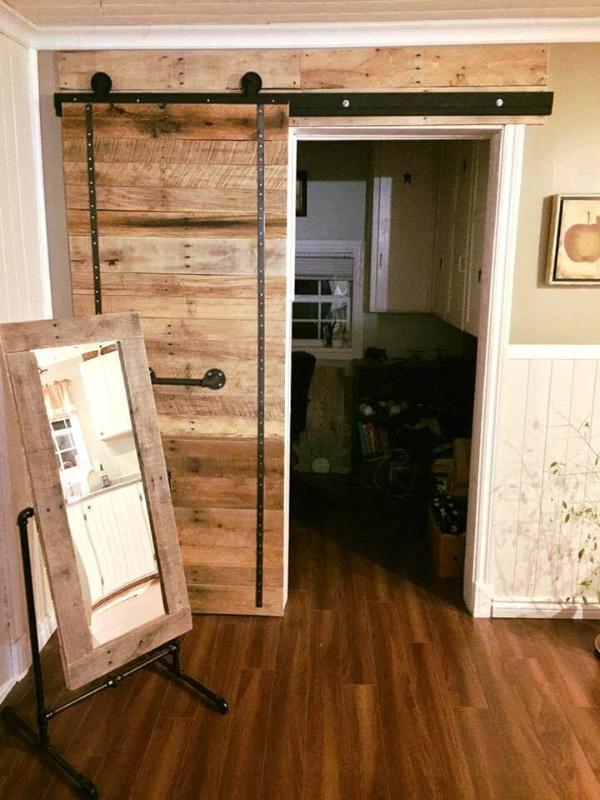 Put together separated pallet boards again for building long living wooden door, now just install the well suiting hardware to set them as security barriers to your rooms and living space! Here is a precious sliding gate made of pallets, inspired of old Jame's Bond movies!
Self-Standing Pallet Mirror with Metal Pipe Base: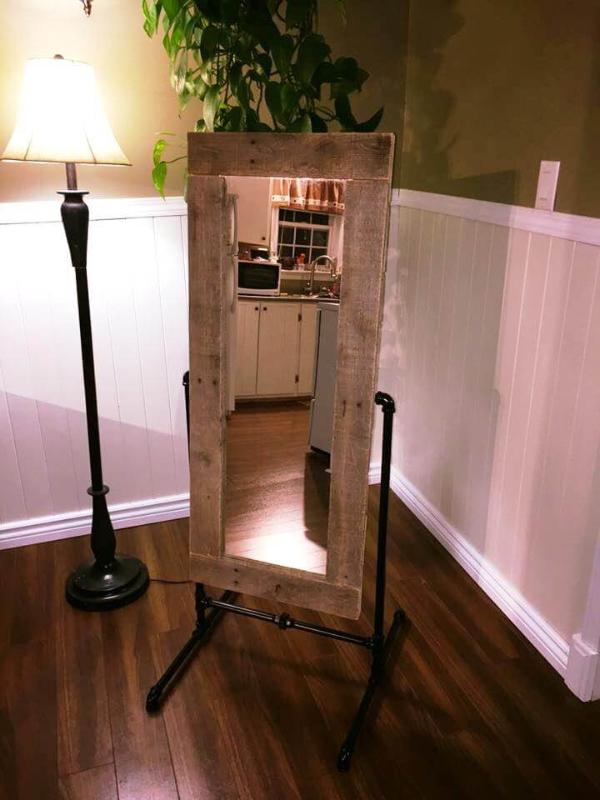 Few pieces of mirror, some pallet slats and some old pipes have been recycled for this outstanding output, an accent self-standing rustic mirror!
Pallet Blanket or Towel Rack: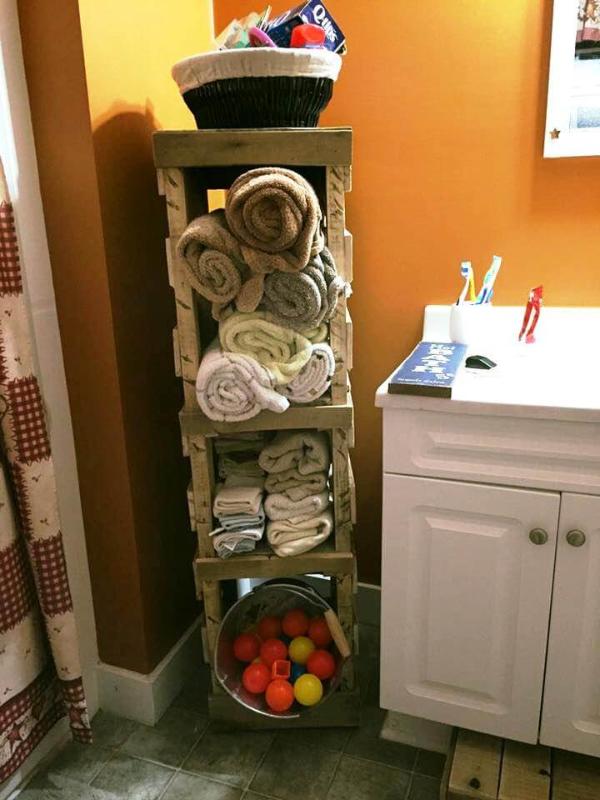 Grab pallets to install precious wooden towers with custom built-in compartments, will be all mind-blowing for storage and display purposes, this precious towel and blanket rack is a beautiful example of it!
Wooden Pallet Sliding Gate: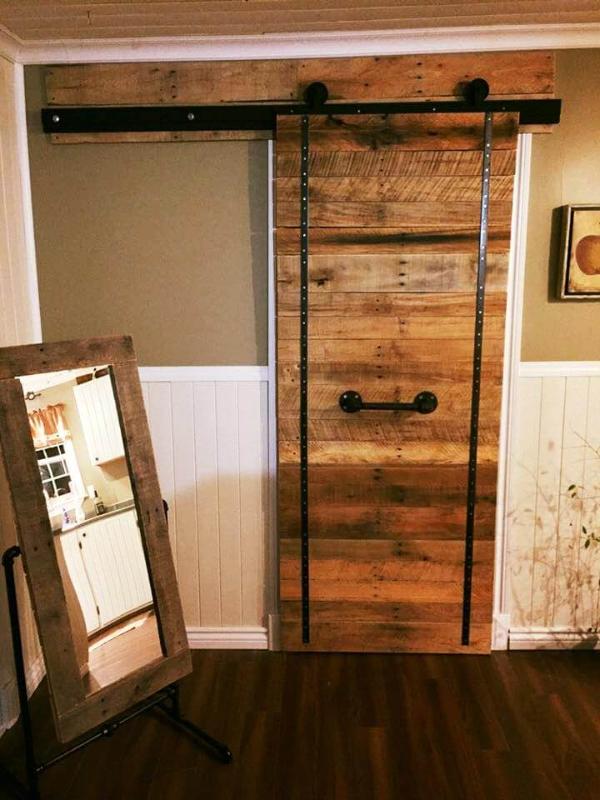 Reuse pallets for installation of some cool sliding gates, will help you to make some room of home extra private! Get the latest hardware sliding systems to do so!
Pallet Wall Coat Rack with Shelf: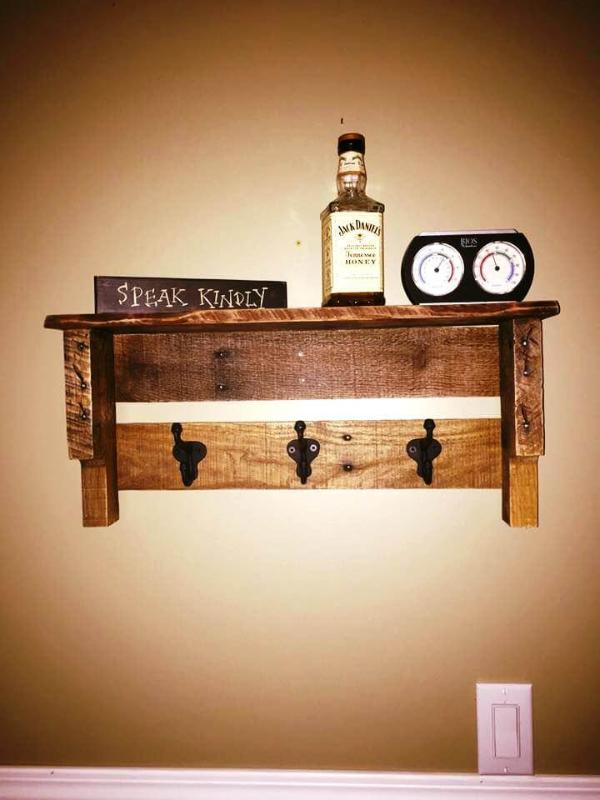 Just stare a little on pallet boards you will find such wall organizers already built in their frame! Simply cut them apart and add a few hooks for outstanding wall organizers out of them!
Pallet Towel Rack with Shelves: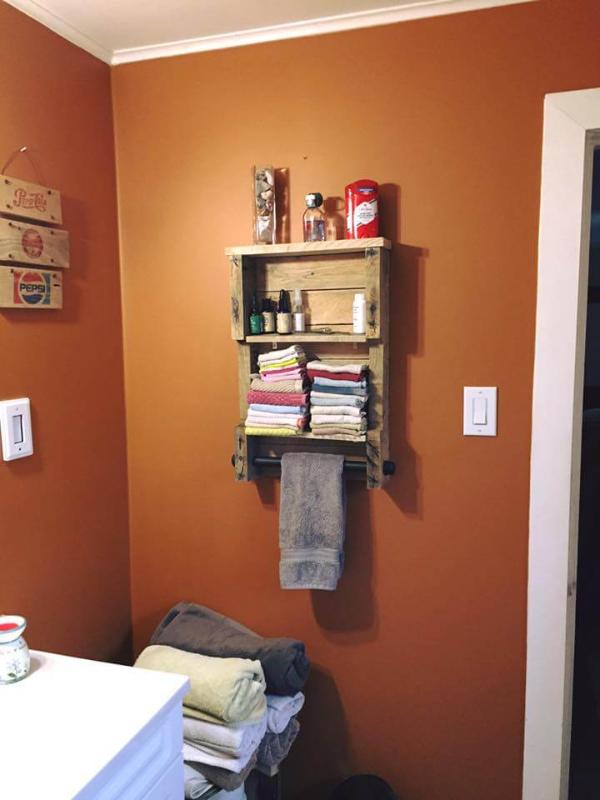 Here is a dual functional pallet creation, done by using custom cut slats of pallets, it is a towel rack and a shelf at the same time!
Pallet Coat Rack: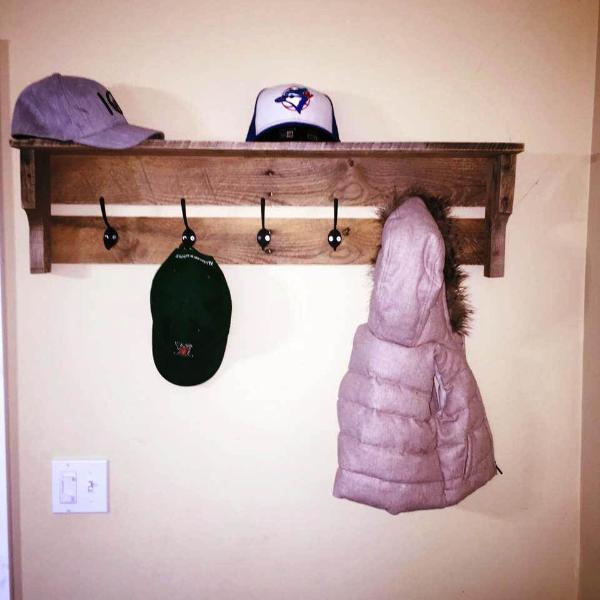 We just love the ideas of building precious wall hooks and coat racks out of pallets, because you simple use the bottom sides of pallets to do so! Here also a bottom side of pallets has been added with custom hardware hooks for a coat rack out of it!
Pallet Cock Wall Sign: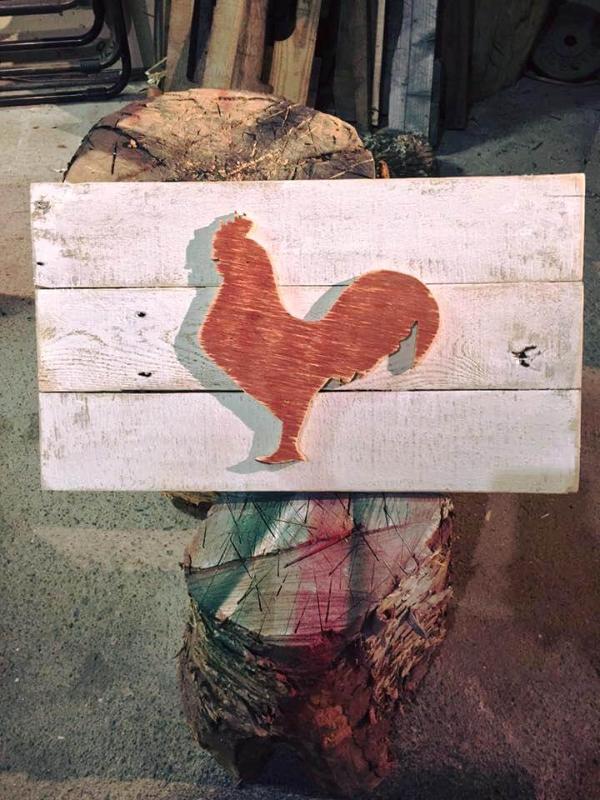 Here is a perfect sign for your thicken shop or poultry form, done with pallets! A piece of pallets has been turned into a precious cock using carving router and finally has been mounted over a white painted wooden background that is made of 4 pallet slats!
Pallet Coffee Table: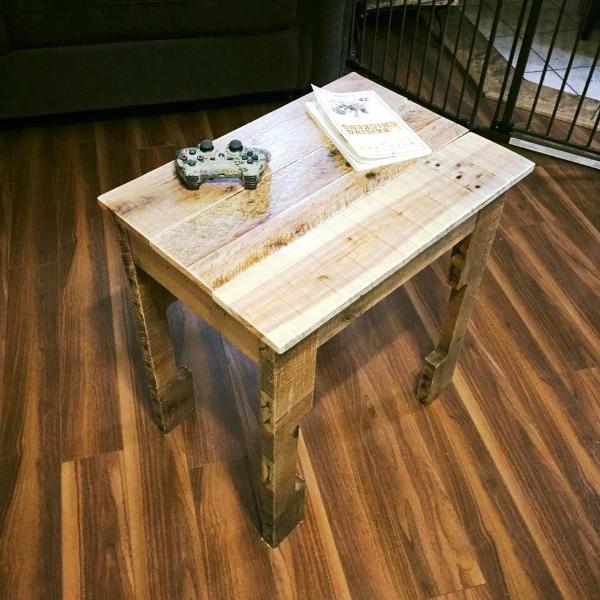 Beautiful rustic pallet coffee table, here individual stringer boards from pallets have been decided as legs of the table! Top has been installed by putting straight the slats of pallets!
Pallet Laundry Room Shelf: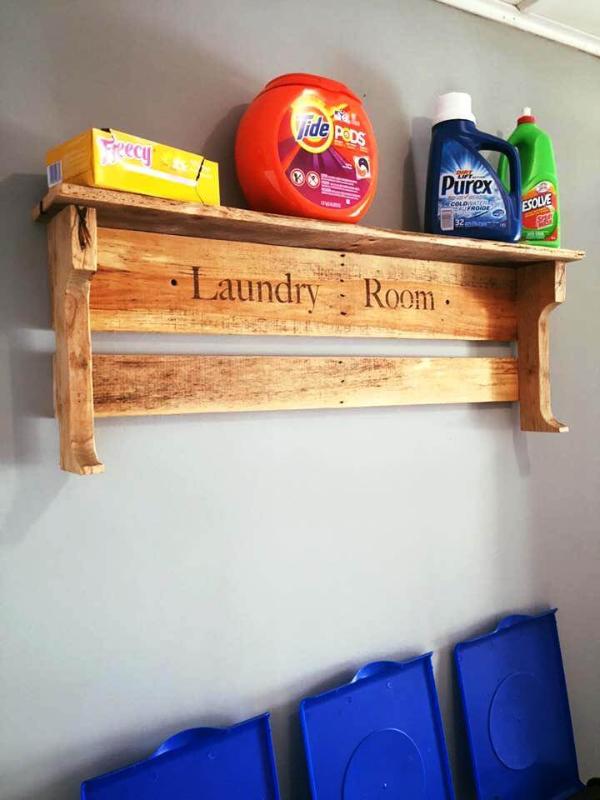 Here is a precious laundry room wall shelf, will all come in handy to organize the detergents and other cloth washing materials!
Pallet Mother Love Wall Sign: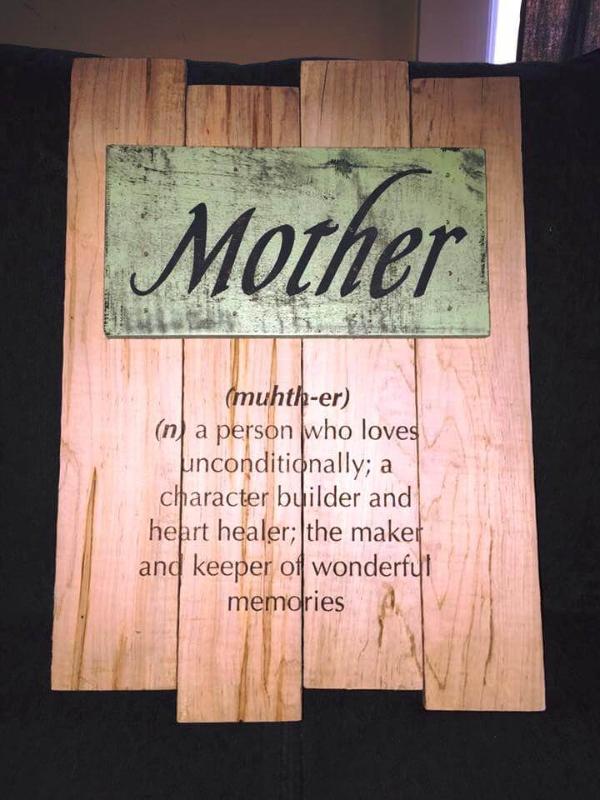 Few of pallet boards have been overwritten with lovely mother's love quotes, this builds a fancy mother love wall art piece, would make also a perfect gift for Mother's Day!
Made by: Mark Norton‎ on Pallet Creations Group