We are having a big collection of cool and ingenious inspirations about to go creative with pallets for brilliant wooden stuff, most preferably the wooden furniture! If you are also willing to sort out some ways to recycle pallets which should be out of ordinary and new then we simply recommend to take a stealthy look of these 20+ DIY pallet ideas that has beautifully been showcased below! All the ideas will provide you the necessary creative details to go handmade with pallets for stylish, functional and sturdy wooden stuff at the same time!
So this exclusive collection of 20 DIY pallet ideas and furniture projects  will guide that how you can organize your paved outdoors with pallets, how you can recycle pallets to spice up your newly built decks and lounge spaces and these ideas also provide cool inspirations about how you can start pallet for garden potting purposes!
In furniture category, these ideas will explore for you tons bundles of pallet projects about creating tables, chairs, benches even the complete sitting sets and dining sets! By taking a roundup of this collection of pallet ideas you will also learn the basic about creating custom decors, signs and wall art pieces which would truly jazz up your living spaces along with a precious wooden touch!
Ideas will also speak for getting awesome storage furniture out of pallets, some creative samples of pallet-made storage towers, display units, bookshelves, kitchen spice racks and wall hanging shelves have been given below, just check them out to feel inspired!
Pallet Couch with Built in Storage Space Shelves: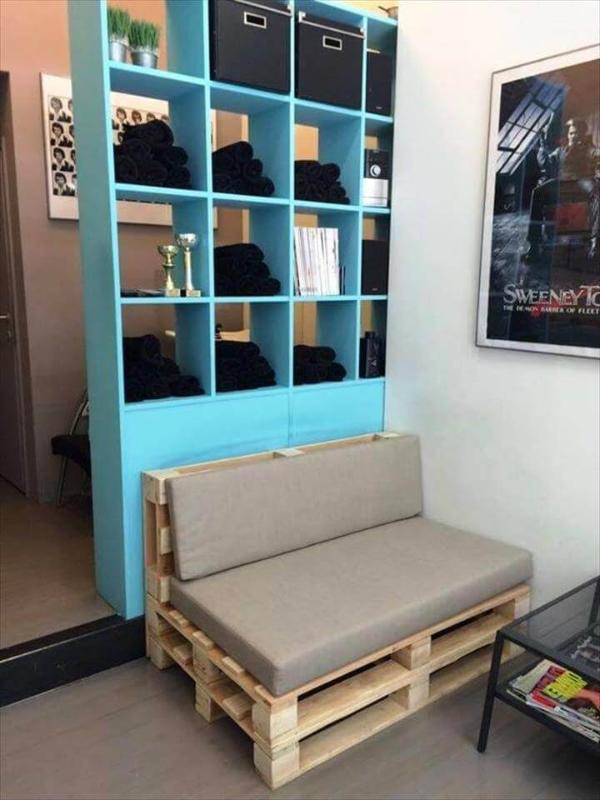 Plan pallets for installation of alluring storage units + pallet sofa, here you can see a multi-compartment unit made of pallets, painted blue, is also a sliding gate for this that particular sitting space!
White Painted Pallet Furniture Set with Purple Cushions: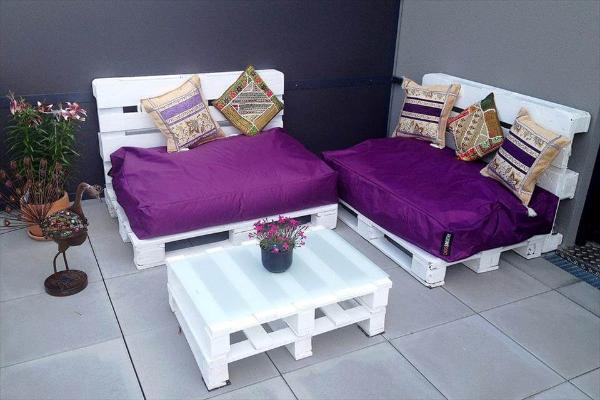 Skip the cutting and dismantling of pallets white getting crafty with pallets for beautiful outdoor sittings sets, peek into the details of this white painted furniture set, comes with purple cushions, here each seat is made of 3 pallets while coffee table with 2 pallets, so simple!
Pallet Patio Sitting Set: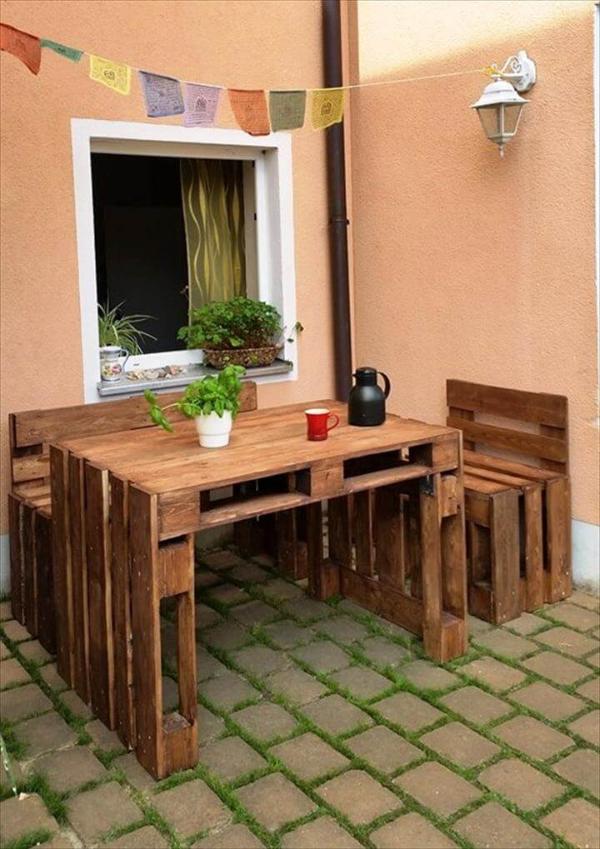 Complete pallet skids have been altered a little here for gaining of this glam patio sitting furniture set, this set comes with an elevated table and low seats, so would be awesome to plan for eating purposes at outdoor!
Pallet Hall Table: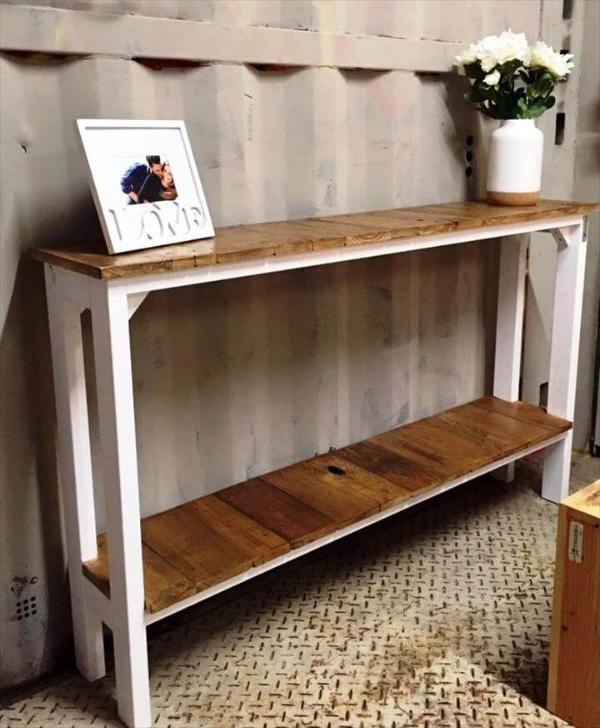 Stunning hall table or console, comes with a slim long top and a lower shelf having the same dimensions as the top level, it is having a white painted frame while dark brown solid surfaces done by filling resized pallet slats!
Pallet Vertical Wall Planter: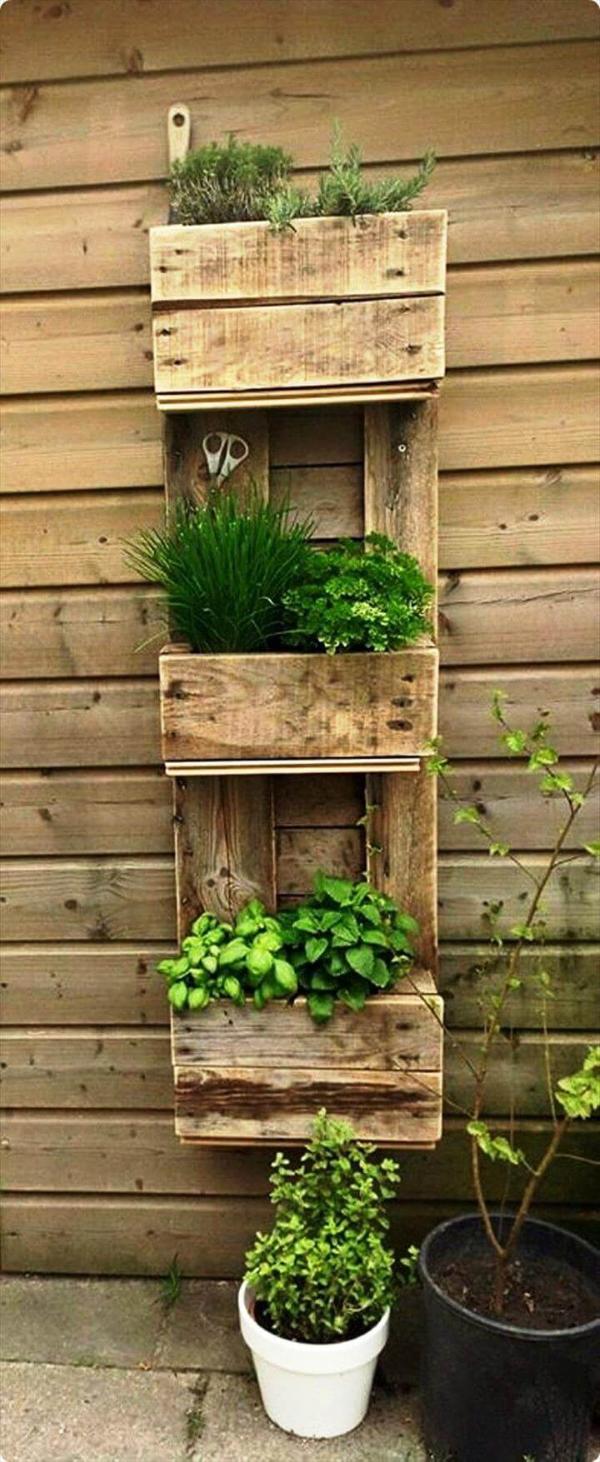 Vertical wall hanging planter with multiple potting levels, another cool pallet creation done to boost the visual of garden and also to give a natural touch to wall!
Large Pallet Kitchen Spice Rack: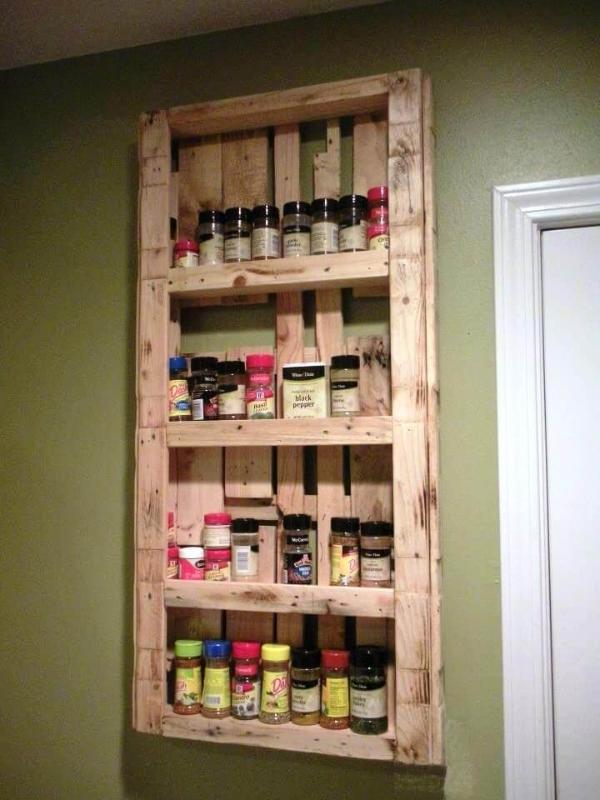 Recover handsome layouts of storage furniture out of pallets just like this tower like kitchen spice rack, comes with multiple built in levels!
Pallet Beefy Bench with Storage in the Seat: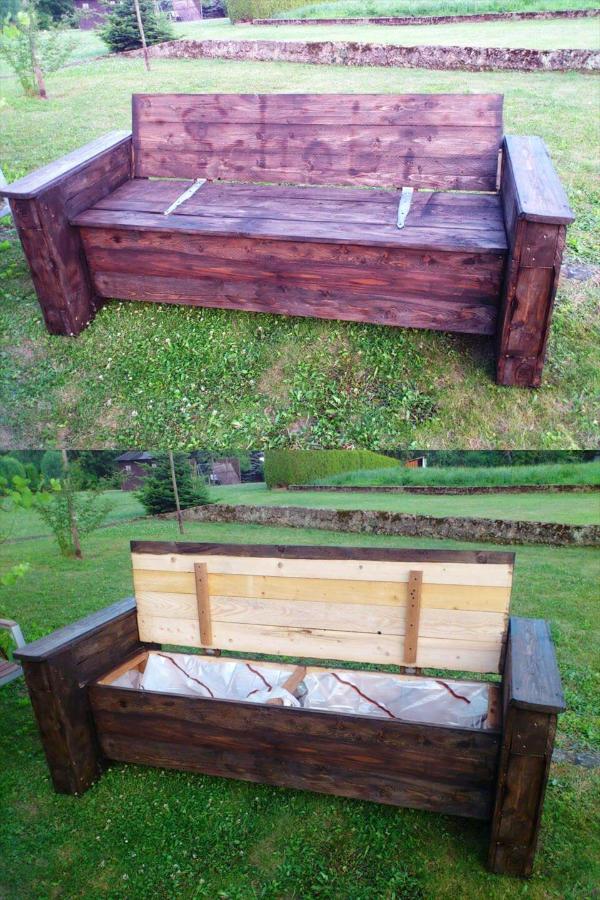 Enhance both sitting and storage space of your outdoor by putting this robust block style wooden bench at any outdoor locations, provides storage in the seat, another creative example of pallet-made bench!
Cushioned pallet Sofa + Coffee Table: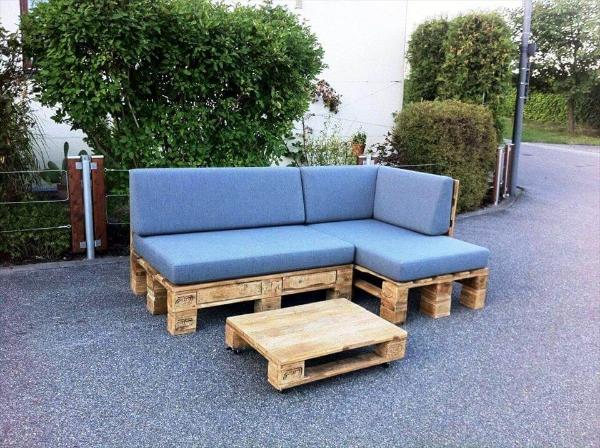 Here two single pallets have been spread over the floor for an L-shape and has been elevated a little by raising on removed pallet chocs, serving as shorter and thicker wooden legs to them, this gives a low sectional sofa frame which has then been added with cushion and comfy backrests! For a complete sitting sofa set, a single pallet has been finished with hardware rolls!
Pallet Road / Street Signs Idea: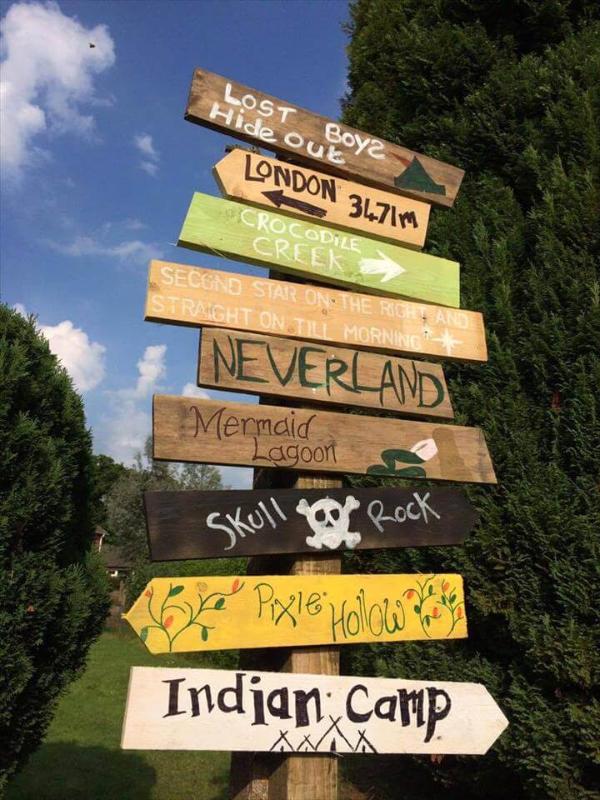 Here single pallet slats have been resized and have been brought in arrow like shapes! Finally they have been painted and overwritten for amazing road and street signs as you can see!
Pallet Birdhouses with Double Metal Hooks: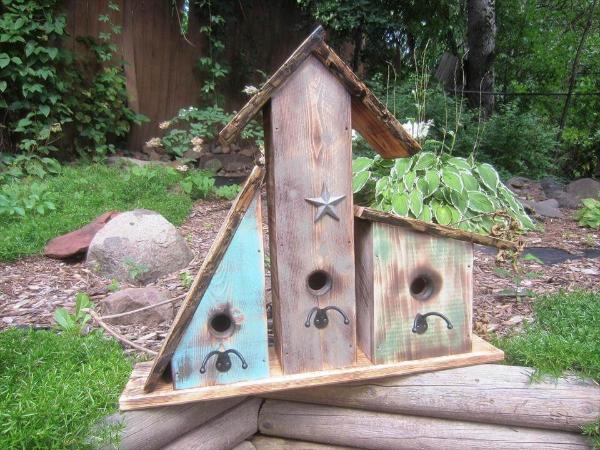 Plan pallet wood remains for spell binding garden decors, what you say about these natural wooden birdhouses, added with double metal hooks where birds can sit beautifully!
Pallet Coffee Table with Magazine Rack: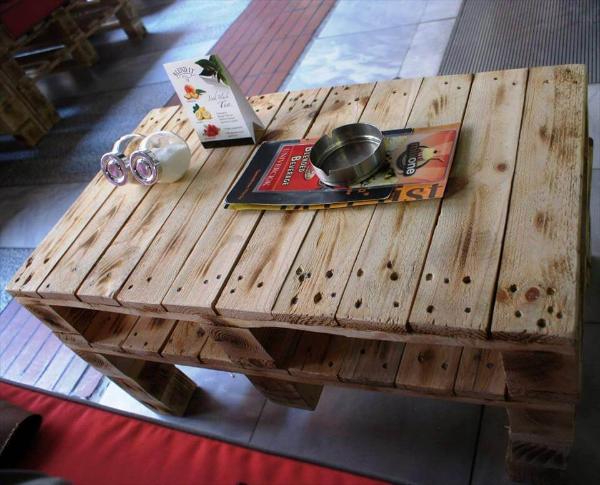 Elevate a sturdy pallet skids on removed pallet chocks and get a lasting wooden coffee table with built-in magazine rack like shown here!
Sectional Pallet Computer Desk: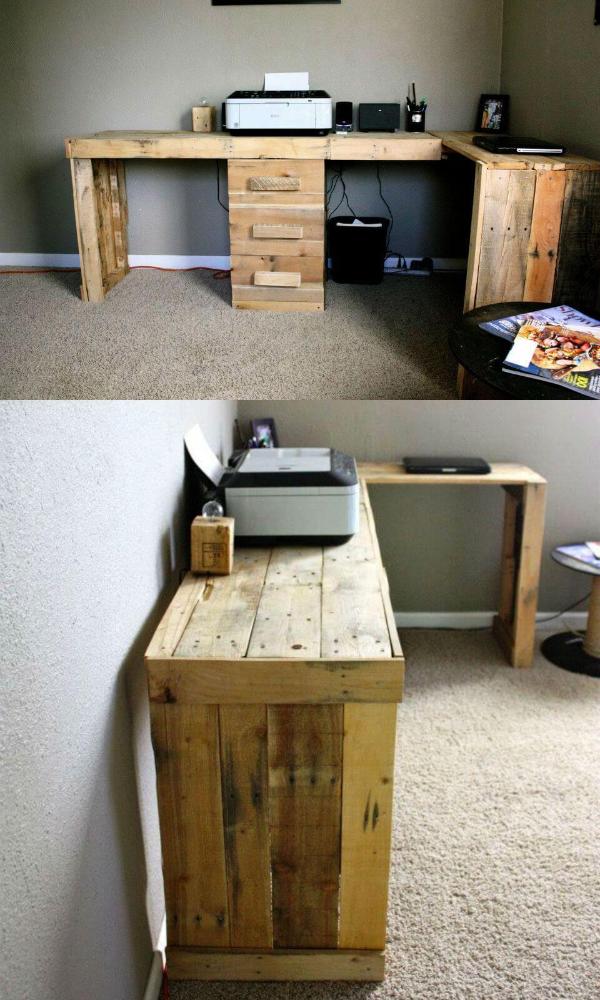 Build all the necessary furniture out of pallets you need to a organize a small home office, get inspired of this corner L-shape computer desk made from pallets and would be amazing for computer and laptop operating in your home office!
Pallet Cooler Stand: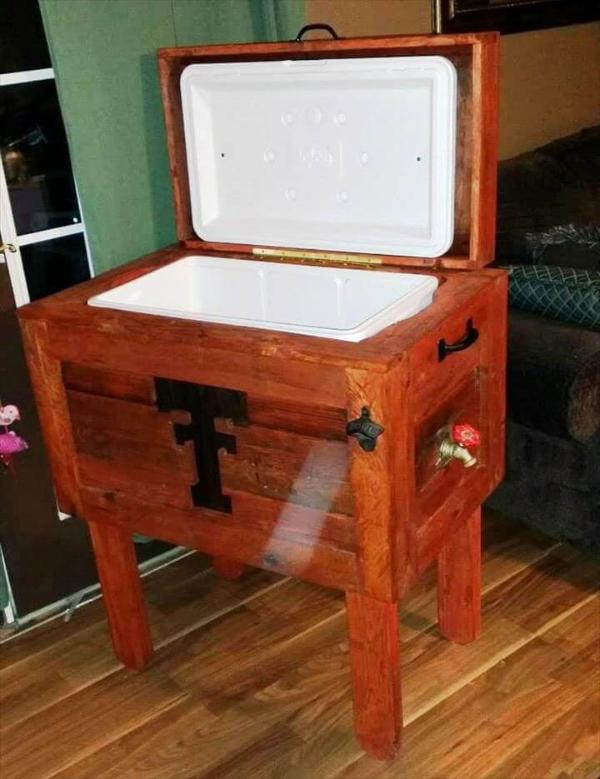 Here a complete wooden housing has been built for a plastic igloo cooler, zero conductivity of wood would help to retain the coldness in cooler longer while being busy in outdoor parties!
Pallet Wall Organizer/Hooks: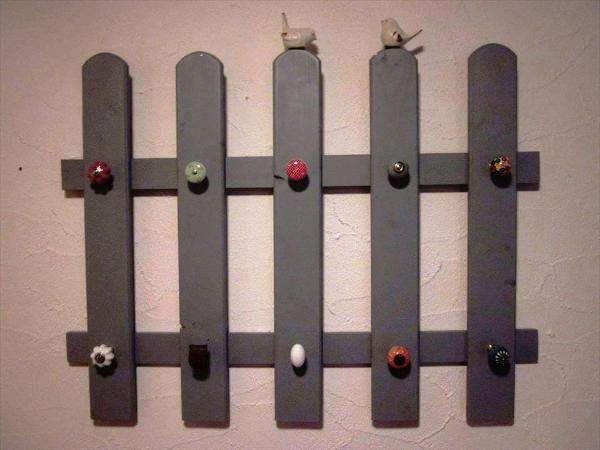 By building a lattice frame using single pallet slats which have also been painted in grey, this wall organizers has been build by adding some knobs to that wooden frame!
Stacked Pallet Large Indoor Sofa Set: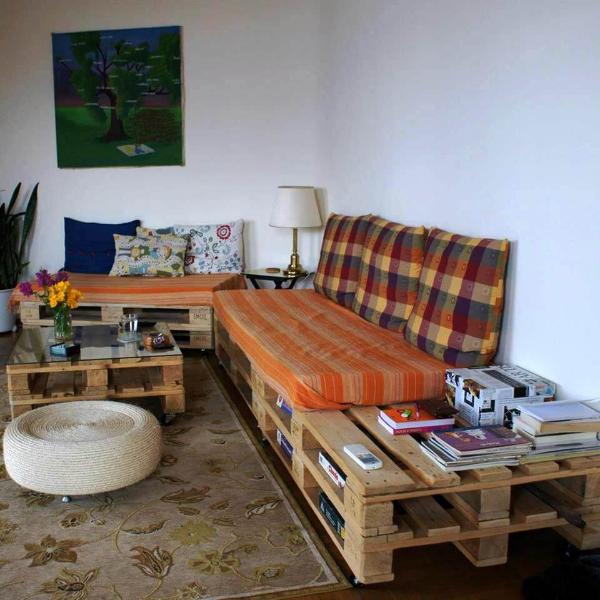 Checkout here once more the alluring stacking of larger pallet boards, providing a cozy living room sofa set, here sofa frame comes with multiple cubbies hired for book storage while coffee table which is made of 2 pallets, has been finished with glass top for modern furniture vibe!
Primitive Wooden Pallet Bed: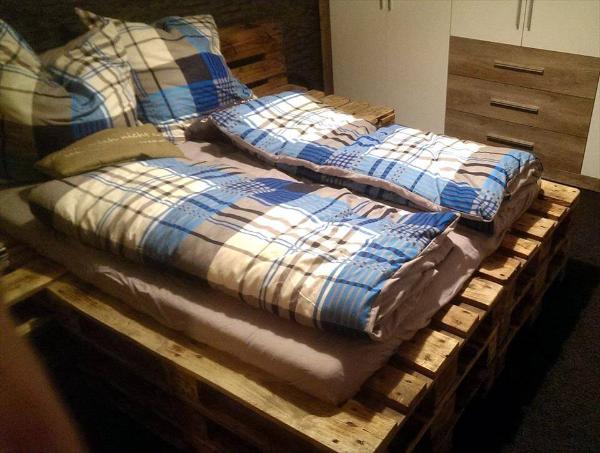 Treat pallets as units for building sturdy wooden beds at cost prices equal to zero, here you can  see a beautiful platform bed made of pallets stacked upto 2 layers, this custom bed layout also provides necessary pallet headboard and nightstands for boosting decor and functional behavior of bed!
Pallet Outdoor Cooler: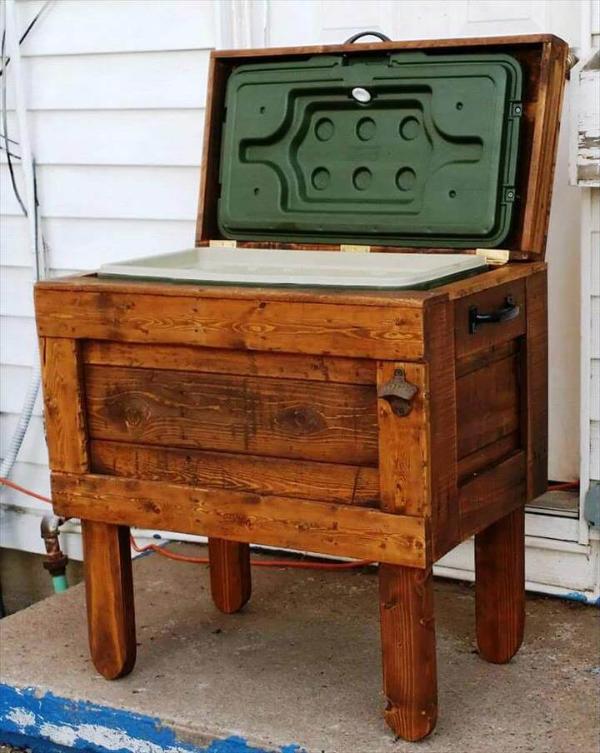 Fantastic wooden pallet cooler built for outdoor parities, stands on 4 legs having round bottoms, and also comes with metal handles for easy carriage and with a bottle opener!
Fully Featured Pallet Bed: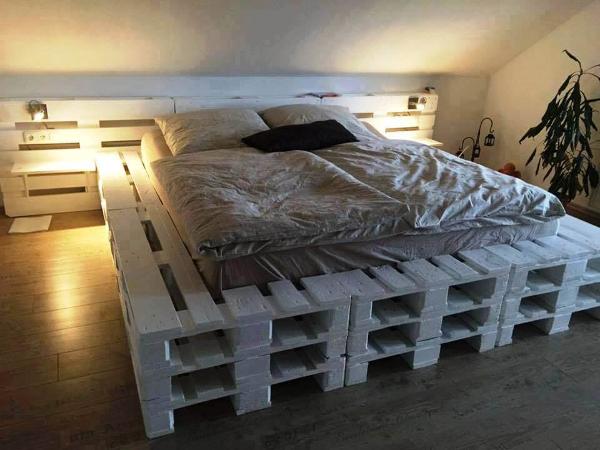 If you are all looking to a gain a wooden pallet bed at no-cost then stacking some free pallets will be the most easy and low-cost way to gain wooden beds of your own choice!
Pallet Wall Hanging Shelves: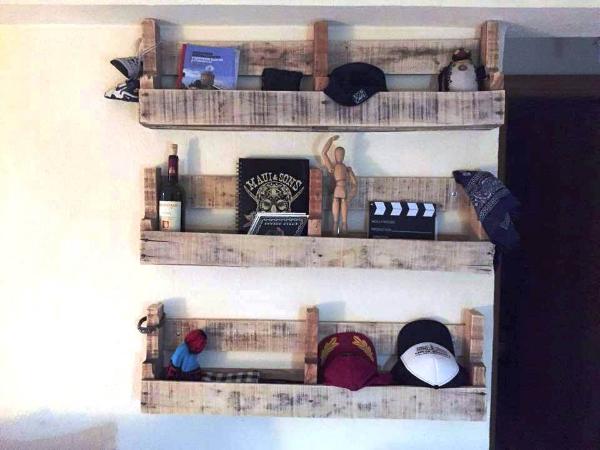 Get inspired of these beautiful pallet wall hanging shelves, these are all actually the separated bottoms and tops of pallet boards!
Pallet Display Tower/Bookcase: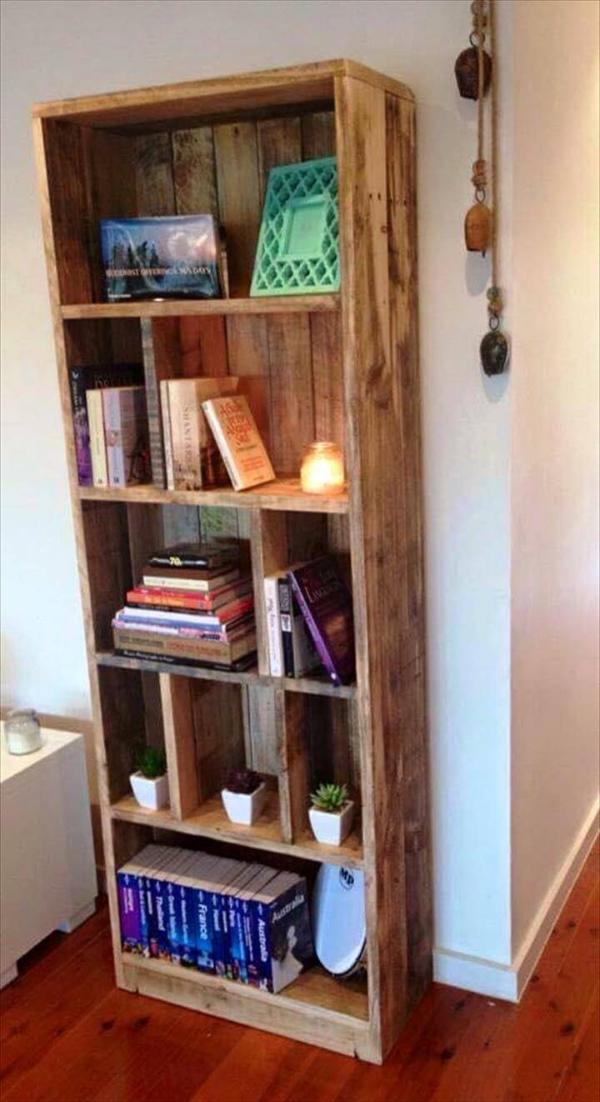 Beautiful wooden tower like wooden bookcase, can also be utilized as a display unit or beauty station in the living room, made of separated single pallet lengths!