Are you tired of the robust and intimidating furniture that takes up space and seems to absorb the light? Opt for a DIY pallet sofa experience, which will give your living room a light and fresh feel. Your room will suddenly lit up and become the heart of your house. Arrange a DIY pallet sofa set in your living room and invite some friends for a brunch.
Make a two or three seats sofa and decorate your corridor or attic room. Place one in your basement or work shed to take a breather while working and these are sure to become your best friend. Adorn an empty stubborn corner with an easy to make pallet sofa seat and put some magazines within easy reach. The do it yourself pallet sofas are an excellent accessory for your business if you have a waiting room. Choose some light or dark colors according to the climate, put some flowers and plants for your guests or clients, and enliven their waiting experience. And we think you may also try these most helpful DIY furniture for your home and garden.
DIY Pallet L-shape Sofa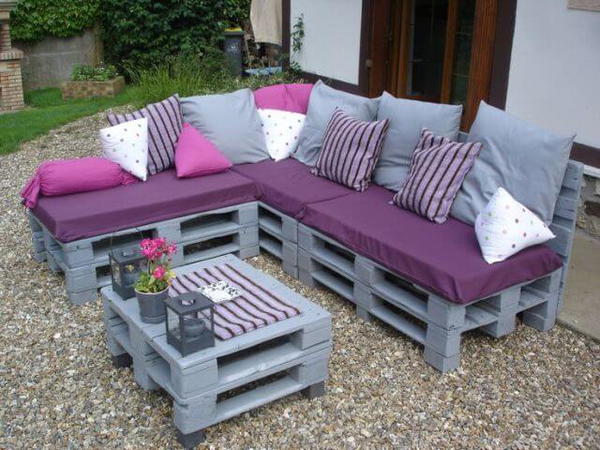 Planning the best place outdoor for guest entertainments? Repurpose the leftover pallets and build this wooden pallet L-shape sofa that comes with the seats made of stacked pallets. For building backrest, use the pallets with removed dice section. No need to buy a separate coffee table to complete your set, use the 2 leftover square pallets to build the coffee table too. Paint and cushion in the way you like. Discover beginner woodworking projects that make excellent homemade gifts either for yourself or a loved one and are perfect for beginners.
Wooden Pallet Patio Sofa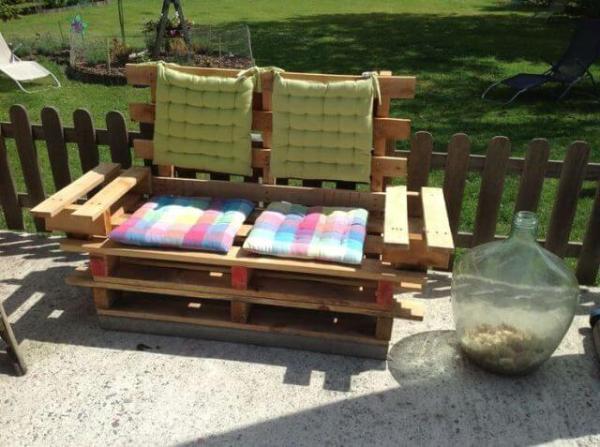 The incredibly stable and beautiful looking 2 seater sofa will make you enjoy more outdoor life. Make it with free pallets, and it will instantly style up your patio. From seats to backrests to armrest, build all with pallets. Stacking up to 2 pallets will be enough to build the sturdy seat of the sofa. The best get out of pallets for your love for outdoors.
DIY Outdoor Pallet Sofa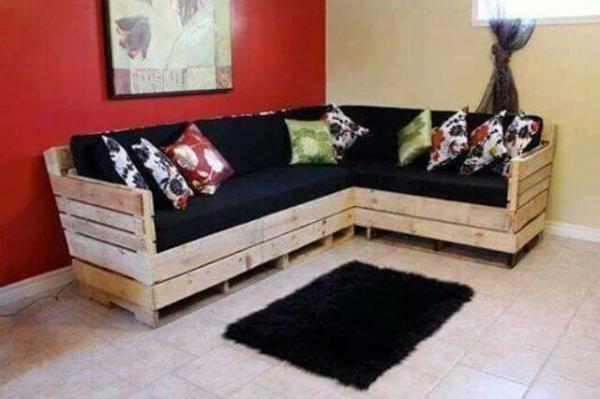 You can't even guess if this sofa is made of pallets as impresses with the fine dimensions that are solid enough to last for years to come. To build this L-shape model, you need to pile up the pallets first roughly. Then you can fill them solid using extra wood. The blank tone of wood just goes best with the black seat cushion. The best sofa to get for your lobby, lounge, living room, and family room.
Pallet Sectional Sofa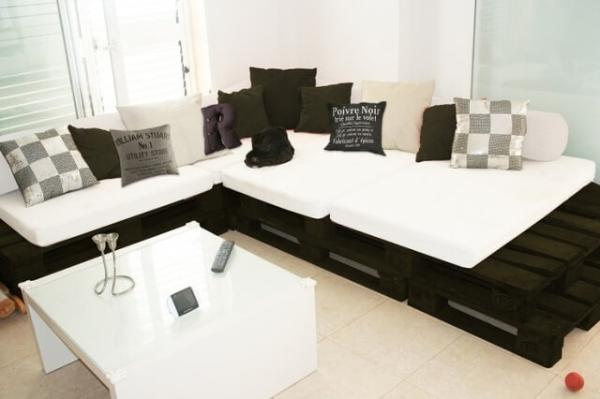 It is always expensive to buy a luxurious model of sofa for your outdoor or indoor spaces where you love to make gossips. Organize your family room with this wooden pallet sectional sofa that is painted black. Clean the pallets, sand them, and finally paint them in black. Stack in L-shape for the best corner seating plan and cushion up for a cozy model of the sofa. This sofa set comes with a white coffee table.
White Painted Pallet Sofa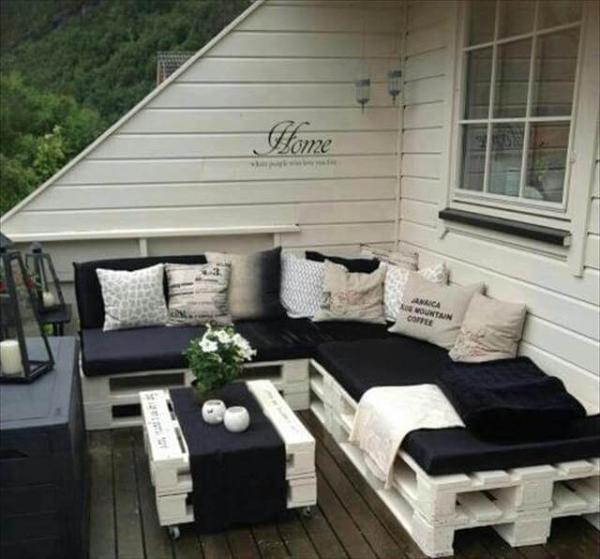 If you are planning your outdoors for party time sitting but are lacking a luxurious sofa set, then opt for this white painted pallet sofa that is quick to make at home. Arrange the white pallets flat to build this fabulous pallet sofa with coffee table, finish with black cushions for a high value sitting comfort. You have not thought the pallets to use like this before.
Pallet Outdoor Corner Sofa with Spool Coffee Table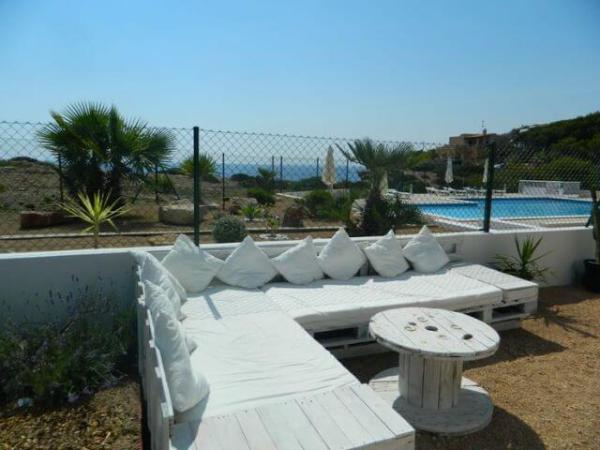 If you are willing to organize big terraces and balconies and even the newly built decks with some high-quality models of sofas, then go head over to beautiful one. It comes painted in white and is loaded with quality cushions and is sure to provide seating space to lots of members. This large chic white L-shape sofa comes with attached side tables and finally entertains with a recycled spool coffee table.
EasyPallet Sectional Sofa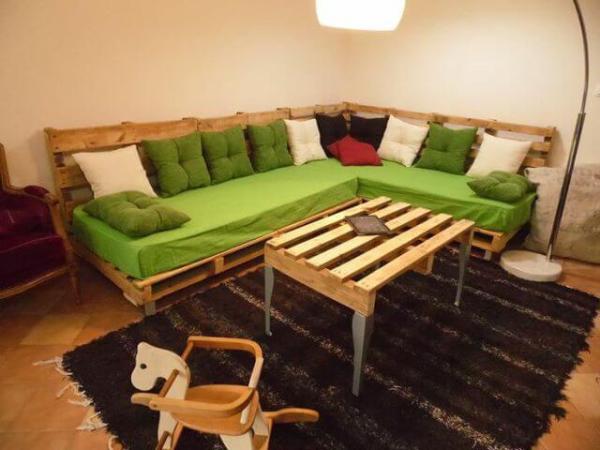 Missing out a sofa is no more an issue, get it for free for any of your indoor or outdoor space. Just grab some free pallets to build a one that will organize your space for part-time sitting. Stack the pallets up to 2 rows making an L-shape and then finish them up with solid wooden backrests getting an adorable wooden pallet sofa. Finish a single pallet skid with reclaimed furniture legs to gain the central coffee table.
Rustic Pallet Cushioned Sofa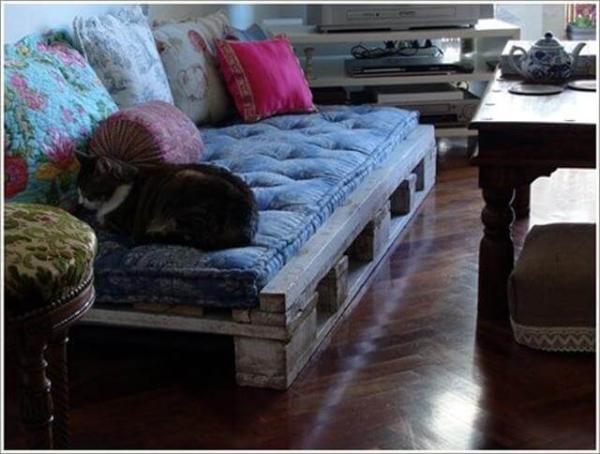 Build this rustic pallet sofa using a single large pallet. The pallets are to handle a lot of weight over them, and here they will do the same but in a lovely way giving you an adorable sofa for free. Just add up the wooden pallet skid with a large cushion and make this rustic pallet cushioned sofa, will be a nice way to accomplish your outdoor sitting space desires. This cushioned pallet sofa will make a great daybed too.
Pallet Sofa Bed or Daybed: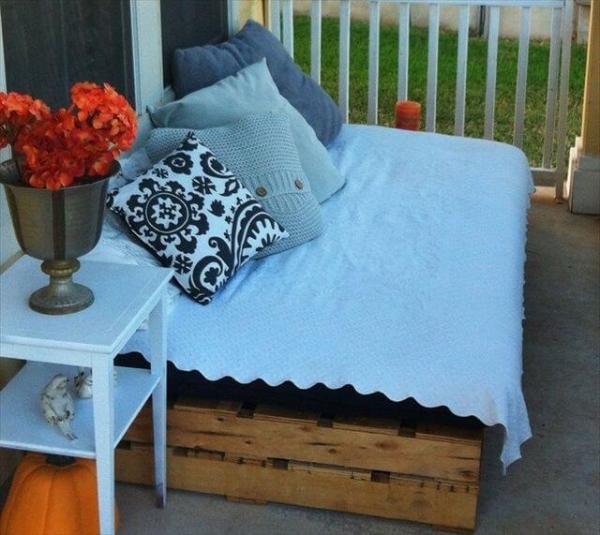 Let this sofa bed be your next reading nook, will rock for afternoon naps too. Building this sofa bed will also cost you next to nothing. You need a recycled pallet skid and a mattress cushion to build this wooden pallet daybed or sofa bed. Add more pallets to raise it to a decent height you want. No cuttings and no assembly with hardware, a simple way to build a sofa bed.
Pallet Sofa Bed or Daybed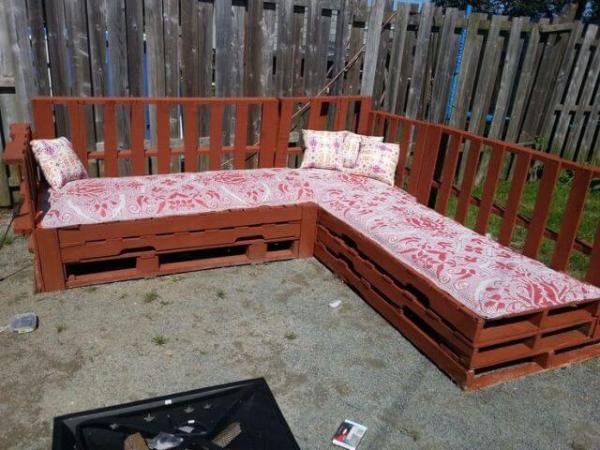 Accomplish your outdoor sitting space desires with this pallet garden sofa bed or daybed. It comes in a perfect L-shape and will fit nicely to any outdoor or patio corner. Load extra pillows and cushions to it for high-value comfort. A stack of 3 pallets will give you the robust seats and next use the pallets with removed pallet chock sections to build the backrest of the sofa.
Pallet Outdoor Sofa Bench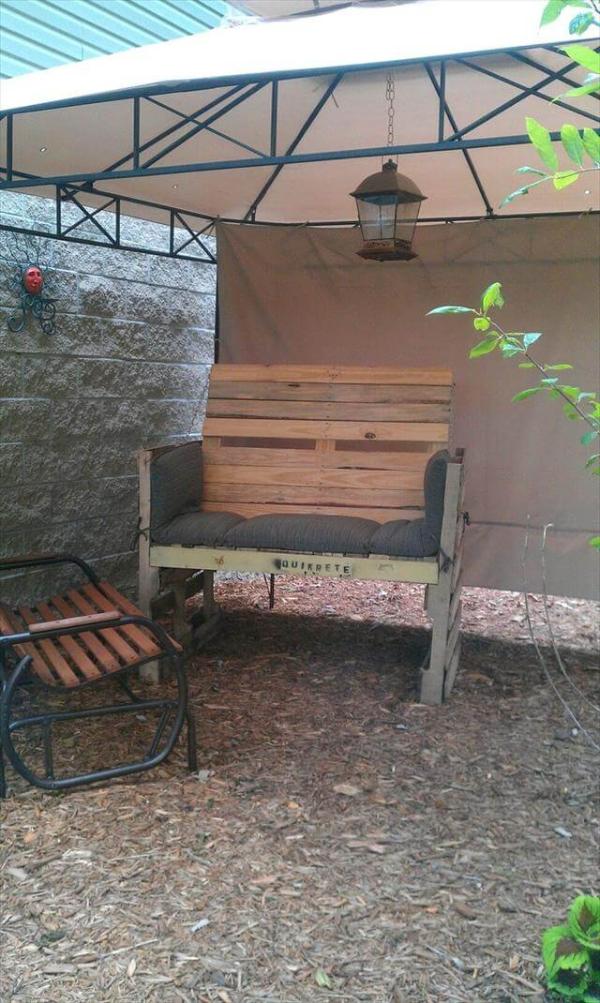 Overcome your outdoor sitting space desires by building expensive-looking outdoor furniture at home using free pallets. Have a look at this wooden pallet outdoor sofa bench, well-cushioned, and raised in sturdiness. Here you need 4 robust pallet skids to build this fantastic outdoor sofa bench, which will surely hold your attention. Make it well cushioned for a luxurious sitting comfort.
Pallet Outdoor Sofa with Attached Side Table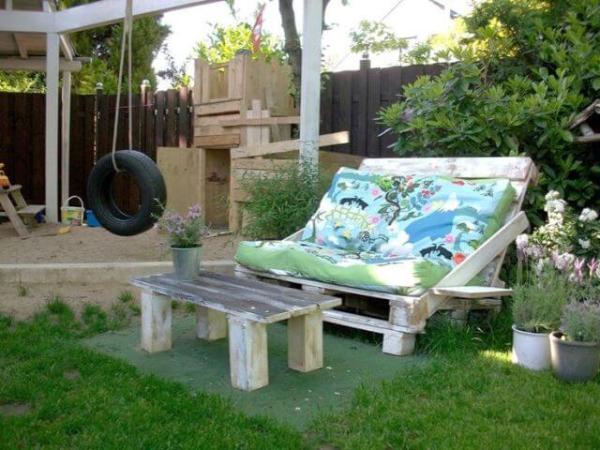 After having this sofa, you will no need a side table. It will be a big outdoor entertainer for sure. Grab the free pallets again to build this cost-efficient model of side table that comes with an attached side table. 2 pallets flat and one on an angle build this fantastic model of the sofa. Use the heavy-duty braces to support the backrest. Use the leftover wood and pallets to build the front coffee table.
Red Painted Pallet L-Shape Sofa
Enjoy the outdoor conversations and gossips with friends and have great family time at the patio using this pallet-L-shape sofa. It will fit best to a corner space and is something quick to build with free pallets. Stack whole pallets to build seats of the sofa and next use the custom cut parts of pallets to build armrests and backrests. One of the best DIY pallet L shape Sofa ever made.
No-Cost Pallet Sofa Set with Spool Side Table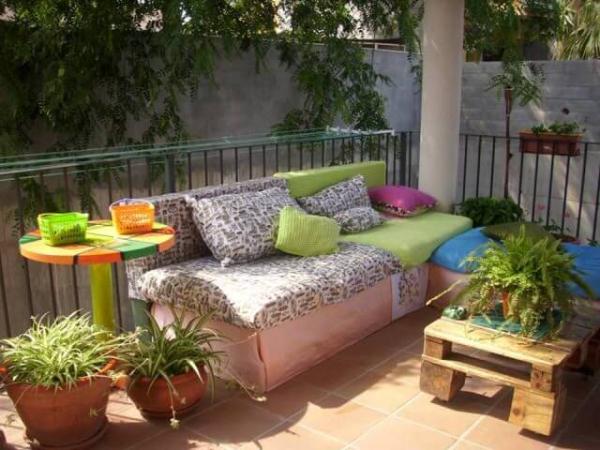 Do you take great pleasure in recycling old things? Then you will jump with joy after looking at this creative recycling of pallets and cable spools. Repurpose the pallets and cable spools to build this no-cost pallet sofa set and make the spools stand vertically to build the side table. Use a mini square pallet to build a coffee table. This pallet couch comes in a solid wood structure.
One Pallet Sofa on Wheels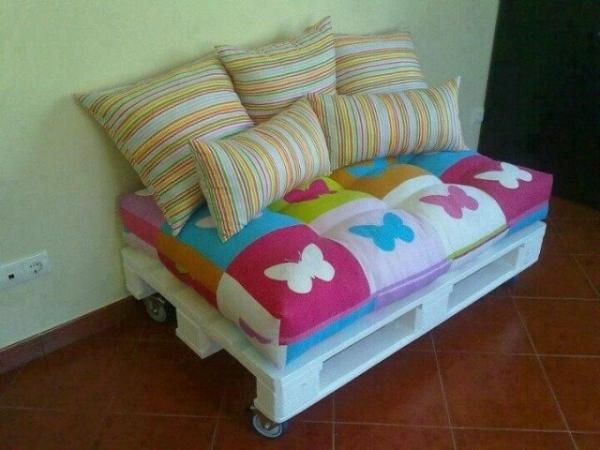 Do miraculous DIY furniture crafts using the single pallets only. Build this fabulous sofa using a single pallet skid. Grab a pallet wood skid, paint it in white and then raise on wheels. Finish with a heavy-duty seat mattress and gain a fantastic wooden pallet sofa on wheels. Use the heavy-duty foam mattress and pillows to raise the value of sitting comfort to peak levels.
Pallet Patio Corner Sofa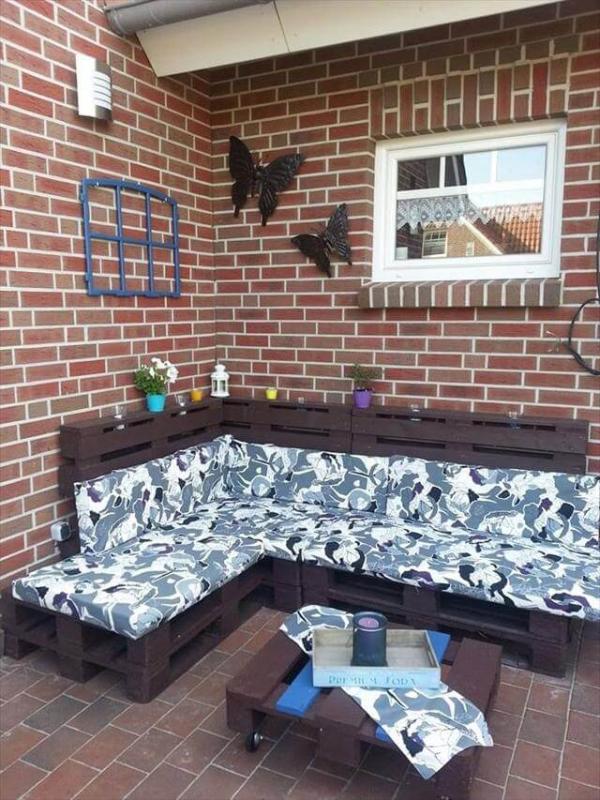 Get maximum out of your patio and porch corners by building this corner pallet sofa. The addition of this corner sofa will transform any corner into a luxury sitting space, and you can just build it for free. This ultimate sofa model is a crazy pallet build, and you can choose a cushion of choice for a quality sitting comfort. Raise a remaining pallet skid on wheels to gain a fantastic coffee table to put in front of the sofa.
Pallet Patio Furniture Set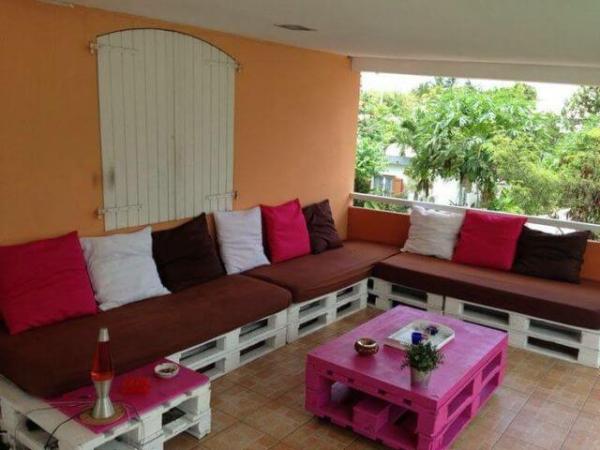 To build this terrace sofa, you just no need to install the backrests as it comes along the corner wall. You can build this large pallet sitting furniture plan in minutes as it only involves stacking the pallets flat. Paint your pallets, arrange flat on each other up to 2 rows making a big L-shape. Cushion it up for a high-value comfort. Use a 2 pallet stack to build the central coffee table. Leave a little part of this pallet sofa un-cushioned to get the space for the side table.
Luxurious Pallet Outdoor Sofa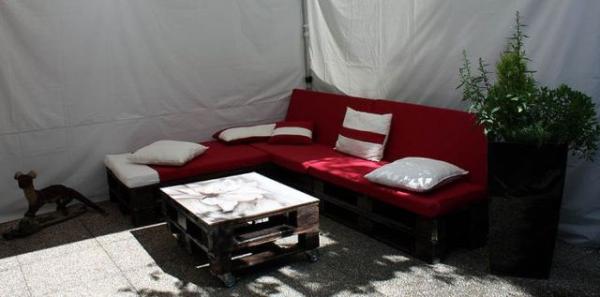 Let the pallets make you live the outdoor luxury without getting expensive. Just build this no-cost wooden pallet luxury sofa for any outdoor or patio, and it will enchant with its colorful appeal. Build this sofa with brown or black painted pallets and then add the red mattress on the seats. Two mini square pallets will rock to build a front coffee table.
Extra Large Pallet L-Shape Sofa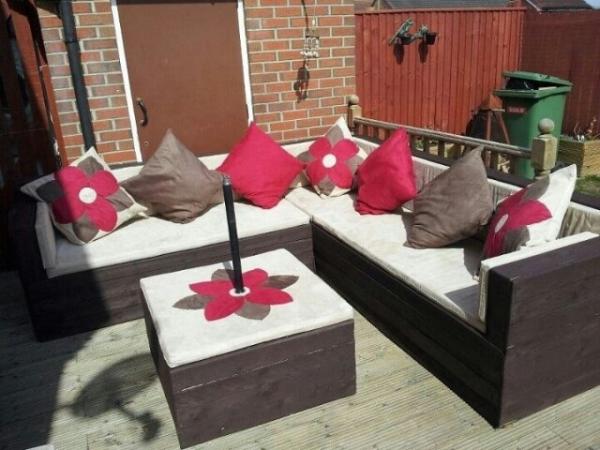 Everyone onlooker will praise this block style model of a wooden pallet sofa that comes well-cushioned. It is robust and a genius pallet wood creation. Building this sofa involves stacking the pallets for the seats. Use the modified pallet skids to build backrest. Next, use extra wood or separated pallet wood slats to fill the entire model solid with no pallet visible. Don't forget to build the front square coffee table that comes with a parasol rod fixed in the center.
2 Pallet Sofa on Wheels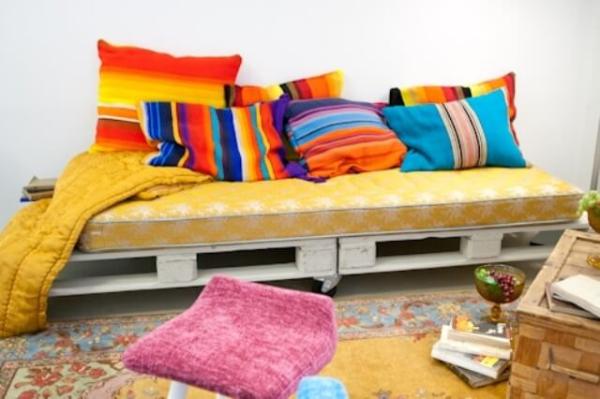 Even a 2 single pallet can be enough to make you build a lovely looking sofa. Put both pallets flat side by side and raise on wheels, next cushion them up and gain a fabulous wooden sofa of recycled pallets. It will rock for daydreaming, afternoon napping, and also for book reading. This amazing pallet hack leaves you with no excuse to miss out on a sofa. One of the best wooden pallet sofa to make at home.
Pallet Living Room Sofa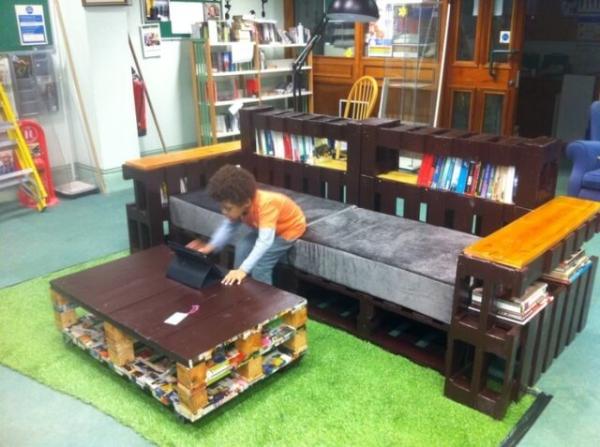 Build also expensive looking living room sofas at home inexpensively using the shipping pallets. Get inspired by this fantastic given model that comes with built-in bookshelves and have been well cushioned. Grab large pallets, stain them for a dark choco appeal, and then plan to build this living room sofa. It will rock for all who love reading books, and it comes with a coffee table also made of 2 pallets connected in the bottom-to-bottom arrangement.
Wooden Pallet and Spool Sofa Set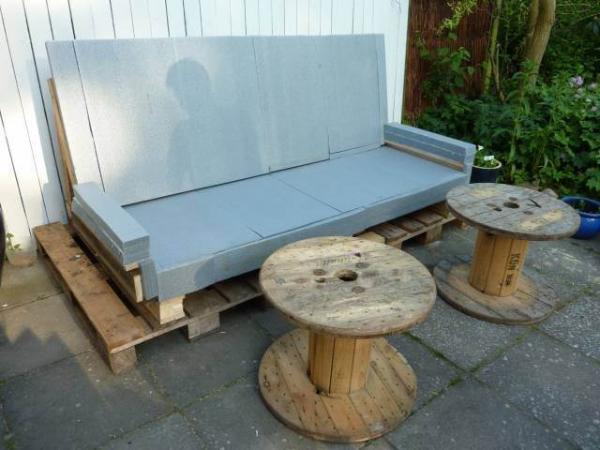 Catch the rays outdoor using this fabulous pallet wood sofa that is well cushioned and come on a wooden platform made of pallets too. 2 cable spools in front make the perfect side table and will work great as a coffee table too. This sofa set will cost you next to nothing and will last for years to come due to the hardwood nature of pallets. One of the best wooden pallet sofa set to build in no time.
Budget-Friendly Rustic Pallet Outdoor Sofa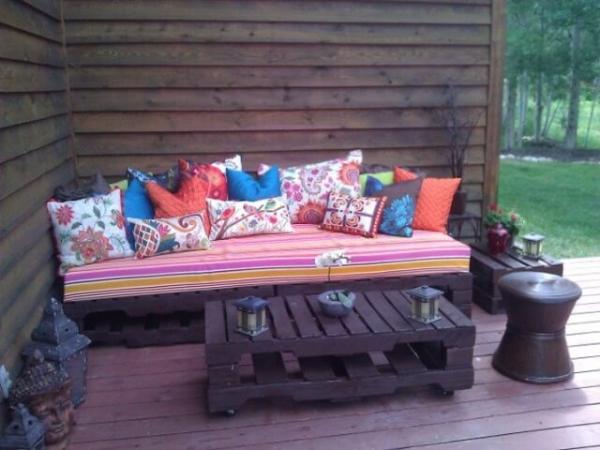 To build stylish sitting furniture out of pallets will not require any skill level for sure. Just put together the free rustic pallets and build this one for your outdoor. It will rock at a patio and on a porch too. Put two bigger pallets flat and cushion to gain the sofa, use a leftover mini one to build the side table, and let a pallet in front to serve as a coffee table. Make the coffee table touch to move by adding casters.
Pallet 3 Seater Sofa with Spool Table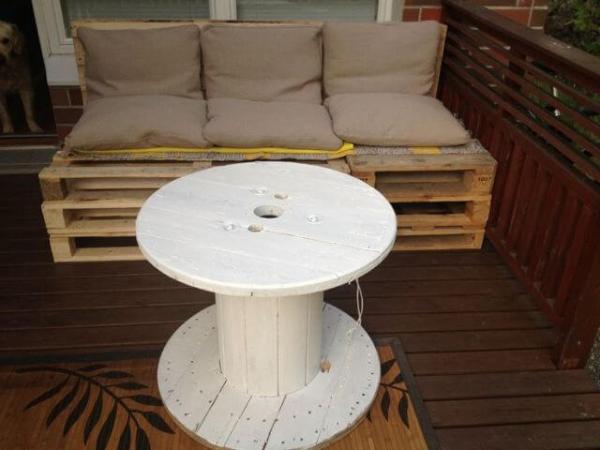 It creates a great pleasure to make a functional item out of scrapped materials. So, building this sophisticated 3 seater sofa out of discarded pallets will also make you feel proud. The construction is all about easy arrangements of pallets and involves almost no cuttings. For the front coffee table or side table, repurpose the empty cable spools. For high value sitting comfort, put a heavy-duty mattress on the seats.
L-Shape Wooden Pallet Patio Sofa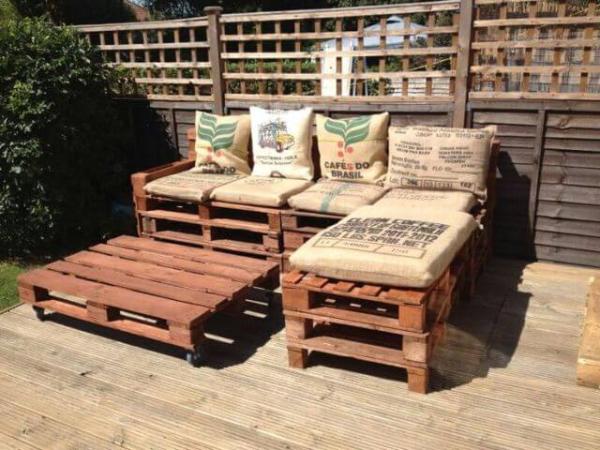 Plan your deck for the best outdoor entertainments by building this L-shape wooden pallet sofa, will be quicker to build. Just plan to come with some easy stacks of pallets while creating an L-shape sofa and next coverall with the old cushions or seat mattress. Here 3 pallets build this raised sofa set out of wooden pallets that is high enough to be super comfortable for a person. A big square pallet on wheels will be enough to build the central coffee table.
Pallet Sofa Set with Old Door Table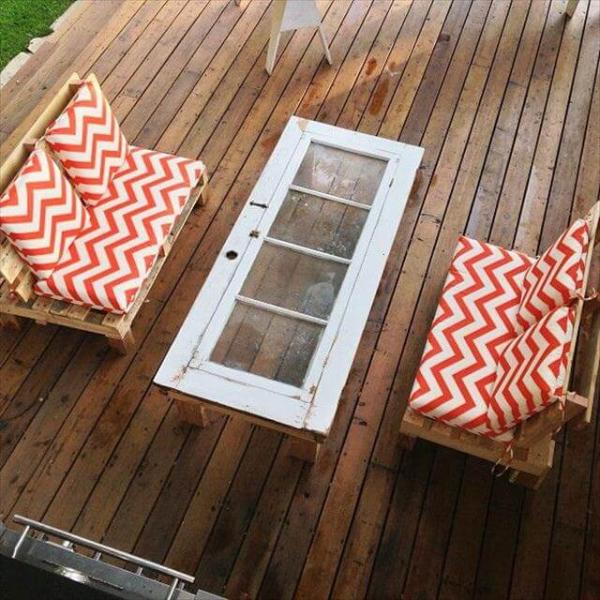 Get inspired by this another recycled pallet wood sofa set that is totally free to build. You need some pallets, old doors, and some assembling hardware to build this entire sitting furniture set. Raise the pallets on short square legs and next set a pallet on them vertically on an angle. This will make you get with a durable wooden pallet seat. Build as many seats as you want for your sitting plans. Next, build a table base frame and top it up with an old glass-paneled door to get the necessary coffee table.
Wooden Pallet 4th July Sofa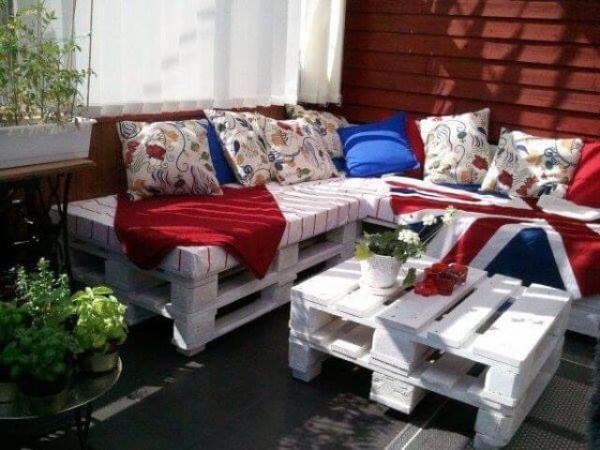 Celebrate Independence Day with this wooden pallet sofa that is built on a 4th July theme. Stack the pallet up to 2 rows and build the sofa seats, may come in L-shape for a great corner fit. Cushion up all the seats to get the luxurious outdoor sofa. Stack up flat 2 miniature pallets to build the front coffee table. The miniature pallet coffee table provides inside storage space.
Chic White Pallet Terra Sofa Set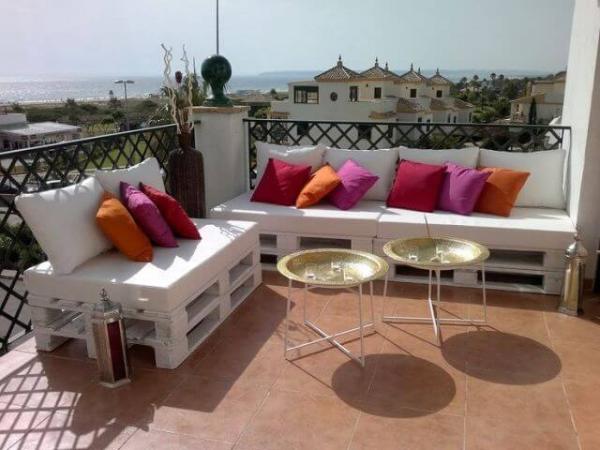 Look at the organized view of this terrace that is just great to enjoy the sun and the open outdoor environments. The best place to enjoy your tea, snack parties, and family gossips. What you need mainly here to build this sofa set, is the free pallets. Pile them up to get the sofa seats, and next, add them up with thicker foam seat mattresses. Use pillows for the comfy backrest positions.
Simple Pallet Sofa Set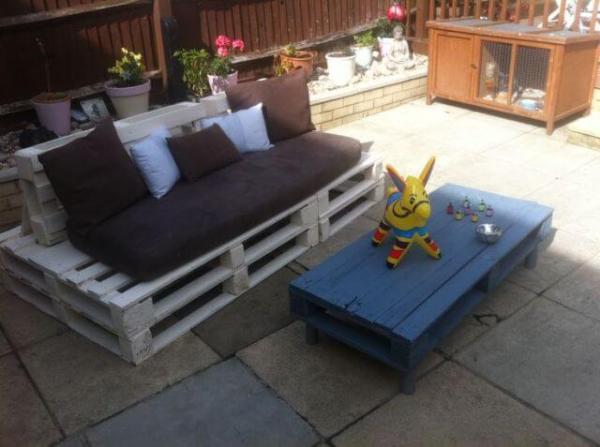 Enjoy the evenings by sitting on this sofa set, wide enough to serve as a daybed too. This sofa set will rock for 2 to 3 peoples, but it can be extended any time using more pallets to serve as a big sitting U-shape or L-shape sofa sets. Remaining pallets can be employed as front coffee tables. Choose the pallets of equal sizes to build the sofa.
Luxury Pallet Sofa For Patio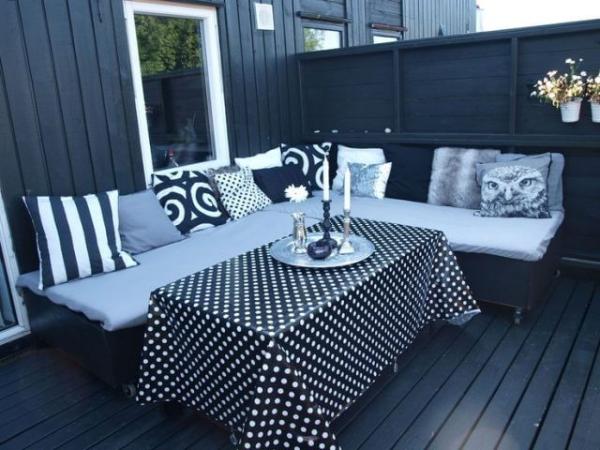 This wooden pallet couch seat is the real luxury to sit on. It is going to be the best family and guest entertainer for sure. Build this sofa out of pallets and then cover the whole model sold using extra wood. Next, raise this L-shape sofa on wheels so you can easily drag it any outdoor space. Cushion it well, and you just no need to install the backrest positions, let the pillows do this job.
The advantage is that you can repaint them in order to match your new decor or renovate them in whatever way you would like to. Invest some energy in do it yourself pallet sofas and save yourself money and space. Follow these easy to build DIY outdoor furniture for your patio and garden space! Ideas for a bench, couch, table, planters, and more using tires, blocks, wood, and more.
Conclusion:
A sofa is most inexpensive to buy in the home furniture, so you must go with these wooden pallet sofa ideas to build a new one at home at a fraction of cost. The pallets are free, and hence they can be put together to make instant beautiful sofas that may come in any dimensions. From U-shape large sofa designs to L-shape sofas to ultimate corner sofas, you will see readymade samples of all for sure. No woodworking skills or experience is required to build this sofa, just arrange the pallet evenly flat and stack up to desired heights. Next, cushion them up and build an instant beautiful sofa.