Again we are with a big list of pallet ideas, always help to make you learn more! These ideas are not only about building inexpensive but robust wooden furniture with pallets but you will also get here the opportunity to learn about the super genius pallet projects done to develop the outdoors like garden, patios and backyard, so you can also live a healthy and luxurious outdoor life with pallets! Take a glimpse of these DIY upcycled wood pallet ideas randomly listed here and just see it on a big scale that what you can do with marvelous nature of pallets!
Install the accent bedroom background pallet wall ideas, take help of pallets slats to do the wall paneling, hold together a pair of pallets for stylish console table which would be robust too, use the whole pallets also to install the better media walls and entertainment centers like shown here!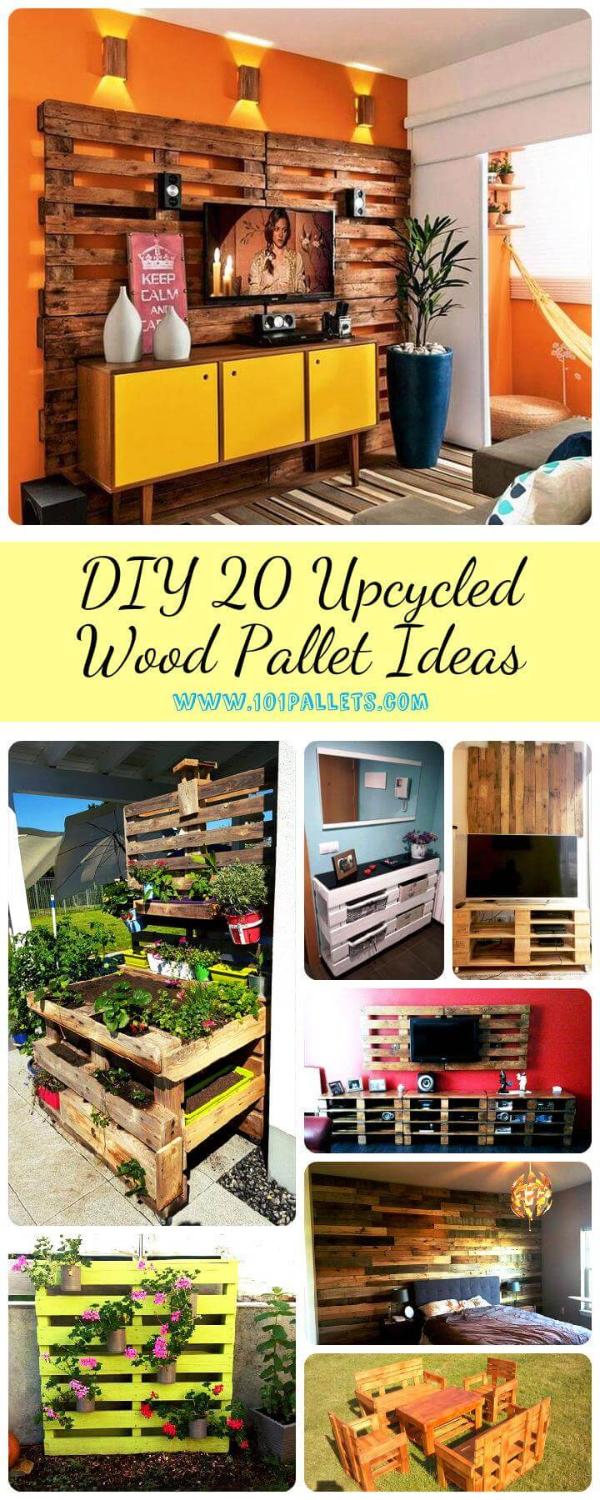 Don't let the pallets go as they are too friendly also for building garden furniture, like the given storage-friendly potting bench and sitting furniture set and you can even stack a few boards of them for long living models of TV stands or media consoles! Build also the fab stuff for kids and toddlers with pallet like doll houses, playhouses, cribs and swings!
Pallet Bedroom Background Wall: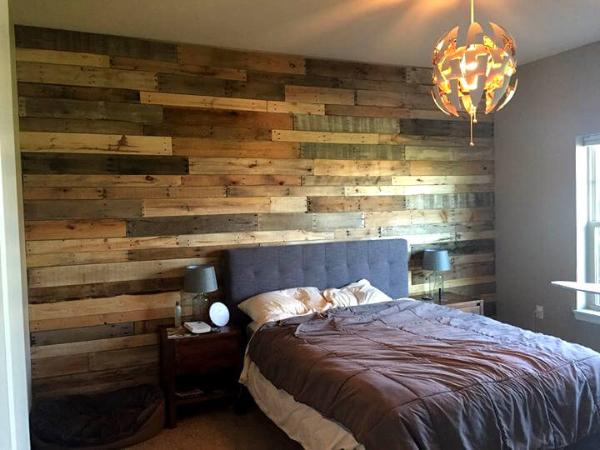 Recycle pallet for amazing beautification of your bedroom, give your bedroom walls a fancy wooden texture using pallets, here wood wall paneling of background bedroom wall has been done using separated planks of pallets, looks just amazing!
Entryway Table Made of 2 Pallets: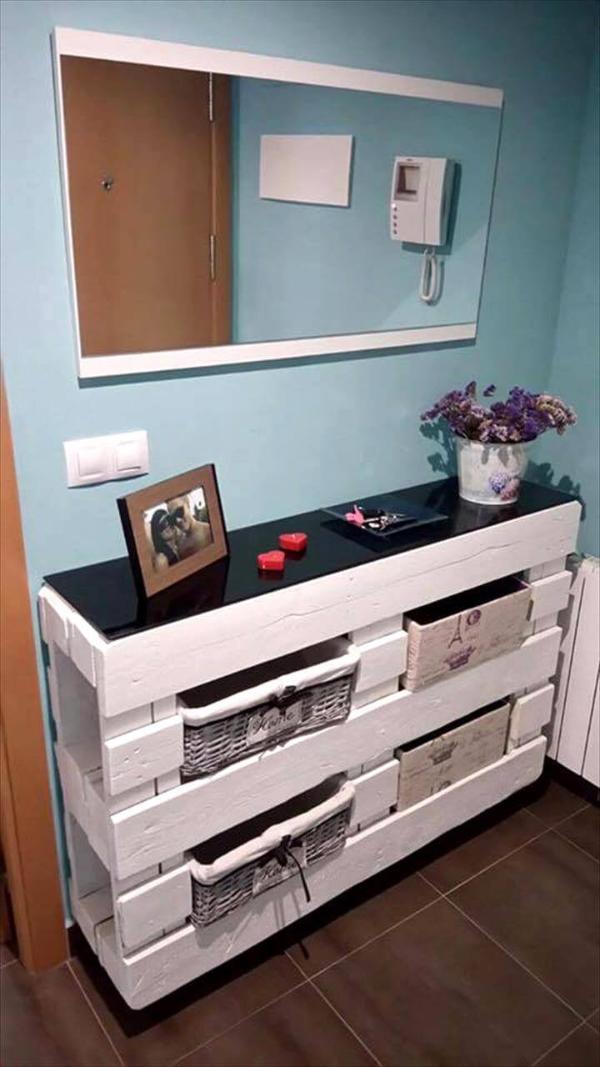 Get brilliant furniture crafts out of pallets just by aligning or stacking them as a whole, here this entryway slim table has been got just by putting together to pallets, storage opening are a big bonus here!
Amazing Pallet Media Wall: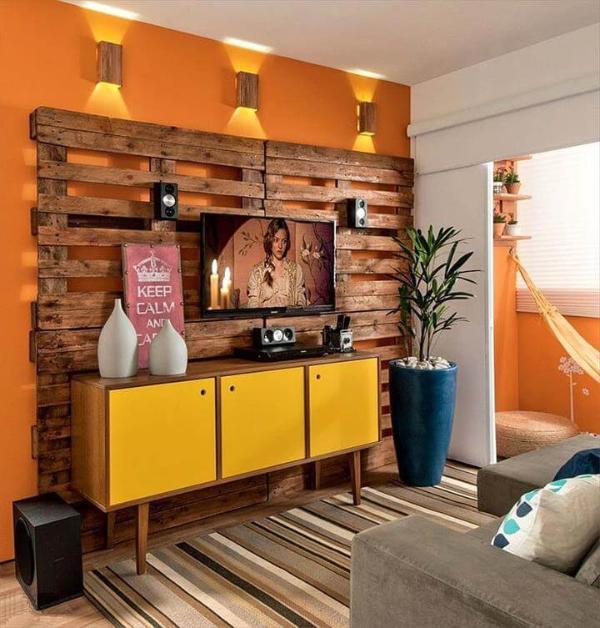 This media wall is what here that will provide your living room an extra rustic pop and beauty, holds well your screen and speakers to a cozy height level and give a glam rustic touch to entire living room ambiance!
Pallet Garden Potting Bench: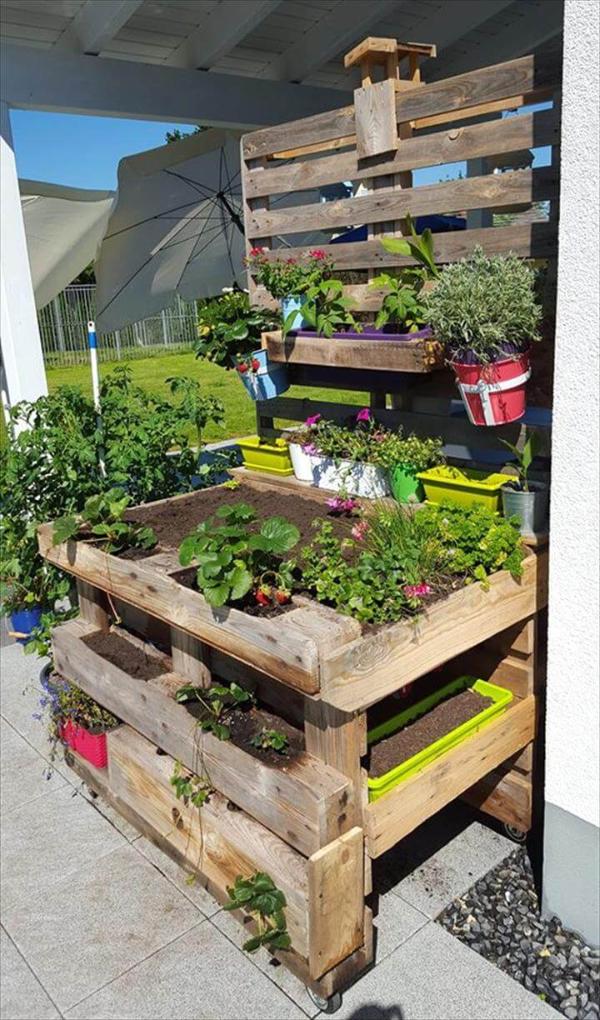 Here is a brilliant pallet inspiration, a superb potting bench has been made to do the garden related tasks and itself provides amazing planter cubbies filled with potting soil! It has also been planned of rustic pallet boards!
Pallet and Metal Coffee Table with Lower Shelf: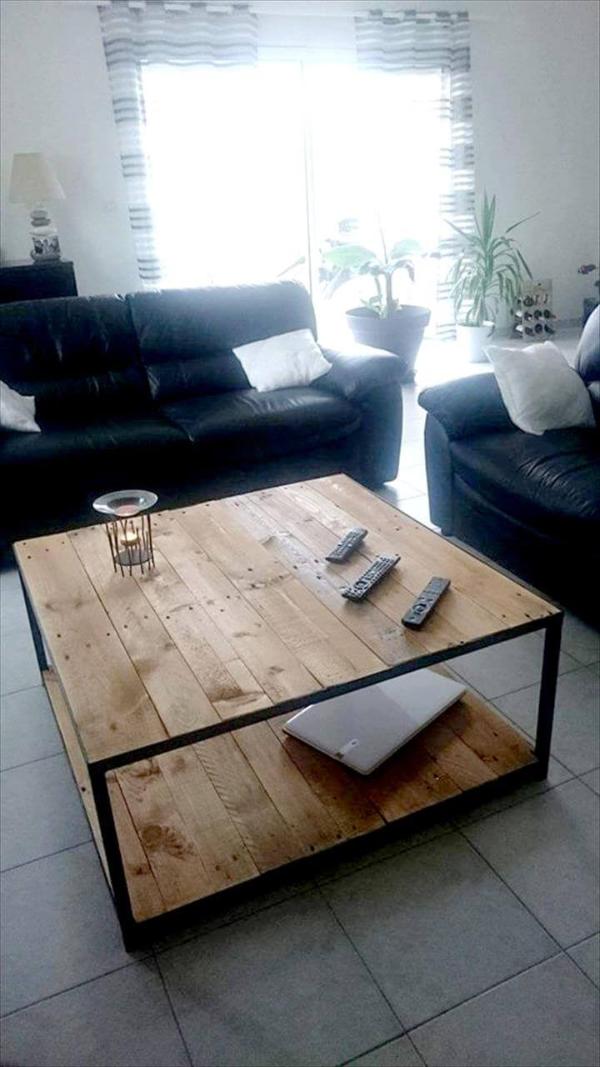 Mingle the pallet wood and old metal scrap of home for amazingly functional coffee tables, just like one having square shape and provides inside storage space, having full frame made of old angle iron lengths!
Pallet Media Table on Wheels: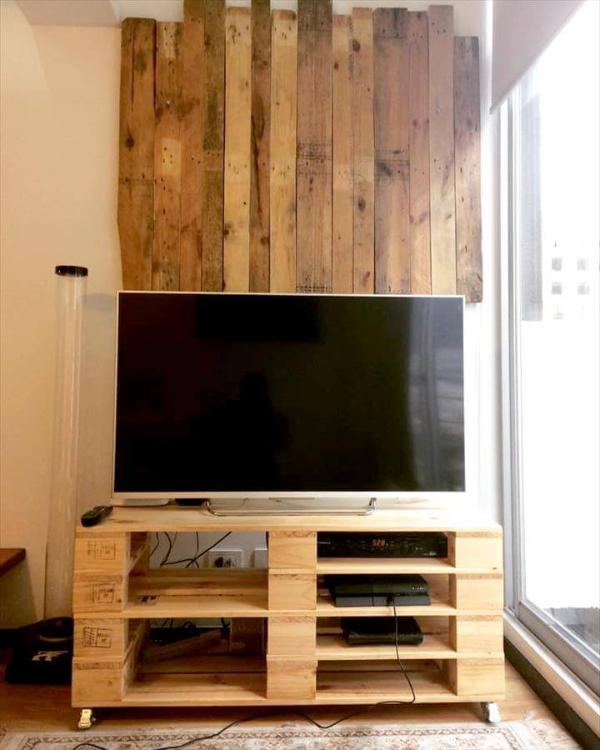 Stack some heat treated and finely sanded pallets and get glam media console table out of it, this brilliant sample is here to inspire you with its marvelous features and composition, some slats of pallets have been mounted to back wall for amazing rustic background!
Pallet Planter Box: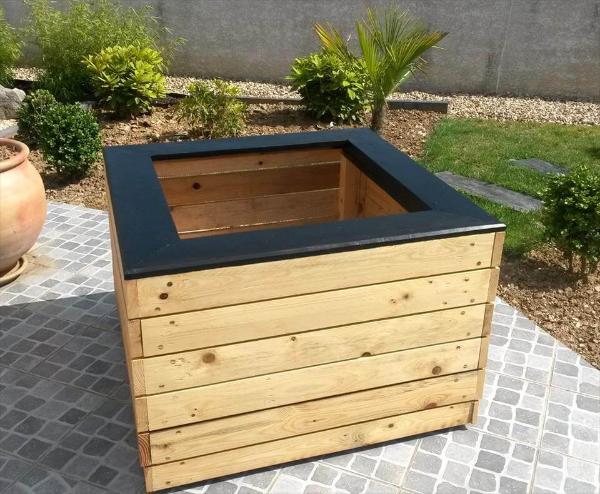 Here pallet slats have been put flat in dimensions of a box, can be used for potting purposes making a beautiful garden for your garden or any outdoor space!
Pallet Entertainment Center: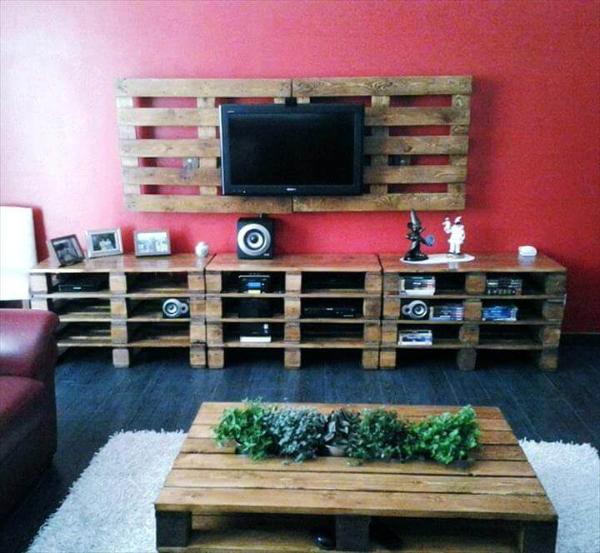 This is what here you can call a fantastic entertainment center done with original pallet boards which have been hanged on wall and stacked together to install this long living entertainment center! One pallet skid has also been regained as coffee table here comes with a succulent planter inlay!
Pallet skids are really life changing as you can see pallet furniture of them over the internet improving every single aspects of living! Hire pallets to install amazing planters in geometrical and various other fancy shapes, also sort out some robust skids if you are build instantly a an extra large and super storage-friendly design of a media TV stand! Paint a pallet boards and hang some flower pot over it for a lovely garden decor out of it or just install to a garden wall for a pleasing wall garden!
Reclaim pallets to install featured kitchen furniture like the kitchen counters, kitchen islands and cabinets, see a charming kitchen counter sample listed below! Building geometrical wall decors out of pallets by just going with patterned filling of pallets slats and in the same way you can also build the country flag or map wall art pieces and even those religious wall art pieces with pallets! Don't forget also to renovate your decks, organize your patios and fancy up your gardens with pallets, see also here the amazing sitting furniture sets for all these outdoor locations made of pallets!
Pallet Toddler Bed Inspired of a Doll House: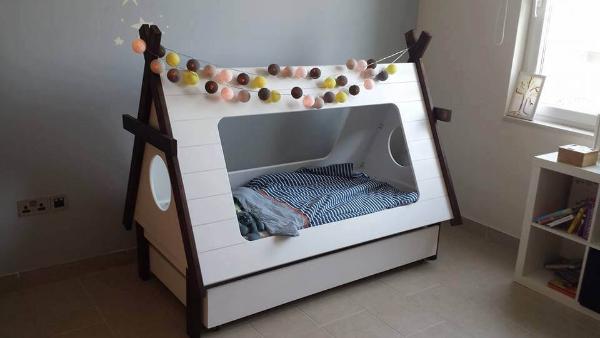 This is here a perfect pallet bed for toddlers inspired of doll houses, made friendly to air-circulation making round holes and bigger openings in side walls! It has been painted in white while borders or outlines comes with a choco brown tone of wood!
4 Long Pallet TV Stand: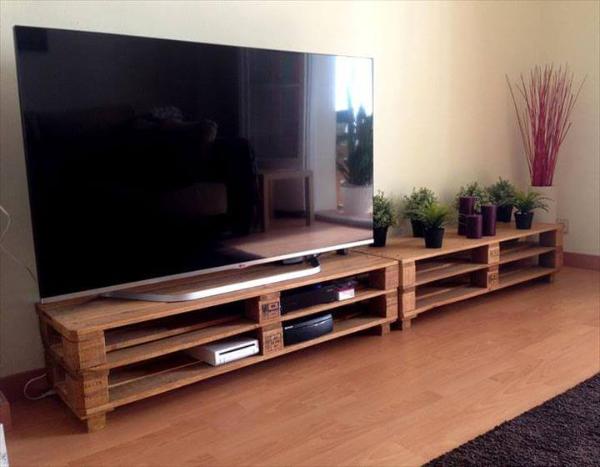 Here a set of 4 pallets having equal dimensions has been put together which results into a longer wooden table that provides amazing storage options too, this here has been intended to serve as a media console table as you can see and holds a large slim LCD TV screen!
1 Pallet Vertical Garden Painted in Green: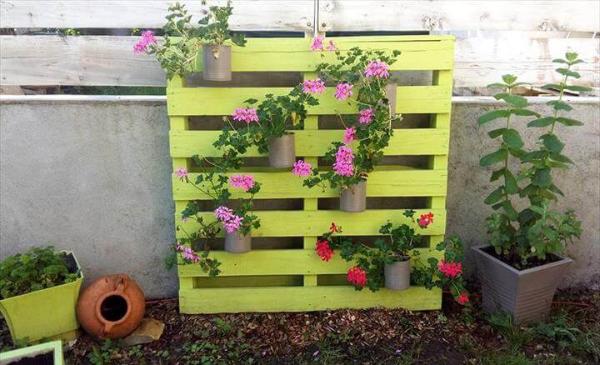 Here is a pallet board painted in green and has regained as a vertical garden, comes with flower pots nicely fixed over the entire pallet frame!
Wooden Pallet Kitchen Table/Island: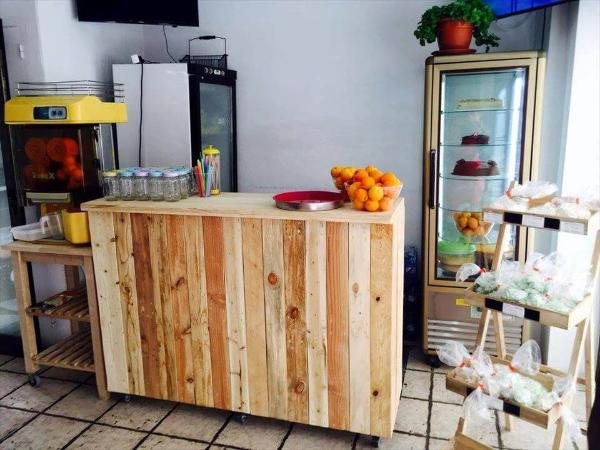 A perfect kitchen table or island, you can see how amazingly the separated pallet slats have been integrated for robust composition of this kitchen table, comes on 6 caster wheels make it roll easily over the paved floor!
Pallet Wall Art: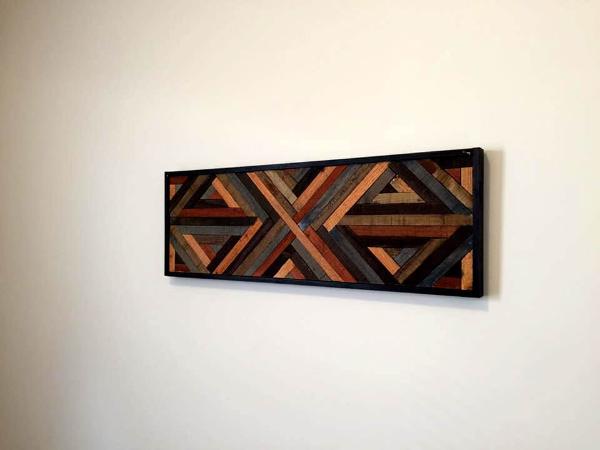 Here is something unique to build out of pallet stripes or slats, a fancy wooden wall sign or art piece, made of pallet multi-colored pallet slats filled in multi-chevron style, finally the sides have been trimmed with accent black boundary!
Whole Pallet Ideas: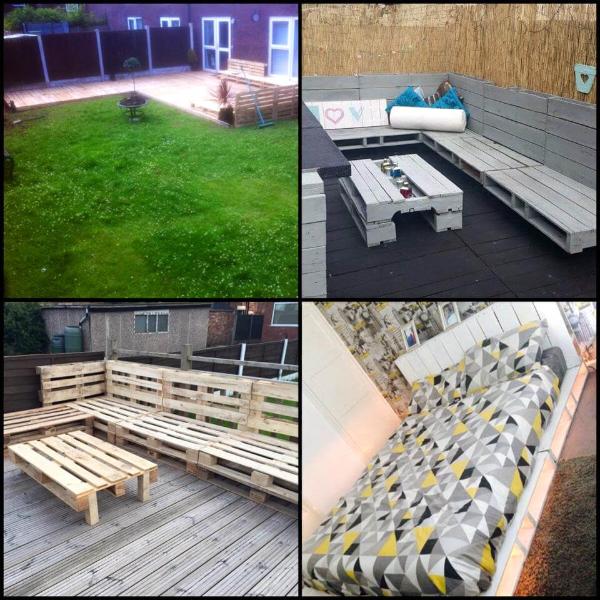 Here is a set of 4 pallet furniture ideas that are to be done with uncut pallet skids, you can install amazing deck with pallets, can floor up pallets for an instant platform bed and can stack pallets for lasting longer outdoor and patio sitting sets, just see the longer L-shape wooden sofa and party lounge set given above!
Pallet Garden Sitting Furniture Set: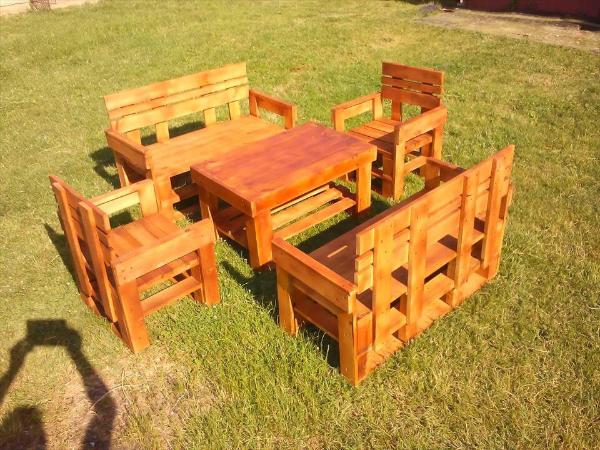 Here a marvelous restructuring of pallet boards has been done for a lovely output of a garden sitting set, two 2-seaters, 2 single chairs and a central coffee table are the total assets of this pallet sitting furniture set!