See the creativity on its maximum, just see the uniquely made pallet furniture projects here, all are to refer as the most genius furniture creation done by the Liver Pool Pallet Designs, here we have just listed them to get you early a DIY furniture expert or professional! All projects listed in this showcase of DIY pallet furniture ideas are so satisfying and stylish that you will feel all crazy to grab them instantly for your home! Get yourself a little busy with pallet lengths and clone the given shelving unit, would install a better station for your on any wall area to showcase all decors you want to display
Copy the beautiful chair design given below, accentuated and well assembled with accent headed bolts, also get inspired of the given pallet wall hooks, if you are all struggling for having a better organizer, coat rack or hanging station at your entryway, hallway or in your bathroom! Help your kids to busy in outdoor activities by building stylish mud kitchens given below and do feel pleasure by duplicating the stylish table and seats listed in these given pallet projects!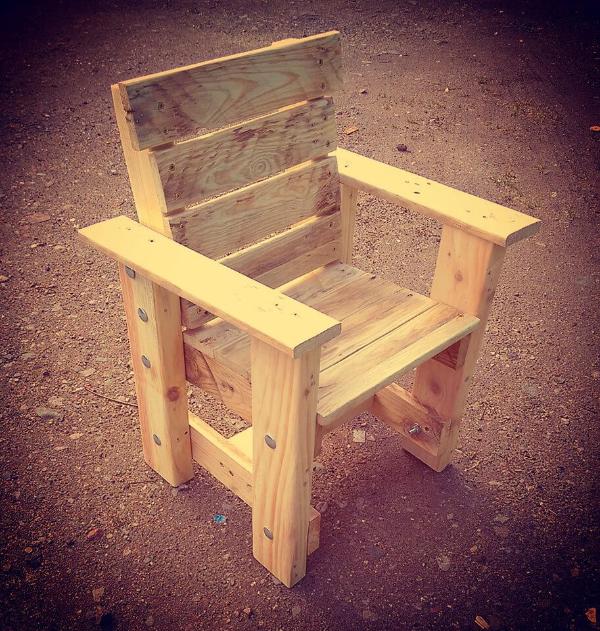 Go with pallets and get this nice toddler chair, as gift for your juniors, assembled with accent headed bolts, made tight with nuts on the other side!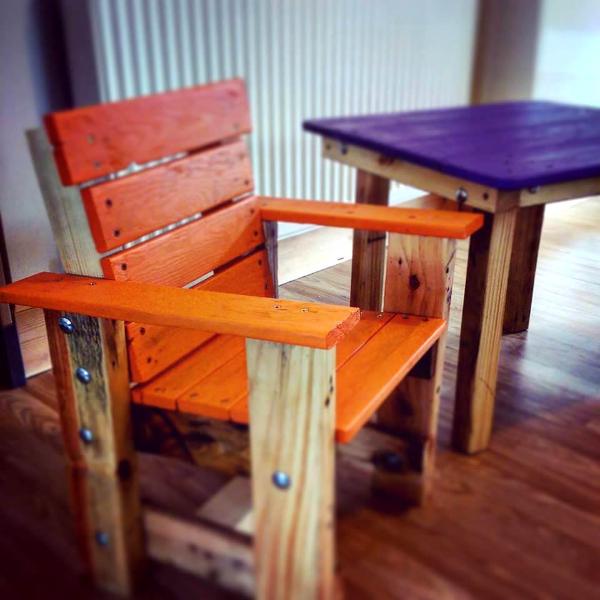 This may a great inspiration here if you want to paint that toddler chair, the solid dark shades always held inviting to kids, so this sitting set has all been intended to be captivating to kids eyes!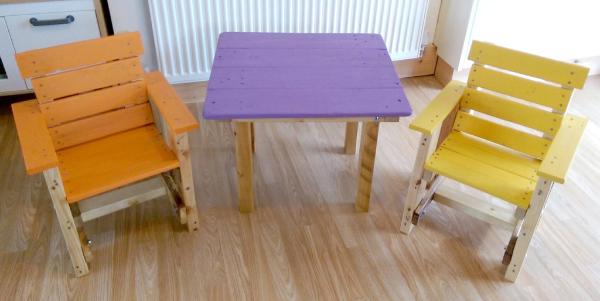 Chairs have been painted in yellow and orange while table for toddler has been painted in solid purple color, all these colors are sure to held precious to all pallet furniture for kids!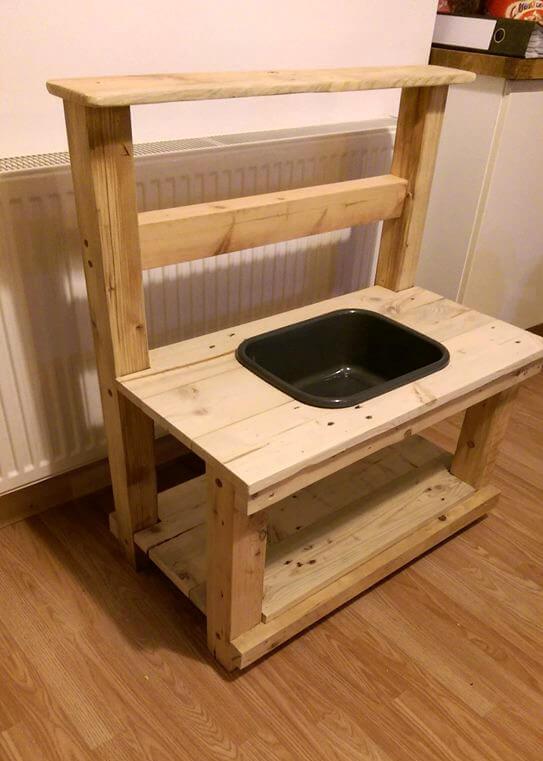 For practical kitchen lessons, clone this mud kitchen for kids, will help them to engage more to cooking and kitchen affairs! Having plastic basket fixed which are to play the multiple roles here!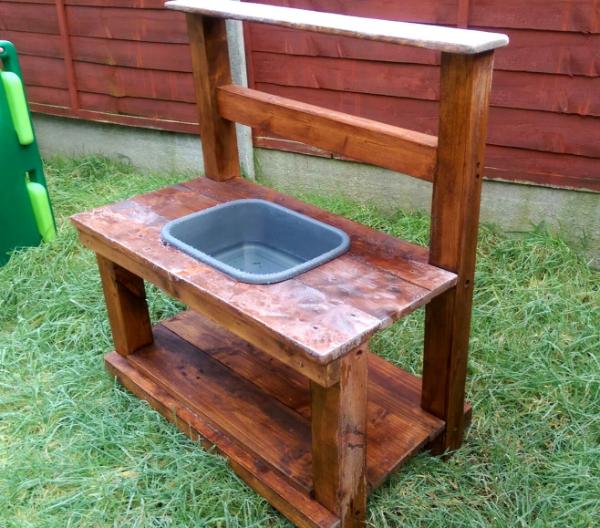 One more mind-blowing here, comes with all wooden surfaces stained a little as it is going long to be at outdoor so stain coats will help the wood live more!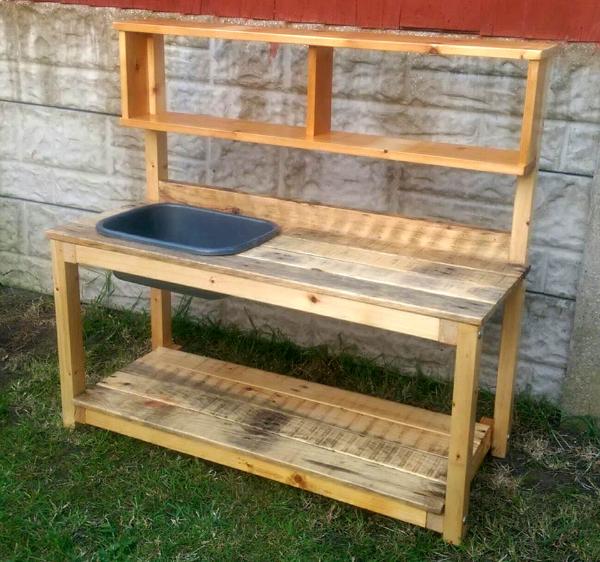 This is another creative one pallet mud kitchen, built in a little larger dimensions and also provides space to install also a faux stove there along with a dish washing sections which is already there!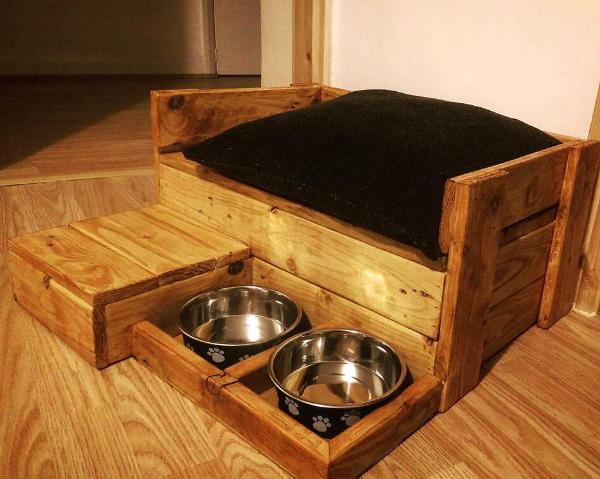 Presenting here a lovely new model of pallet dog bed, built to meet the latest standards and developed needs, extended with a stair step and a pet feeder, just help your dog to get all at one place!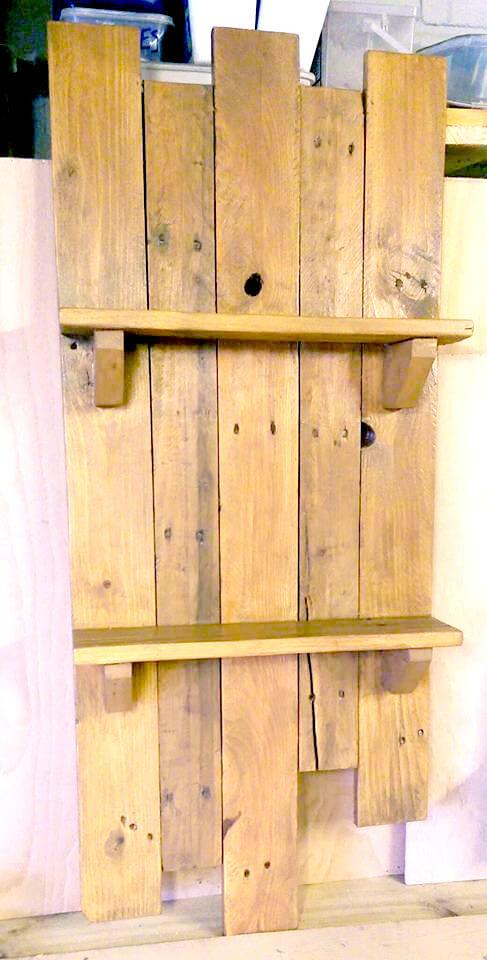 Wishing to display your wedding decors just a fab way and also the other items of decors and art pieces? Pallet wall shelf would be a great solution for it!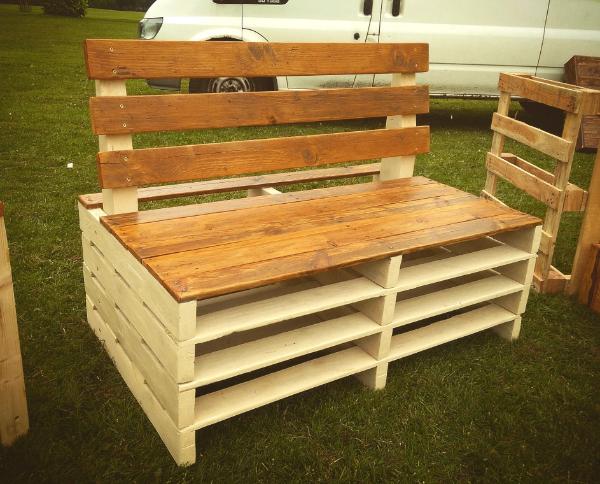 Get this finest ever pallet bench creation, constructed to be storage friendly also a little, having milky white painted frame while berth and backrest looks stunning in dark brown shade!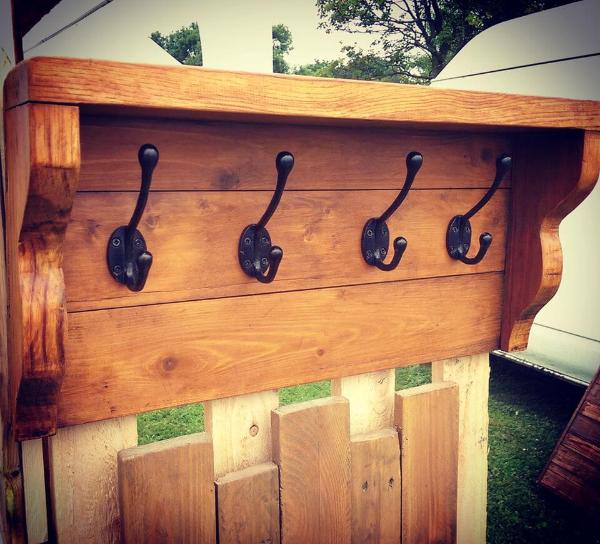 Help yourself with pallets to organize your things neatly, these pallet coat rack would be all amazing while seeking some friendly storage and hanging options on any wall area of home!
All made by: Liverpool Pallet Designs