Lead is a naturally occurring metal that has serious risks to our health. Constant exposure to lead can even make a healthy person end up in a coma! There's no safe level for lead exposure, research shows lead is toxic for human health, no matter what the amount.
Contaminants in natural produce and water supply are the two main ways humans get exposed to lead.
If you want to know what lead contamination is and how you can fix it, you are at the right place. Here's everything you need to know…

What is Lead Contamination?
When a water supply is contaminated with lead, it means the water has high levels of lead particles that are hazardous to health. Most water supplies today are contaminated with lead because of old plumbing pipes. Since lead is strong yet malleable, it was used in the plumbing systems of most houses built during the 20th century.
Lead faucets and other plumbing fixtures can also be the cause of contamination. To tackle the problem, the Safe Drinking Water Act (SDWA) has now limited the quantity of lead used in the manufacturing of alloys and other plumbing materials. The alloy fixtures can only contain 0.25% of lead while flux and solder can contain only 0.2%.
Health Risks of Lead Contamination
Lead can cause some serious irreversible health injuries. It mainly affects growing children but has adverse effects on adults too. Here are some of the most commonly known illnesses that occur due to lead exposure:
Behavioral changes in kids
Slow fetal growth or premature birth
Extreme blood deficiency
Neurological damage
Increased blood pressure
Sudden convulsions
Chronic kidney dysfunction
Hearing problems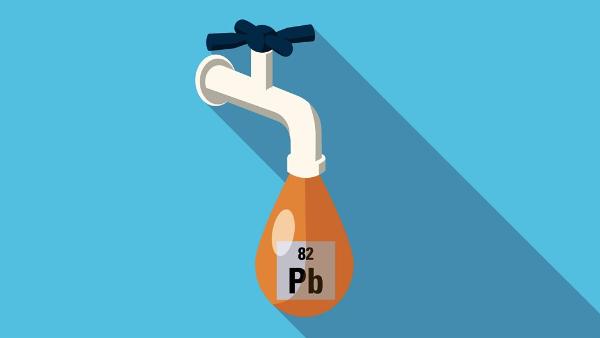 Lead Contamination of Water Supplies in South Africa
South Africa is a semi-arid region with sanitary water issues. Lead contamination has become a major worry in different parts of Africa. Among these, South Africa is one of the most affected regions. The main source of lead contamination here is the electronic waste that gets dumped into the water.
That water eventually makes its way into the water supplies of residental homes, risking people's health and lives.
According to research done in 2004, the early morning tap water in Thohoyandou, South Africa, had lead (Pb) levels of 20.6 ± 5.6 μg/l. This amount of lead is extremely concentrated compared to the permissible levels (10 μg/l and 15 μg/l) set by WHO and FDA, respectively.
When such highly lead-contaminated water is used for cooking, drinking, and watering plants, it can become severely toxic for human health.
So, while almost all African countries are facing the same lead contamination problems, South Africa needs the most attention. This issue is more prevalent in the country's poorer regions as they can't afford long-term solutions for this problem.
Where Does the Lead Come From?
Most of the lead in the water comes from agricultural, industrial, and mining waste. That waste is later on dumped into the water, causing contamination. In most poverty-stricken areas of South Africa, where there is hardly any filtration system – lead contamination needs immediate solutions.
Another source of lead in residential water supplies is the old lead-based plumbing system. When water passes through these pipes, it takes little traces of the toxic metal along with it. This process is doubled in hot water pipes as high temperature accumulates more traces of lead than cold.
What to Do About it?
While the government needs to tackle this problem at a federal level, there are a few things that we as individuals should do as well. Here is what to do when dealing with lead contamination in your house water supply:
Testing for Contamination
Water naturally has several impurities like iron, calcium, etc., which are not as big of a worry as lead. However, to check if your water supply is contaminated with lead, you need to run a test.
If you don't know much about how to test for lead in water, it's pretty simple. Before you take a test, ask your local water authority about the contamination. You can also ask your real estate agent if there are any old plumbing lines in your house. If the answer is positive, you need to start taking preventive measures to avoid lead poisoning.
Next, buy a DIY water test kit that you can get at quite an affordable price. These tests are based on a simple color-changing strip that indicates the presence of lead in the water. If the color changes or faint lines start to appear on the strip, it means your water has traces of lead.
Remove Lead Sources
Now that you know how to test for lead in water, you can move on to the removal phase if possible. If your house has lead plumbing or fixtures, you need to get them changed as soon as possible.
Use a durable material like PVC for your whole house, as it will not get rusty and last a long time.
Avoid Using Hot Water Tap
When dealing with a lead-based plumbing system or a contaminated water supply, avoid using hot water as it will dissolve more particles of lead (or other harmful metals). Instead, heat the water separately to ensure it has less amount of lead.
Get a Water Filtration System
Lastly, get a water filtration system for your whole house. Usually, an affordable reverse osmosis filter will efficiently remove any lead traces. However, if you want to go one step further, you can try out filters with activated or catalytic carbon, KDF, or cationic exchange resin for ideal results.
Conclusion
Continuous lead exposures can cause irreversible damage to your health. Once you figure out the cause, you can use the techniques mentioned above to lower the lead levels or eliminate the contaminant completely.
Just don't take lead contamination lightly. Take care of your family's health and do what's needed when it comes to providing quality drinking water.