Wooden pallets are extremely useful in addressing storage problems and enhancing your property's aesthetic value.
Other than saving costs, repurposing, and remodeling, wooden pallets are one way to help preserve the environment. Almost half of the current pallets used these days are made from recycled wood chips and old wooden pallets, making it a viable storage and shipment solution. Instead of leaving them to rot in space-strained landfills, wooden pallets can be recreated into wonderful home pieces.
With patience, imagination, and the right tools, recycled wooden pallets can rightfully claim their place in your bedroom, kitchen, living room, and your yard. Consider the following unique projects to fulfill your love for rustic furniture and fixtures: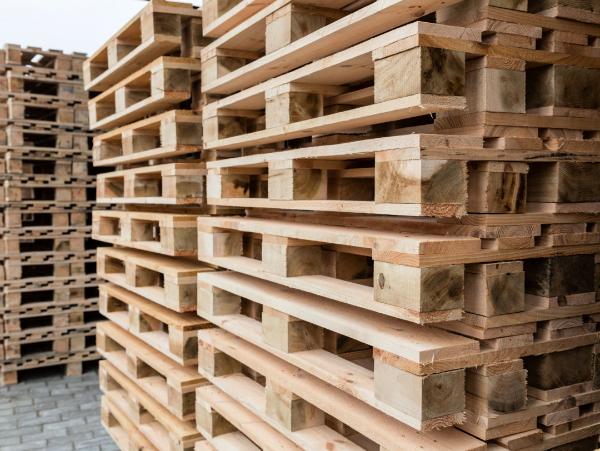 1. Pallet Trees
Do you have a few pieces of wood slabs or pallets in your garage somewhere? Put them to good use this holiday season. Create your own wood pallet tree made from cleverly cut and placed wood. Ready your paintbrush, balls, lights, glitters, and any type of décor that can lift your holiday spirit.
2. Kitchen Cabinet
Did you say you want bigger storage space for your kitchen? Thus, start gathering all the pallets from recyclers or manufacturers online such as https://www.challengerpallet.com/ which supplies pallet materials.
Look for a pallet to make a kitchen cabinet. Once done, you can start making your modular kitchen cabinet. This project may take time, as you need to take them out, cut, sand the planks, and varnish. Ready your nails, drill, sander, sealers, and other tools before engaging in this project.
3. A Stair from Double Wooden Pallets
If you have an ample supply of good-quality and durable wooden pallets, stack them properly to add strength and form to create your very own stairs. Add handrails if you want. Make sure to sand and smoothen your salvaged wood properly to avoid small cuts.
4. Lounge Area for Your Garden
Transform your outdoor haven by creating a lounge area for you and your visitors. It may take a bit of time to pull apart the wood, choosing the more durable ones, and re-attaching them together to create a relaxing area in your garden. Have the wood repainted and spruced up with different ornaments, lights, and plants to create an aesthetically pleasing piece.
5. A Shed That Can Double as A Storage Room
If you want a small space where you can put all your tools, equipment, and other essentials that otherwise won't fit in your garage, gather all salvaged wood and shipping pallets and make your own storage room. Look for pallets made from pine wood plants as they can be easier to work with.
6. Wooden Bed
Consider switching to a wooden instead of a metal bed frame, if you want to make it last. Depending on the type of metal used to create your bed frame, it may bend and eventually break over time. You won't have the same problem with wood, especially if you choose to use hardwood planks such as oak, pine, or cedar.
You can either just stack it for a minimalistic look or experiment with other strategies for a one-of-a-kind design.
Make sure to treat the wood against pests and termites. Regularly clean your wooden pallets to ensure they remain in tip-top shape.
7. Wooden Headboard
If you want to take your woodworking skills higher, consider making a headboard for a more complicated activity that's sure to test your imagination and skills. Add some extra oomph like a leather-covered cushion to make your headboard more comfortable and fancier.
8. Wooden Ceiling
If your ceiling already looks drab, spruce it up by placing wooden planks, just as you would on your floor. Salvaged wood from pallets can be taken apart, cut, sanded, and painted or varnished.
Arm yourself with wood glue and a nail gun to start the work. Take precautions and wear goggles and gloves to be safe.
9. Wooden Swing
Bring out the child in you by creating a swing from old pallets. Look for the best and most relaxing spot outside your home, preferably one where you have a tree so it's easier to hang your swing. Doing it is simple. Take apart the planks or cut out some portions of the pallet. Repaint and attach a chain or rope to suspend it.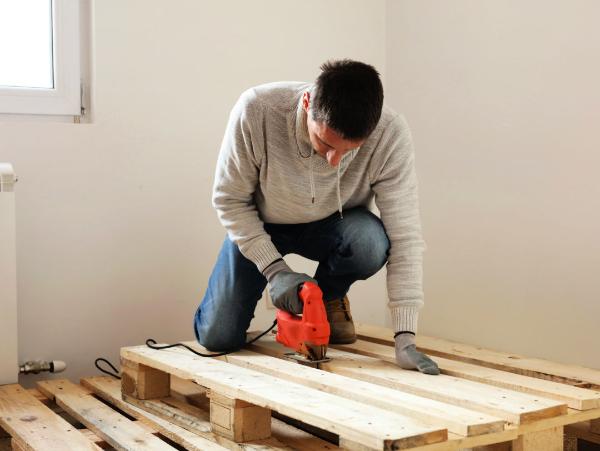 10. Pallet Wall
Whether inside and outside your home, you can place wooden pallets just about anywhere to make your place more interesting. Got a boring white wall in your bedroom, kitchen, living room, or near the furnace? Place wood planks in different shapes and sizes to liven the place up.
Take the planks apart, paint them or varnish them to retain the rustic look, and plaster them in your chosen area. No matter your overall home decorating theme, you can adjust your wooden planks, accordingly.
11. Picture Frame Holder
This one is perfect for beginners. All you have to do is to measure, prepare your wooden pallets, cut them, re-assemble, and mount. Put your picture frame or small trinkets and accessories to jazz up the piece.
12. Pallet Bookshelf
Despite the existence of e-books, nothing beats being able to hold (and smell) one. The downside? Books can take a huge amount of space in your room. If you want to keep them in order and know which one to buy next, transform your wooden pallet into a simple bookshelf.
13. Room Divider
Want some privacy? Create a room divider with minimal costs and in no time. All you have to do is put together six wood pallets and place them on any part of your house. Make it look better by putting some items, like small plants of any wall décor in the gaps.
14. TV Rack
Whether you want to build a cabinet-type TV rack or one that's plastered on your living room wall, build it better with wooden planks. Like most pallet projects, there's no limit to what you can do with the wooden slabs. Whether you want it in different colors, quirky form, or modernistic design, there's no stopping you.
15. Pot and Wine Rack
Want a more organized kitchen? Stop stacking your pots and pans in your kitchen cabinet. Hang a wooden pot rack and attach hooks to create a more stylish kitchen and expand your storage space. If you don't feel safe hanging the pot rack, mount it on your kitchen wall. You can also add another mounted wooden pallet to serve as a wine rack.
16. Shoe Rack
Looking for another storage project? Another easy way to up your woodworking skills is to repurpose a wooden pallet into a shoe rack. There are multiple ways to design a shoe rack–from the simple and functional mounted-type to the boxy or the more complicated multipurpose cabinet-type rack.
17. Pet Bed
Your fur babies deserve to have their own beds, too. Make one for them by cutting a pallet, sanding, and varnishing it. Finish by placing small pillows, blankets, and your pet's beloved toys, with their food and water containers close by.
Key Takeaway
When it comes to repurposing wood pallets, your imagination and skills are the only limits. Additionally, one of the keys to having a successful pallet project is to have the right tools to cut, sand, and seal the planks properly.