Today, pallet furnishing is high in demand as its non-standard design adds spice to your accommodation and attracts attention by the multi-functionality. More and more people buy it, and, as a result, it has become a trend. If you want to be a part of a fashionable current, look at some ideas you can transform to make your college dorm the best place to live and study.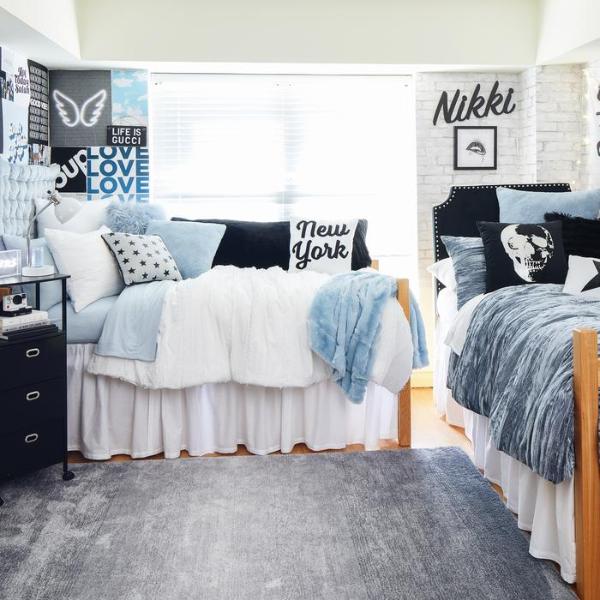 Multi-Purpose Bed
As we know, a good bed is key to good sleep, and it determines how you feel while awake. The pallets are suitable for creating such constructions. You will get a strong, environmentally- friendly bed frame, with ventilation that not all bought bed models have.
If your room is too small to hold a standard-sized bed, you can find a way out even in this situation. Take a few wooden pallets, fasten them together, and make sure that they are fixed well enough. Now you have a kind of a bed-platform with a storage place between splats where you can keep your book or clothing. All you need now is a comfortable mattress and nice bed linen.
Coffee Table
If you like individuality and surprise your neighbors with unique items, you could order or make yourself a pallet coffee table. You don't need to make lots of efforts to build the table. You just need some time to look through some manuals. To make a bit of "your" time, there is a sure-fire option to contact the academic services, asking, "Could you do my college homework cheap and fast?" Having assigned your task, you will have enough time to make a piece of furniture by your hands.
You need a couple of pallets, place one pallet on another, attaching four small rollers to its bottom. You can either make a glass top or paint it in different bright shades.
Carts and Shelves to Store Your Things
If you don't want to have wall shelves, you might get special "boxes" to keep your things. Use peeled wooden pallets to make lovely carts to store your stuff. You can put things inside and put a soft seat to have a convenient ottoman. Thus, you will save a lot of room and have extra seats for your guests. Besides, you could attach small wheels on the bottom and move these carts wherever you want.
If you aren't willing to have bulky furniture on the floor of your dorm room, you can put the bookshelves on the wall. There is a wide range of designs for the bookshelves meeting your needs. Pallets are universal material that can be tailored to the general style of your place.
Safe Haven to Rest
Do you dream of a quiet place to be alone for a while enjoying a cup of your favorite drink, reading an exciting novel, or focusing on picking up a trustworthy paper helper? How about arranging a safe haven to rest made of bright pallets? You can make a small wide low bench with a backrest and decorate it with a colorful plush blanket and soft cushions.
Photo Frames
Perhaps, you have already heard that it's weird to print photos in the digital age. But who told that you have to be like everyone else? Think outside the box and decorate your room with the brightest memories! To arrange a wall photo album, you should take a pallet, take it apart, and arrange it like a shelf. It will look pretty good on your wall. Or you might place your pictures in chronological order using a few slats for a multi-level shelf.
Shoe Shelf
If you are a great fashionista and have a pair of shoes for every occasion, you definitely need to consider this idea to bring to life. Nobody likes a pile of shoes by the front door that spoils the general picture of the dorm room. The most common reason to have a shoe mess is a lack of room for your footwear. We have an excellent solution for you! Use recycled wooden pallets to get a nice shoe rack at your place. You could find dozens of the existing designs or create your own one.
Decorative Garden
Couldn't you imagine your dorm without plants, but don't have enough space to place all the flower pots? You don't have to live in a big house or have a balcony to grow flowers. Use pallets again to build improvised flower beds. You'd better get a vertical construction as it will take less room and look better.