A garden sofa pallet is a perfect furniture seat made from reclaimed pallets, cushions, and fabrics. You can purchase one, but it is an excellent idea to make it yourself from scratch following simple procedures. DIY pallets garden sofas are easy and economical because you will not incur any labor and transportation cost. Similarly, you can design them according to your desired shape as there are several options to select. When making a pallet garden sofa, all you are required to have is the right quality materials that will enable you to achieve a perfect project.
Your garden is an important area that needs the right sofas to relax and enjoy the weather with your family and friends. Therefore, you should have the comfortable right seats that will make the outdoor activity enjoyable. Several individuals find it challenging because garden sofas are expensive. However, the idea of DIY sofa pallets has been embraced globally, especially if you have a small garden.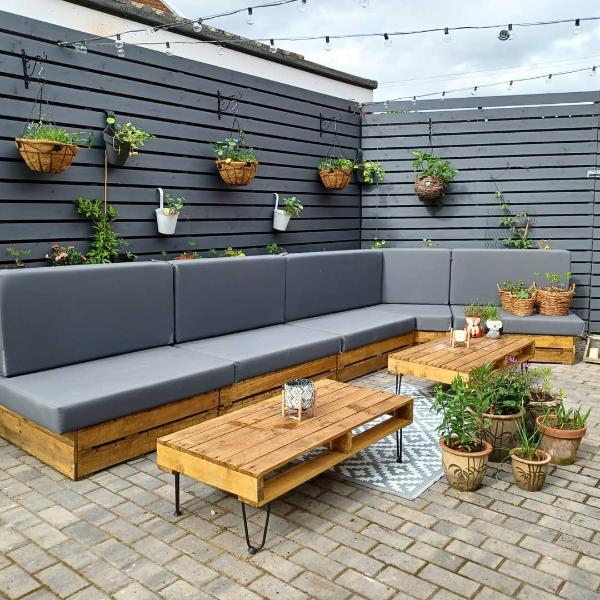 Pallet sofas for the garden are safe to use because the primary material is heat-treated and completely chemical-free. Also, pallets are mainly manufactured from hardwood such as maple and teak, making the sofas very durable as they are resistant to severe weather conditions. The natural grain pattern of the hardwoods also gives the sofas a perfect appearance which makes the garden look beautiful. When blended with suitable fabrics and colors, DIY pallet garden sofas are the best.
The procedure of Making a Perfect Garden Pallet Sofa
Making a pallet sofa is a fun exercise. After settling on the best design that matches the shape of your garden, it is now time to start actualizing the plan into reality. You need the correct tools, including wooden pallets, garden chalk paint, roller, tray, paintbrush, electric drill with screws and scatter cushions. You will be done making your sofa in a few hours and welcome your family members and friends to enjoy the quality garden time. Here are simple steps to follow.
1. Coat Pallets with Your Carefully Chosen Paint
It is a straightforward step because the pallets are already treated, passed through heat, and accredited; hence, you can start painting directly. Using a clean cloth, first, wipe them to remove any possible dust that may affect the paint. Mix the paint properly for it to be homogeneous and with the use of a mini roller, apply it to achieve an even appearance. Give the coat thirty minutes to dry, and then apply the second and third coats. Turn the pallet on a clean area to paint the bottom. You will be required to use a brush in areas where the roller will not reach.
2. Cut The Pallets into Standard Size
Depending on the number of wooden pallets you are going to use, whether one or multiple, possibly you will be required to size them at some point. Begin the project after ensuring that you have all the space details that your garden sofa will occupy. Cautiously, cut the pallets using a band saw in the right size, keeping in mind straight lines are mandatory.
You should have the correct sketch and measurements of the sofa that will guide you through cutting the wooden pallets into the correct sizes to avoid any possible wastage. Calculate accurately the edges of your pallet sofa and the part of your garden where it will be situated. You need to consider and leave enough space for a table or any furniture similar. Always be sure you are satisfied with the design before cutting the pallets. Similarly, make measurements twice and cut once to evade any possible mistake which might affect your project.
3. Fix The Pallets
Pallet fixing is another step; you need to be extra careful because a single mistake may affect your garden sofa's whole design and shape. If you are piling two pallets together, you should confirm that they accurately fit after cutting, then attach them. Fit the top and bottom pallet using screws, but you might wish to use wood pieces depending on the type of outcome you are trying to make.
Size the pallet to the standard length of your back, and then fix it to the base of your sofa using screws. At this stage, your sofa would have started taking the typical shape. Stick to the directives you had selected when scheduling what your sofas should appear. An L-shaped pallet garden sofa achieves a bizarre relaxation spot. If you are not sure that your sofa is attached correctly, you can seek support from an expert to come and confirm the firmness.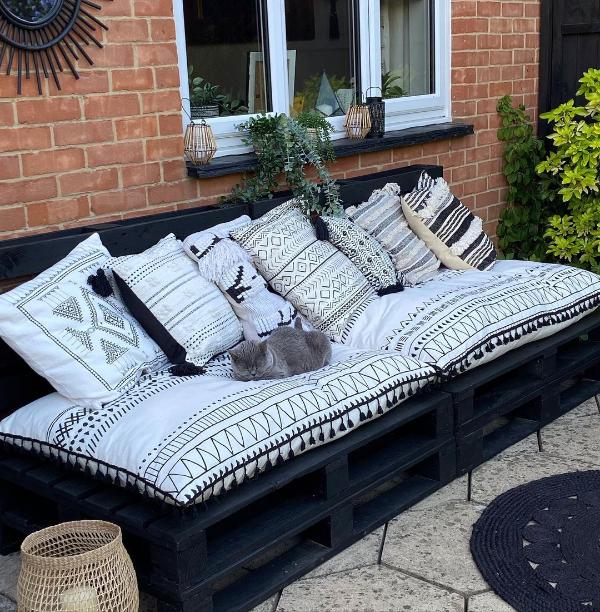 4. Sand and Guard your Garden Sofa Pallet
This is a crucial phase of a DIY pallet garden sofa for comfy requirements. Once your sofa has connected and attained the proper shape, confirm the durability to guarantee it will be stable and support the weight when people are sitting. It should feel secure beneath you and not shake when it is under pressure.
After confirming that everything is in order, use smooth sandpaper to soften the wood of your DIY pallet. The process will make it appear even and eliminate the peril of any splinter. It is also a perfect method of preparing the wood surface for painting and protective coverings. Always ensure that you spread over a weather-resistant coating to all areas of the pallets. Other individuals find it better to paint their pallets initially, while others choose after fixing them. Nevertheless, all the procedures are best, and it is upon you to select the one you are comfortable with.
5. Final Touches and Finish
This is the final stage, and it entirely depends on your taste. Pallets have a naturally attractive appearance, and some people love the look without including any paint. However, if you decide to paint, always select a quality one that is weather-resistant to maintain the look over time. Finally, place the cushions and pillows made of waterproof materials. Likewise, you can add fairy lights to make it appear more unique.
After your pallet garden sofa is complete and ready to use, do not forget to clean it more often for hygiene purposes and maintain its look.
End Of Article