There are many things which determine the style and decor of our house and the coffee tables are definitely one of them. So they must come with a charm factor along with being too functional so that they set the interiors of our house high on the chart of decor and interior designing. Though the pallets are cheap and rustic furniture material but still they enable you to get a desired coffee table piece and we have adorable one with us today.
Just check out this DIY rustic pallet coffee table piece, a very simple and cute coffee table and is damn feasible to build with your own hands at home. Two pallet single face skids having one and tow dice sections at the ends have been layered on each other respectively to install this coffee table structure giving rise to hidden storage space for books and magazines. The brown stain finish has added more magic to its rustic appeal and natural appearance.

The coffee tables are one of the best items to be created from the pallets in a variety of styles and designs and this one is also a pallet creation with a simple structure pattern of having a top and four legs.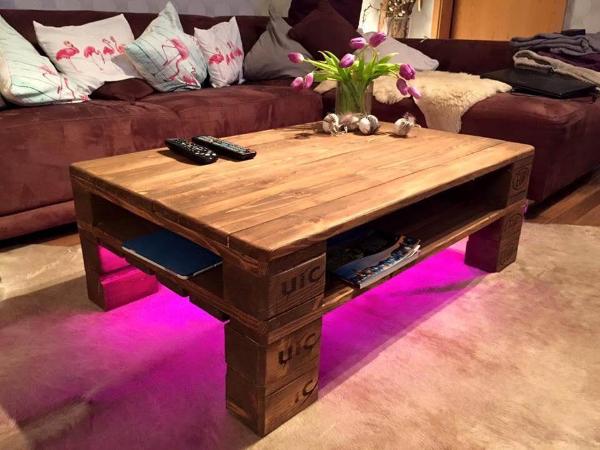 The pallet skids have been cut into single face pallet skids and layered twice on each other and four dice sections extra has been placed at legs to get the desired height for the coffee table.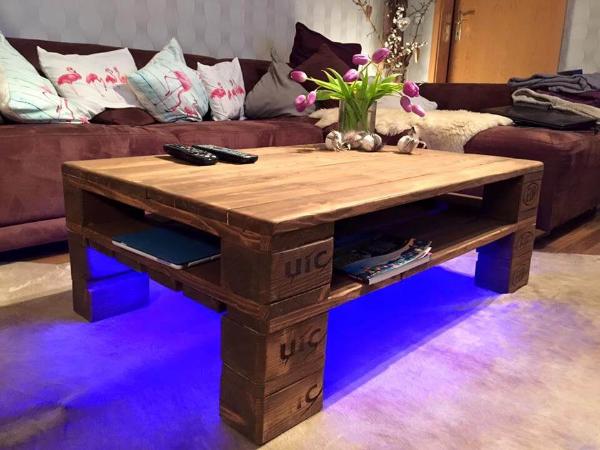 The space between the two single face skids have been used here to keep up the magazines and the books and the rustic brown finish has been done here to make it look a distressed piece in your living decor.
Made by: Wood Manufactory