Do you love greenery and natural pure environments? Do you want your outdoor furniture with a fancy natural touch? This DIY pallet planter bar and stools set will explain the whole story to you about how to do so! Here the modified pallet boards that can hold the potting soil on the built-in levels, have been put together vertically to build the base of the wooden bar which is going to have an L-shape design! Straight wooden lengths from dismantled pallets have been grabbed to build up the top and rest of dimensions and also the 2 matching stools!
Finally, a bar and stool set has been gained for free that can be utilized for instant installation of an outdoor beverage corner or party station! Wooden pallet bar with natural vibe, is really a genius pallet creation here and is also very new pallet achievement! Finish the design by installing selected hardware and one can add lights instead of plants for amazing light phenomenon at night, we'll recommend you to do so if you are building this wooden bar for your bar shop!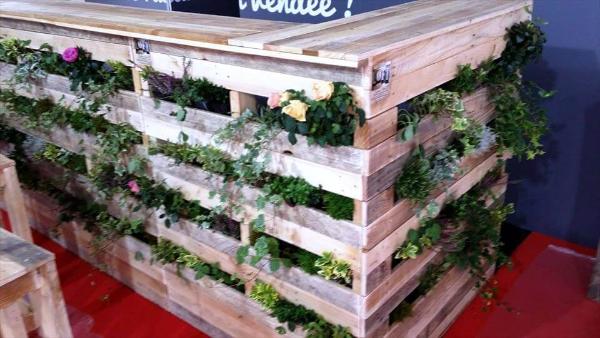 After the plants will come out through pallet openings, the look of the bar will really mind-blowing, it will be a both planter for your backyard or garden and a bar table at the same time!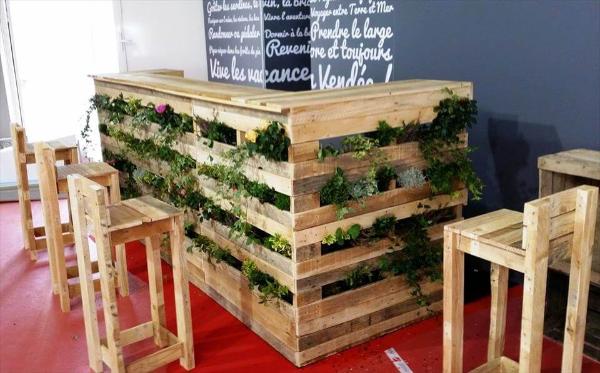 Leftover pallets have been turned beautifully into matching stools, will allow you to sit in front of the bar counter and will also lift you up on a comfortable height level to relish your drinks!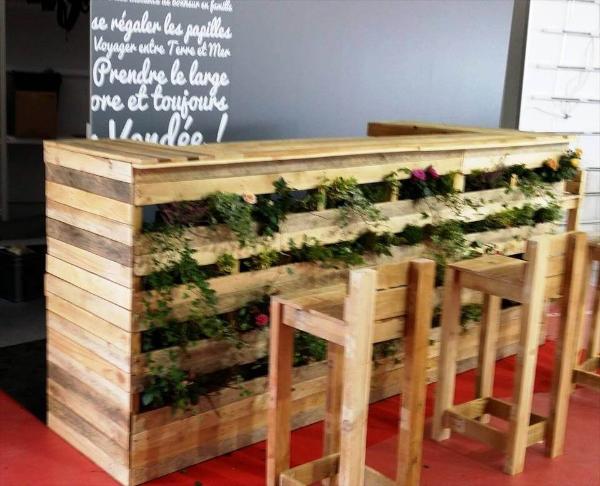 It is quite easy also to build stools out of pallet wood slats, beautiful pallet idea for nature lovers!
Made by: Esprit Loft Recup