Kitchen needs extra attention and suggestions while being remodeled, furnished or furbished as it is commonly the compact and tiny one area but have to perform loads of functions. If you use pallets for the kitchen styling and furnishing you would get many benefits like you can make the things of personalized size, shape and dimensions to make them fit and suit well your kitchen space. And to show you a home and handmade example we have with us this DIY pallet kitchen island and breakfast table set , one to let you store and organize your kitchen apparatus on and other to let the family have hurry breakfast in the morning.
Both the items have been made using the pallet slats and planks having been separated from the pallets skid. The island have a top, side cabinets and shelves while the breakfast table boasts a round edged top and A shape twice leggy support system. They can be painted and stained well after being sanded but here they have been kept unfinished to adore the rustic attire of the both.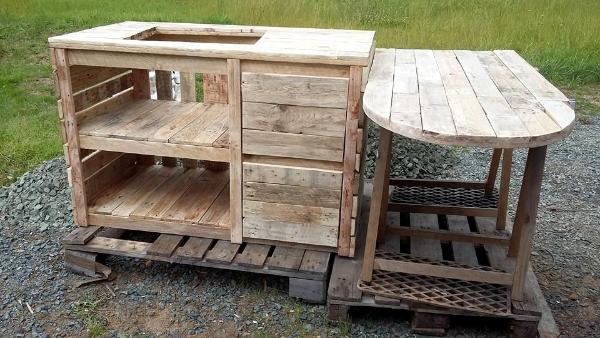 This pallet projects having a kitchen island and a breakfast table is a remodeling idea for your kitchen space so you can enjoy a more functional and gorgeous cooking zone than before.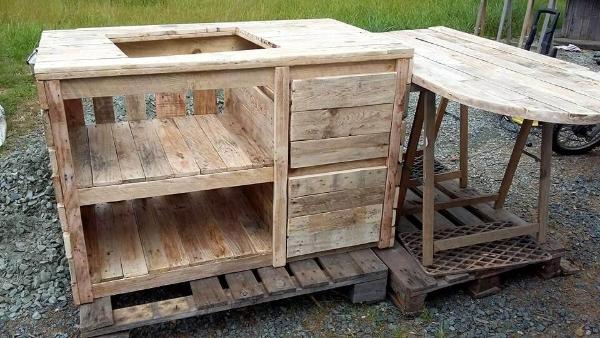 The pallet island table is used to prepare the food on and to store a lot of your kitchen apparatus,cooking stuff and accessories in an on and this withe the shelves and cabinets would nicely perform all the assigned roles.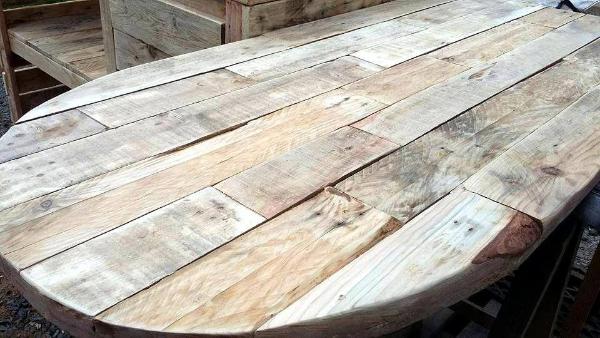 The breakfast table for the kitchen is made from the thick and custom cut pallet slats and plank pieces and have been made to look unique and creative with a round edging at one side of the table as shown.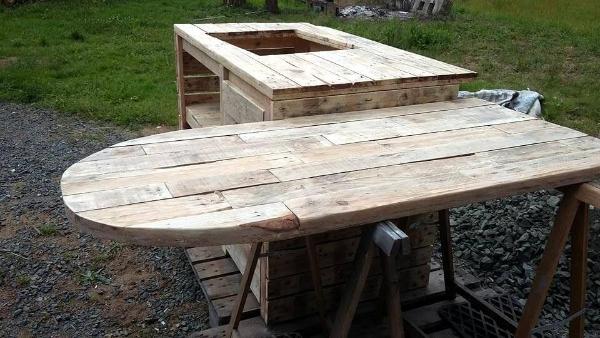 Both the items have been made using the pallet slats and plank pieces which you would have to cut first from the pallets an then stack and yoke together following the structure pattern using the nails and screws.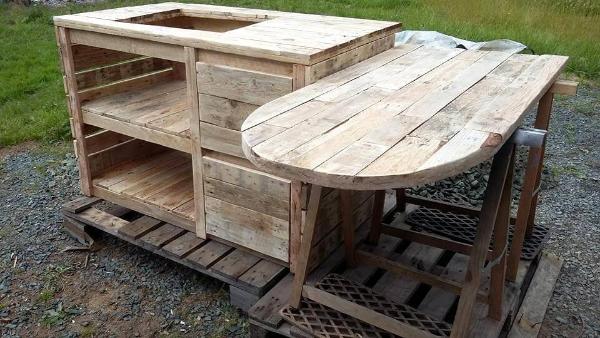 The legs of the breakfast table have been made from the thick and sleek pallet slat piece forming A shape at two spots one so that the table stands on a strong ans sturdy support in a balanced way. Both have been kept unfinished for the sake of rusticity but can be stained to look more homey.
Made by: Decorecupbois