Pallets are wooden slat platforms used in the handling and storage of goods. Pallets are an inexpensive, reusable product that ensures safe transportation and well-organized distribution of materials from one process to another. In construction, pallets have a variety of purposes including temporary builds, pre-fabricated forms, temporary stairs and ramps for workers, scaffolding planks used for work on potentially dangerous parts of a building or structure.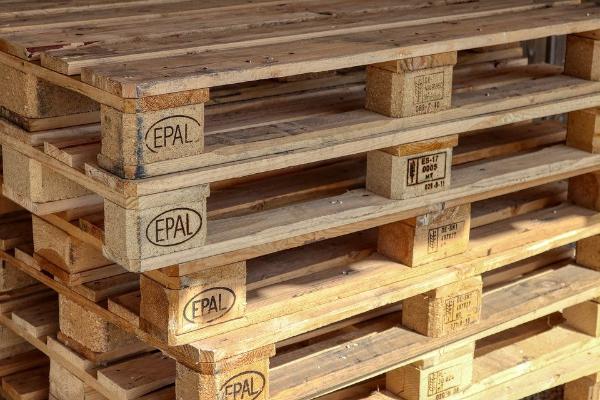 Cost-effective construction material
The primary purpose behind using pallets in construction is to save money wherever possible. Pallet wood is much cheaper than other traditional building materials such as plywood and chipboard. Saving on construction material costs is one of the fundamentals of learning about how to start a construction business, and using pallets is an excellent starting option. They can be used instead of these more expensive products because they perform very similar functions – protecting surfaces from scratching and allowing them to be quickly and easily assembled – but, when made from wood, they are much cheaper.
Pallets also provide an easy way for temporary builds
Dismantling the 'kitchen' at the end of a project and rebuilding it in another location can be extremely expensive and difficult, but with reusable pallets, this is not necessary. A team could simply play out all of the parts onto different layers of scaffolding or sheeting and just move the whole kitchen to the new site. This saves money on transport costs alone.
Used as scaffold frame
When assembling a temporary building such as a plinth, floorboard, or formwork, wooden pallets can be laid out along each edge for strength and stability while workers lay concrete or plaster into that area. Then, once the men have finished their work, they can pick up the pallets and move them to form another edge for laying concrete. This saves time on dismantling scaffolding or assembling it along each wall because many smaller structures can be built using just one large scaffold frame.
Pre-fabricated structures
Pallets are also now being used as pre-fabricated forms to create nonstandard-shaped buildings such as domes, spheres, and tunnels. The benefits of this are that you do not need expensive molds or templates, which means you save money on materials. Many people now create these shapes by cutting out different sections of a spherical pelmet plank (a circular steel beam) and nailing wooden slats to the round section for walls. This means that you can create spheres or domes of any size, which also saves money. The same principle applies to tunnels, where round metal beams are cut into smaller pieces to make circular steel roofs.
Stairs and ramps
Pallets are useful for scaffolding stairs due to their strength, design, and cost-effectiveness. They are one of the cheapest ways of creating temporary, safe stairs on site. Once again, this saves time as it is much faster than building a set of wooden stairs from scratch using traditional techniques. It also reduces costs as there is no need for nails and screws: pallets come with everything they need to be assembled – pre-drilled holes and holes in the ends for attaching planks – which is much quicker.

Although wooden pallets are often thought of as being dirty and outdated, they have been used for centuries all over the world by farmers, laborers, and transport workers. In recent years they have been made even more useful with their use as scaffolding boards, temporary stairs, and building forms. They make construction much easier, quicker, and cheaper because they can be fixed together easily using just nails or screws, come pre-drilled for extra strength, and allow quick movement of heavy materials around dangerous parts of a site. This is why many builders now prefer to use wooden pallets instead of buying expensive plywood or scaffolding planks. More and more people are also using pallets to create non-standard shapes such as domes, spheres, and tunnels. Pallets will likely be in high demand for construction projects in the future, so it is good to know what they can do.