Both amateur and pro carpenters or woodworkers will face some unavoidable challenges during woodworking. These challenges or mistakes sometimes are spotted in the middle or by the end of the project.
However, it may cost you more than planned if you aren't capable enough to deal with these woodworking mistakes. So, to save your time, energy, and resources, you must be equipped with some skills and preventive measures.
This article will share nine woodworking challenges for your concern so that you can deal with your blunders aptly.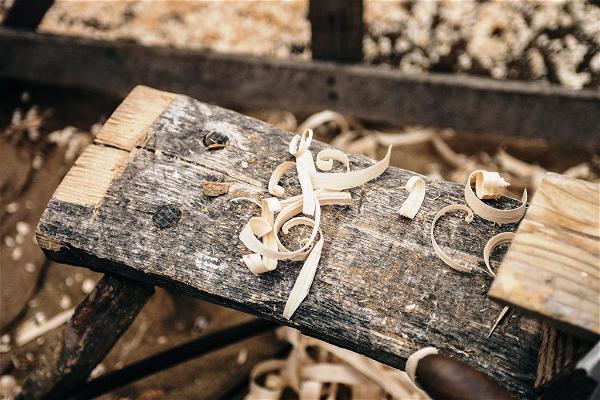 1. Loose Screw,
One of the most typical mistakes of woodworking is screwing MDF (Medium Density Fibreboard) loosely. You must know how to screw MDF to avoid this hassle later.
How to Deal with It
You may apply slow-setting epoxy on the outer side of the insert.
Now drive the insert into the MDF and wipe out the excess glue. Wait for a while.
Now screw the board after putting it in place.
This way, the screw will remain intact for a longer period.
2. Residue of Glue
Glue can be an effective tool in woodworking. Its adhesive quality is a popular choice for most carpenters and wood designers. However, things might go wrong if you overuse it on a particular woodwork project.
One of the common challenges in woodworking is unevenly applying glue along the joining lines.
Since glues are transparent when dry, you won't possibly notice it if left bumpy on the surface as a result of the excessive application.
How to Prevent It
Cut the tip of a plastic straw into a V shape.
Use the V-shaped part to scoop up the excess glue from the crease areas of the woodwork after application before it dries out.
Repeat the process several times until the glue is completely cleaned.
3. Poor Finishes
A poor finish to your aspiring woodwork project can be counterproductive. On one hand, you've worked so hard to get a neat design; on the other, you've blotched it with stains— the whole design can be ruined.
How to Deal with It
You must thoroughly sand your woodwork; using lower-grit sandpaper, dragging it up to 220-320 grit paper.
Using lower grit paper is risky since it leaves more scratches over the wood.
4. Dents in Wood
Most woods are prone to dents during carpentry due to their softness. Imagine, you're nearing the end of your laminate flooring project only to find out that you've accidentally dented it. That little dent will make the whole flooring look awkward.
How to Deal with It
Take a wet washcloth.
Place it over the dented area of the wood after ringing the washcloth a little.
Keep it like this for a couple of minutes.
Set the iron to its highest temperature and run it back and forth over the cloth until it's completely dry.
After repeating this process several times, the dent should be removed.
5. Missing the Saw Kerf
The kerf is an important aspect of woodworking, and there's a high chance of making a mistake related to this while working on a project.
Since kerf is the carving size or portion resulting from the blade's thickness while cutting into the wood piece, you must be careful of how much you're cutting.
When overlooked, this mistake may produce more cuts in the woods than you need to, making the woodwork troublesome and below par.
How to Deal with It
You must check the thickness of the blade before cutting into the wood piece.
Check whether the function of the blade is okay if you're using an automatic blade.
6. Poor Measurement Tools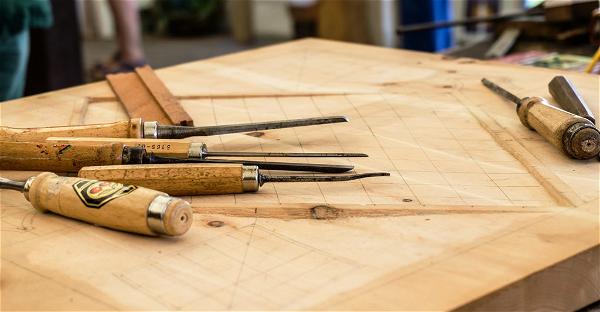 If you're still working with your old toolboxes while working on a woodworking project, you must think twice. Measurement tools that don't function properly are prone to be creating hassles in your work.
Especially, well-measured woodworking is one of the preliminary requirements if you're preparing for home renovation.
The hook on the tape measure's end is supposed to be loose, allowing diverse measurements during your work. But if this gets loose, chances are you'll lose the accuracy required to cut the wood for various designs.
How to Deal with It
Use the same measurement tool throughout the project to avoid multiple measurement confusion for the same task. This will keep your accuracy consistent.
There always remains a chance of chipping out a splinter of wood from the edges of a wood piece while using a chisel. This mistake is very common and it can compromise the whole project sometimes.
How to Deal with It
Use a razor blade to score the cut line.
Stick blue painter's tape along the cut line to prevent chipping out and tear outs.
Once the lumber is resawn, getting back to a cupped board is quite hazardous. This becomes worrisome if you're specially bookmatching the grain. This is one of the common issues of woodworking that may compromise the whole project.
How to Deal with It
Place the cupped board cupped side down (like an arch) on some cauls. The cauls are important to keep mildew from growing. Put the cupped board upside down, keeping the cupped side below on some cauls. Cauls will prevent mildew from growing on the wood.
Wipe the upper side of the cupped wood with a wet cloth until it's totally wet.
Keep a heavy object on the upper side of the wood, so it can weigh it down overnight to flatten the surface.
A big blunder often a carpenter can end up with is gaps in joinery. After spending hours in the cutting perfect joint, things might go wrong and you'll see the gaps aren't assembled. Then all you're supposed to do is starting from the beginning which will cost you more time and money.
How to Deal with It
Take a sander and take out the dust bag. Sand an offcut wood of the same species you're working on with 80 grit sandpaper.
Collect sawdust from your dust bag.
Apply enough glue in the joints that they ooze out from every corner. But make sure you wipe out the excess glue once finished gluing.
Now rub the collected sawdust on all the edges of the joint. This makes sure of no gaps in the future.
Conclusion
Whether making furniture or working on creative projects, avoiding mistakes in woodworking will save you time, money, and resources. Woodworking takes immense skills and concentration, which may be dwindled due to these mistakes.
Preventing these mistakes will make your woodworking less challenging. Also, you now know how to deal with them when confronting them in the middle or at the end of your projects.