Shelves are just a great friend of our interior walls! If we explore functional and decorative criteria of shelves we just find them the best ever candidate to enhance the look and performance of our interior walls! You will truly find it here that how simple is to build some functional shelf frames using pallets! Cut a pallet board from very of its bottom and gain this DIY wooden pallet shelf having different pockets to organize your stuff! How simple it is, you can even target the books, magazines, antique pots and art and crafts to display through this easy-to-build and no-cost shelf!
If having some discarded lengths or pieces of pallets, you can even install the same pallet shelves with great ease! A highly fab and innovative pallet project for those who are really in need of some stable wooden shelves! Wood can be finished in number of way and hence you can decide multiple finishes to gain the very personal look of this shelf!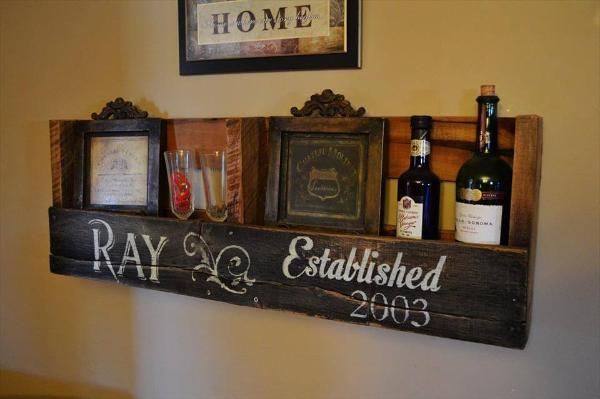 DIY has really made it easy now to lure the number of views of any targeted wall and functionality as well! Just use the amazing pallet-made shelves and give the functional and visual boosts to your wall area without expending too much money!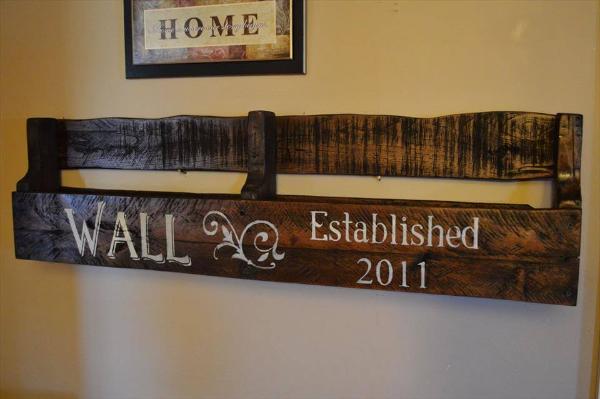 This shelf design is actually a bottom part of pallet wood separated apart through a cutting process! The front of this shelf design has been dignified by writing over some letters, by painting artful swirls and by mentioning the year of composition!