Welcome to all my readers again for new pallet furniture ideas. I hope this is going to be an excellent read for all of you and you get benefit out of this post. My expectations are very high from this writing.
I am sharing these DIY projects of DIY pallet shelves. This was a wonderful experience and I completed that project without taking any help from anyone. I used the old pallet wood to make these easy wooden shelves for books. The best thing about these pallet shelves is that you can place it along the wall in any room like the living room, study room and even in your bedroom depending on the purpose you are using the DIY pallet shelves for.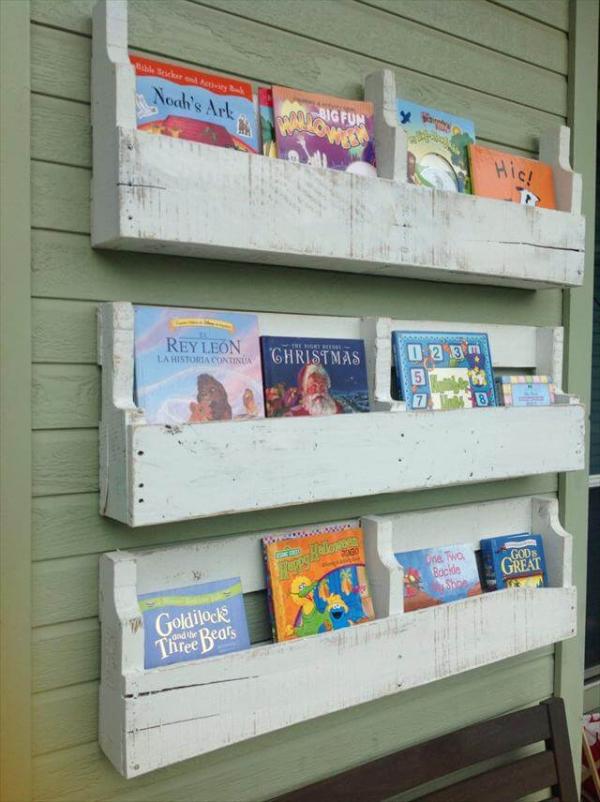 DIY Pallet Shelves Instructions:
I created the pallet shelving for my book, magazines, and novels. I badly needed a one because every time I had an issue of placing my books and magazines so the solution I found was to make pallet shelves. The room used to look untidy because of books being placed here and there but after having pallet bookshelves all my problems were settled. I felt so excited about it.
I started my project early in the morning and managed to complete it in a few hours. After disassembling the pallets planks I sanded it to remove the rough surfaces so that shelves don't look old. I fixed the pallet shelves along the wall of my room using steel clippers and prior to the fixation, I have cut the pallet planks in equal sizes.
The shelf was actually not a single plane but I created in the forms of frames as you can also see in the pictures entirely separating one part from others to have enough space for books and reading material. This clear distinction is being made so that you could easily place your various books in different sections. I knew that I will have to categorize my books so made this clear segregation during the fixation.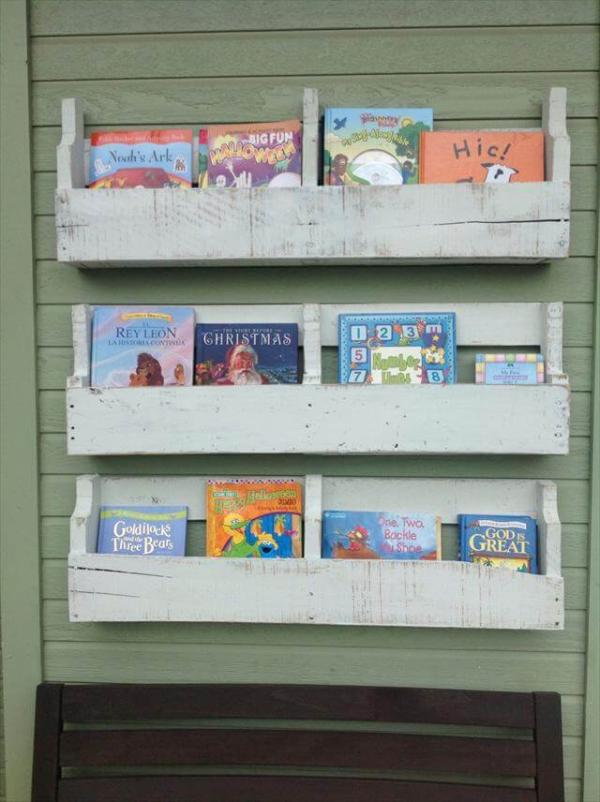 After fixing the pallet wall shelves along the wall I started painting it and I choose the white color as it best matched the color scheme of my room. Before color, I did sanding once more to remove stains and rough edges so that painting faces less friction. After completing the painting I left it for drawing and once it was completely dried out I properly placed my books in pallet shelves and felt so relieved about it. You can see how good it looked in my room.
Old pallet shelves are ready, enjoy, and happy building. Other 24 DIY Pallet Shelves are given below you can use them to store your things and decorate your home. If you need more do it yourself ideas then visit DIY crafts which is most helpful for woodworking projects.
Pallet kitchen shelves.
pallet living room shelves.
Pallet garden shelves.
Pallet living room shelves.
Pallet bookshelves.
Pallet planter shelves.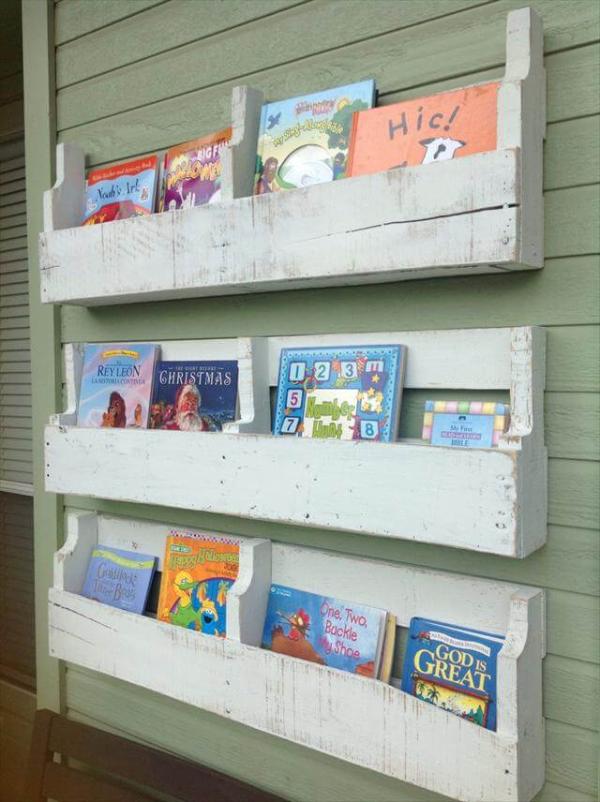 Organize your books, magazines, and other bookish stuff nicely by way of wooden pallet shelving. The easiest and most inexpensive type of wall shelving that everyone can avail of. Use the custom pallet pallets or separated slats to build these wood wall shelves, look like wooden pockets.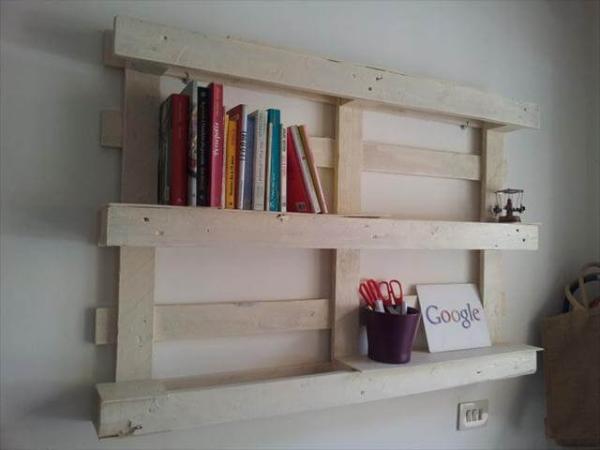 Sorting the crazy instant way for better arrangements and storage of your book stocks? Then again, head over to free pallets. Build stylish wooden bookcases out of pallets, can be mounted on the wall too for extra visual grace. A pallet with backside dice sections can be used directly to serve as an open wall bookshelf, as you can see.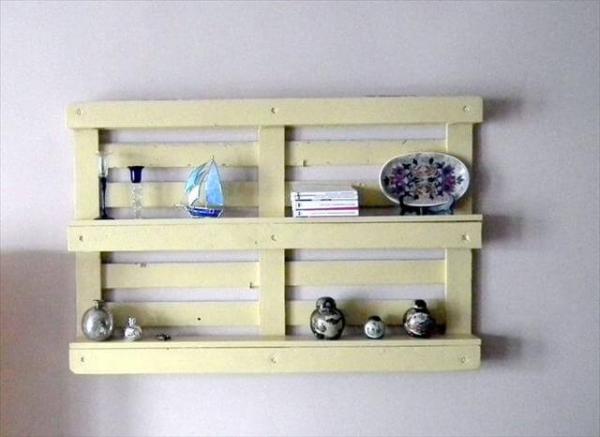 Installing storage or display shelves should not cost you big, especially when you decide to get them in the wood medium. Let the pallets make things easier for you. Use the pallets as readymade wall display and storage shelves. They can simply hold all like utensils, accents, books, and other items of this kind.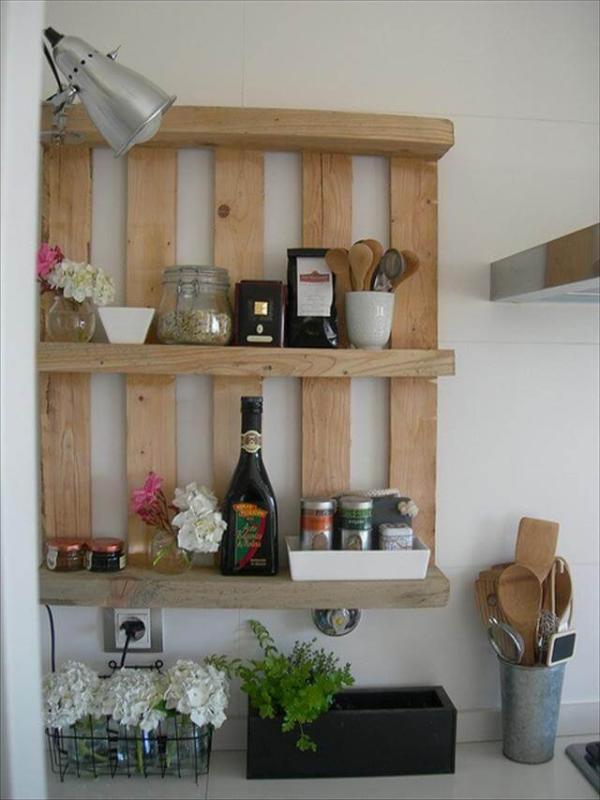 Take your kitchen organization to the next level, also using some free pallets. Just hang a pallet on the wall and let their backboards, serving as shelves, hold your items of interest. If using in a kitchen, it will be a great utensil and spice rack. As pallets are heavy, so opt for durable hardware hanging systems to build this wall hanging pallet shelf.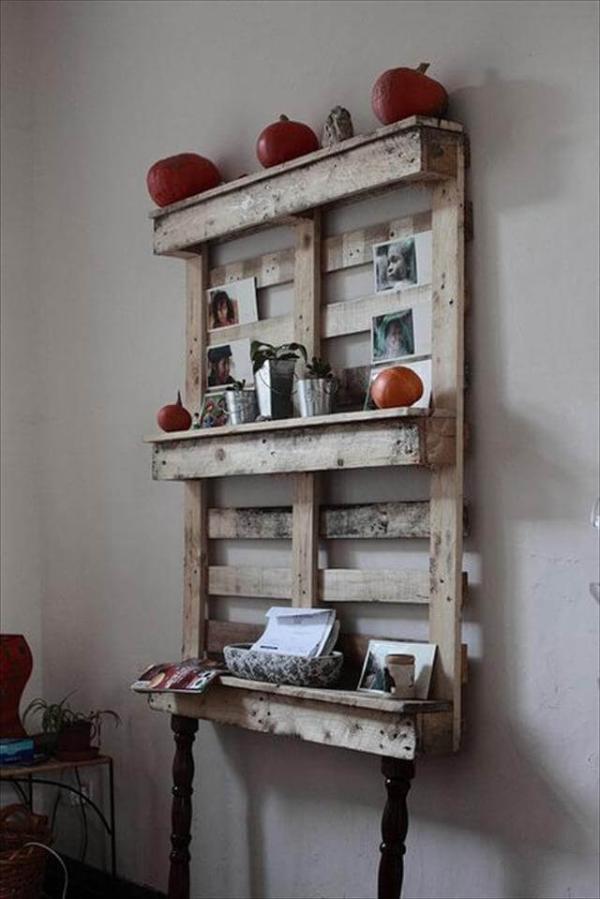 You will be a big fan of this multifunctional role of a pallet. It is mounted on the wall and is serving as a shelving unit and also as a picture display rack. Here the idea is to use the extra pallet wood slats to add on the top of the pallet dice sections to gain the lovely shelves. You can easily display your photos using an in-between spacing of pallet wood slats. Two metal legs support this pallet shelf as vertical pillars.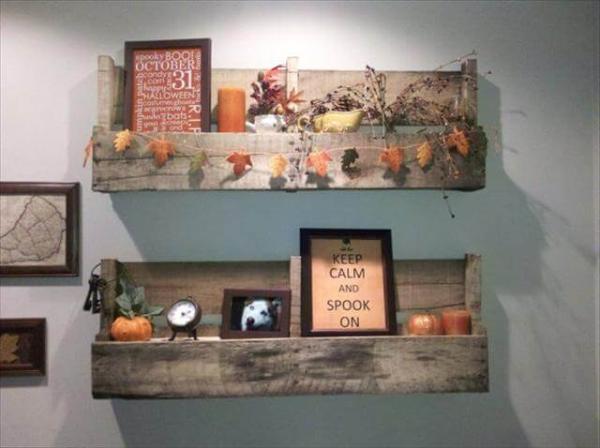 Look at these best rustic shelves decorated on a fall or Halloween theme. They come loaded with pumpkins, pumpkin color candles, and also with fall leaves. In addition, display your custom mural and picture frames on it. These shelves are super easy to make out of pallets and will be loved dearly by all for sure. Add some nails on these shelves to make them hold your keys too.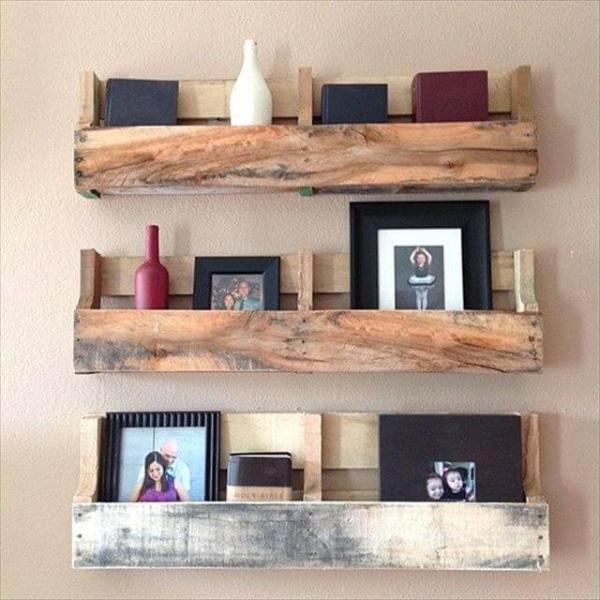 Imagine you are having a trio of these wooden pallet shelves installed on the wall, will not it help to organize a mess of items? These shelves are ideal for organizing magazines, books, and custom items of interest. If used as a display unit, it will nicely display your art frames, picture frames, and other decoration pieces.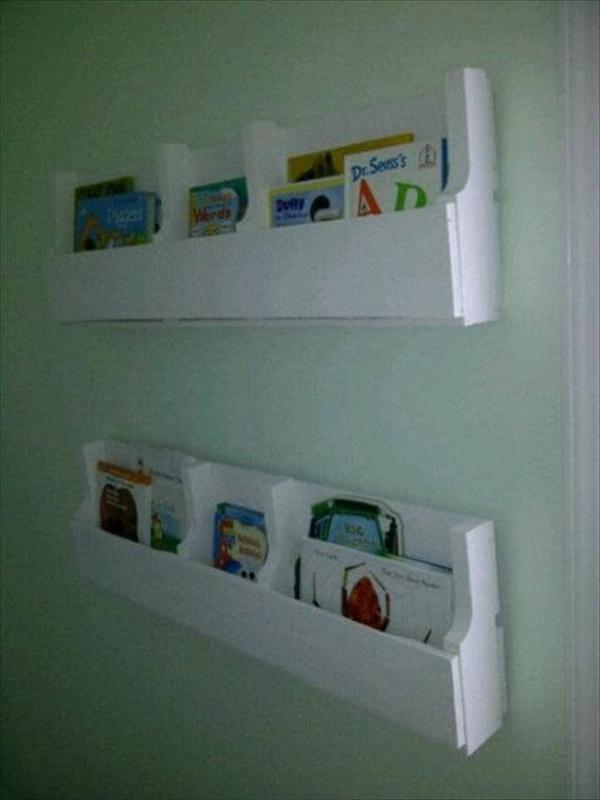 Let the pallets give you a big helping hand in organizing your books. Just build these fantastic wall shelves, will nicely hold your books, and are a breeze to make. They are to cut apart from the very bottom or very top side of pallets. They can be present in the mid of a pallet too if you watch closely. Paint your completed shelves in white here you go.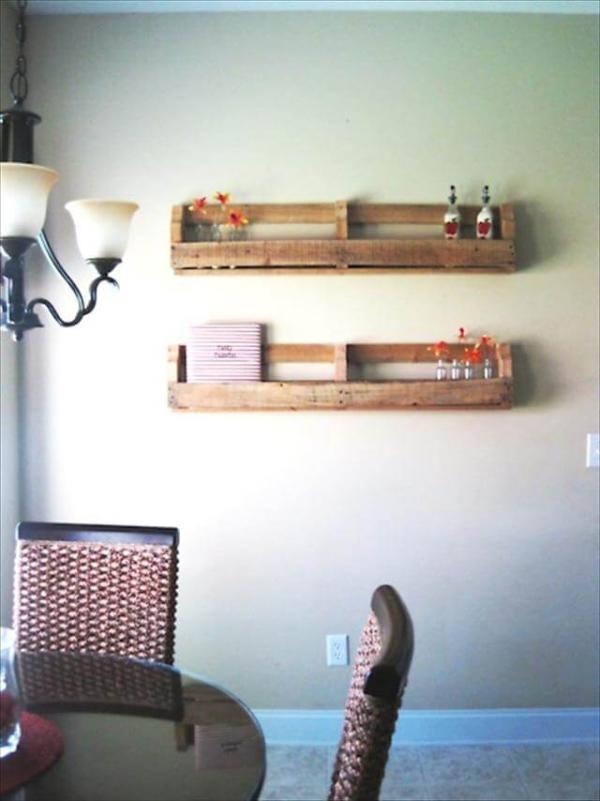 Take your interior wall shelving game to the next level without breaking the bank using free pallets. Cut apart 2 bottoms of pallets and modify them a little by adding or removing the wood to gain these fabulous wall shelves. Get these shelves for organizing all from your liqueur to books to picture frames, Paint and decorate in the way you like.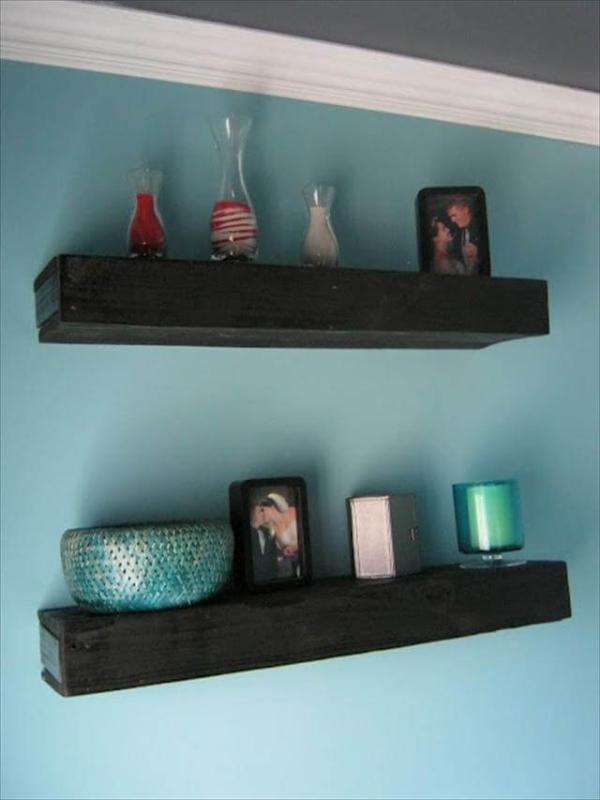 In the interior shelving game, the floating shelves have a great reputation as they impress with their clean and open look. So, opt for pallets to build lasting longer floating shelves also on your favorite interior walls. Have a peek at the sample floating shelves, looking amazingly graceful in the black painted appeal. They are just best to display your artistic items and picture frames.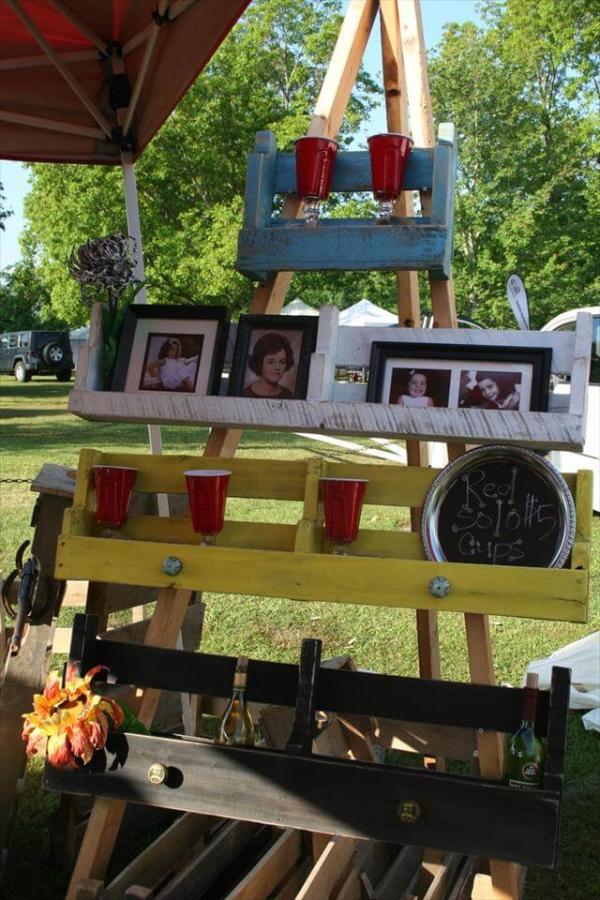 This easel style shelving will surely get ten out of ten from you due to being incredibly beautiful. It contains a variety of pallet shelves mounted on different levels. You can employ this shelving unit to store and organize anything special and worthy. From drink bottles to mural frames to custom glasses. this shelving unit can organize anything.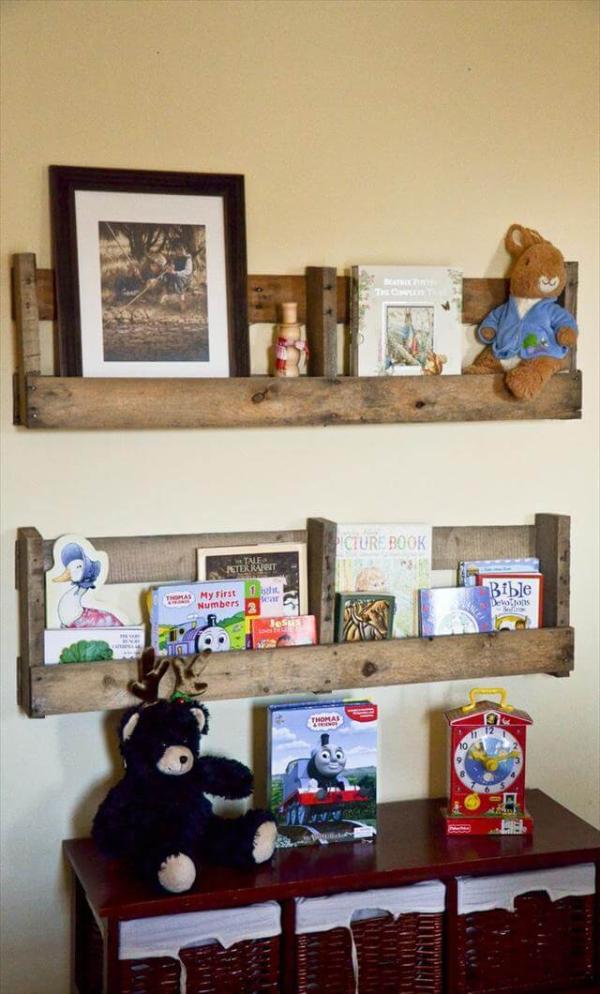 Opt for pallet wood shelves to organize all the messy stuff without getting a bit expensive. Take a few slats of pallets and build miniature shelves. Install on the wall as tiered and let them display and organize your stuff nicely. These shelves will rock for kids' nursery rooms. Use them to organize books, stuffed toys, and other items of kids.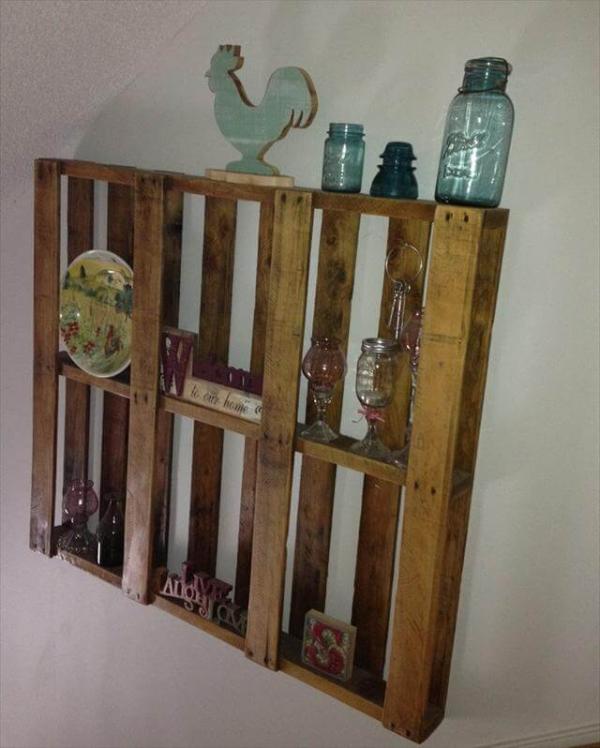 Have you ever thought that pallets can be used as readymade shelving units in your home? Yes, simply mount them on the wall and let the inside boards serve as secure shelves. Mount the pallets on the wall with deck boards facing the wall. The backside will already have those open shelves built inside, as you can see.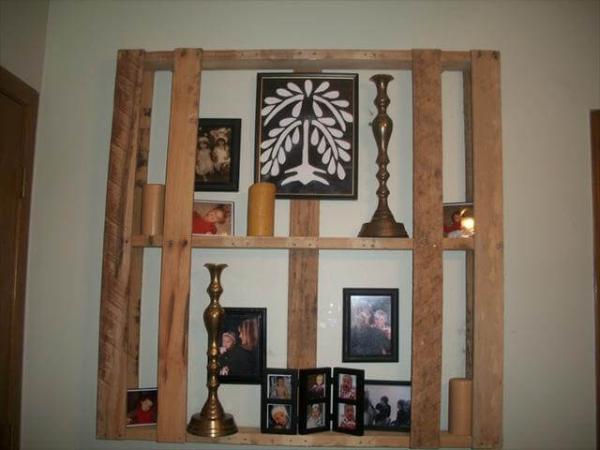 Peek into details of this another great wood wall shelf that is looking just great. This shelf will nicely display your decorative items and will be super quick to build. Pluck a few deck boards from a pallet so you will left only with this fantastic shelving unit that will enchantingly display your items of interest and decors.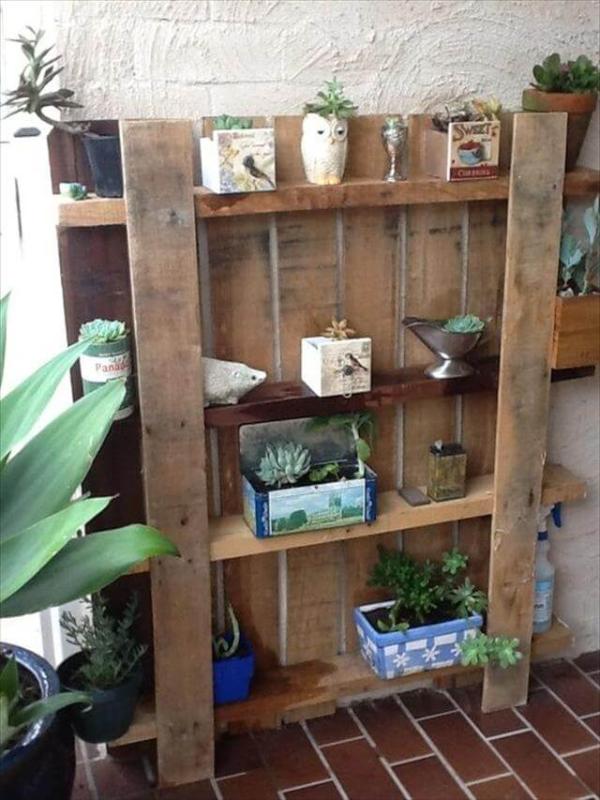 Stare at this vertical shelving unit that is graceful. It can be a mesmerizing planter shelf and also a decorative unit. The choices are all yours. Just modify the pallets a little so you will get a vertical standing shelving unit that you can also install to a wall. Use the perfect hardware hanging system to install it on the wall.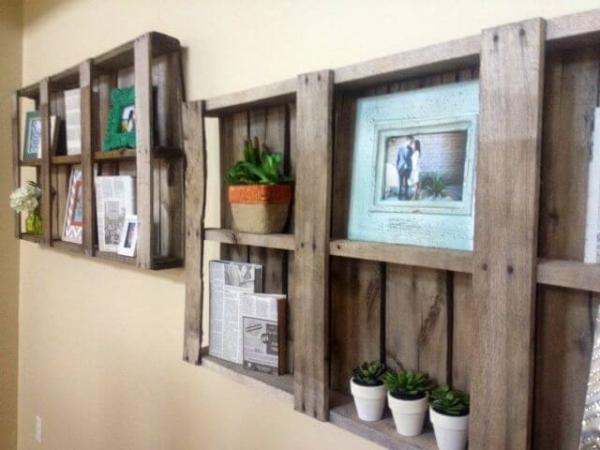 See a more amazing and functional role of pallets here, serving as incredibly beautiful wall shelving units. The backside of pallets already has some built-in shelves in them. So, just mount them on the wall with the right side facing the wall and gain an instant beautiful wall shelving unit. Let them display your stuff nicely like books, decorative items, and other centerpieces.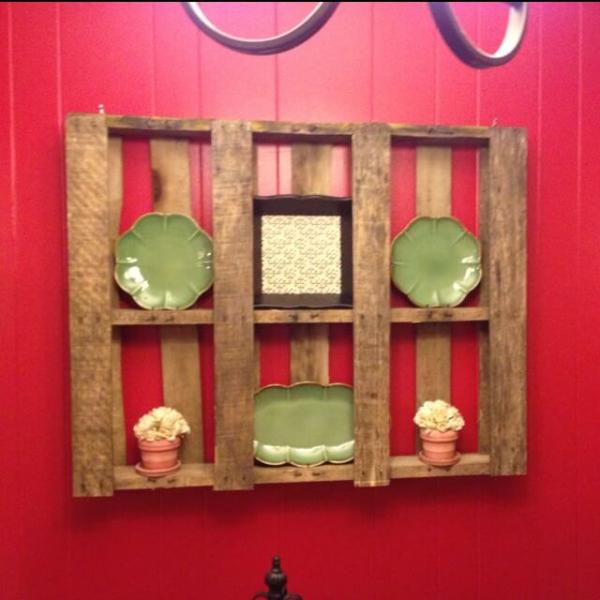 You will love to copy this another fantastic looking pallet shelf that will rock to display your utensils. Build it again using a single pallet, and the only challenging task it to mount the pallet on the wall. The durable hardware hanging systems will definitely do the job. Stain or paint this pallet shelf to match your wall decors.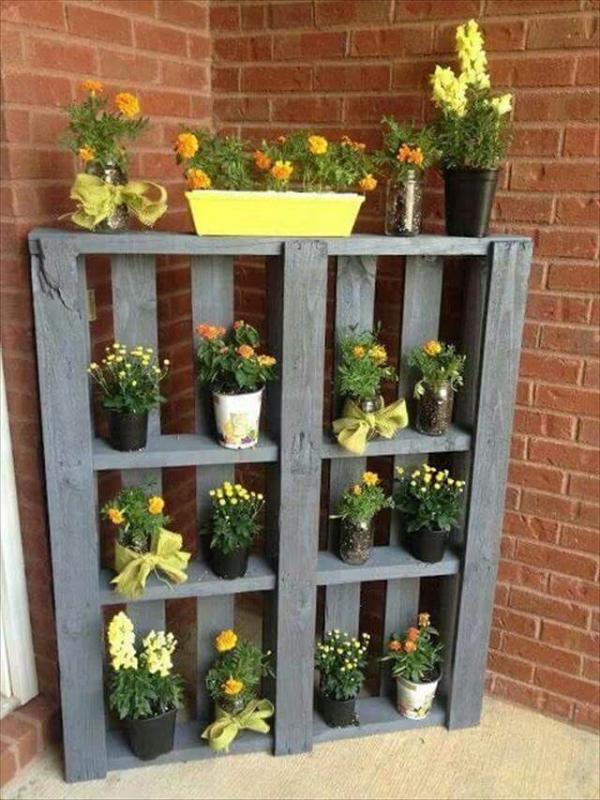 You will love this another crazy functional role of pallets. Again a pallet has been used as a vertical shelving unit. It beautifully holds the garden pots creating an enchanting display of them and will work make a great beauty station for your porch and home deck. You can also display custom items of decors over the top of this pallet potting station.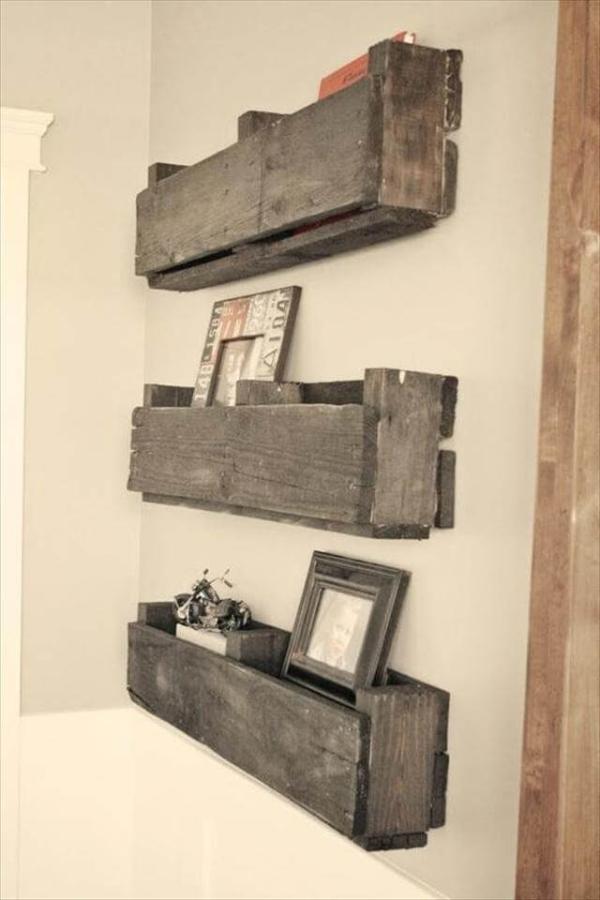 Willing to build the wooden pallet shelves to store and organize your stuff? Then here is the plan to build the custom wooden pallet shelves that will help organize your books, decors, and custom items of interest. These shelves are actually the very bottom of pallets, and you can build them manually also with the separated pallet wood slats. Paint and stain them and then hang on the wall using the latest hardware hanging systems.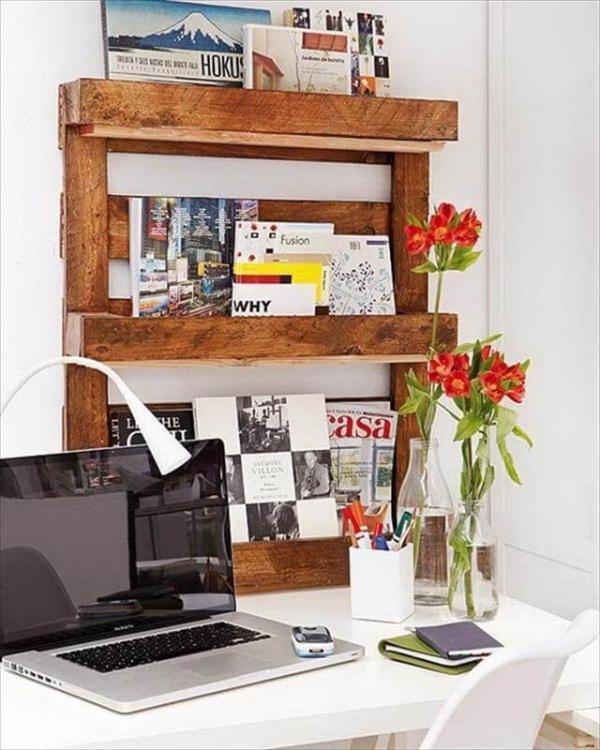 Fall in love with this another great wooden pallet shelving unit that hangs just above the computer desk to hold and organize the documentation. Here you have to mound the pallets on the wall with the right side facing the wall. The bottom chock sections of pallets will serve as a storage shelf. Use extra wood to make the bottoms of the back sections closed.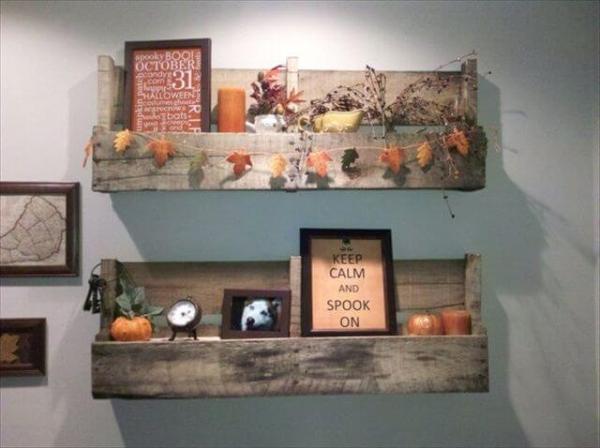 Are you planning the best shelves on a rustic theme? Then put a glance at these fantastic rustic shelves that are to make with pallets for free. You can see such shelves already made in pallets that you can easily cut down to hang on the wall as lovely storage shelves. These shelves are just great to display your books, magazines, and other items of interest. These shelves will rock for the fall and Halloween season too.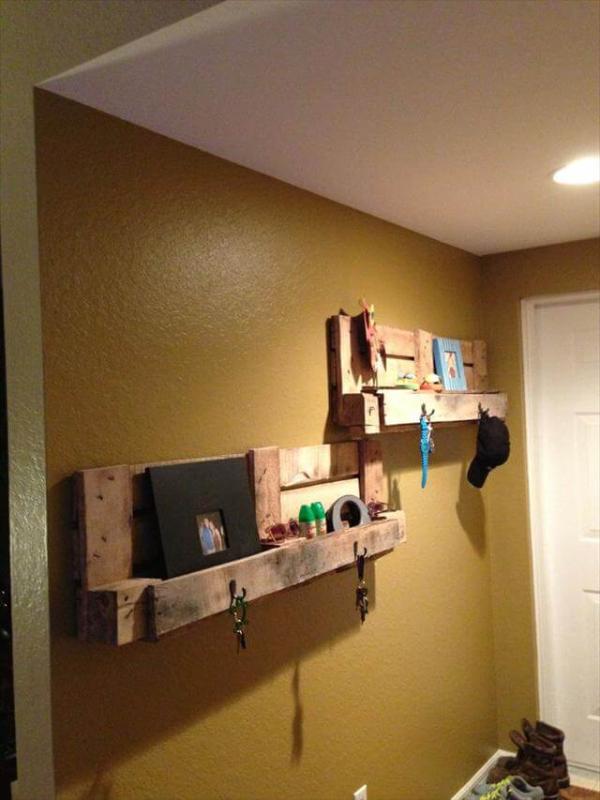 This creative shelving project is sure to increase your love for pallets. 2 beautiful wall shelves have been made out of pallets that come with front hooks to hang your keys and custom accessories like gloves and caps. These are going to be the best wall organizers to make for free using the free wood from pallets. Pluck apart the slats from pallets and then build these graceful shelves out of them.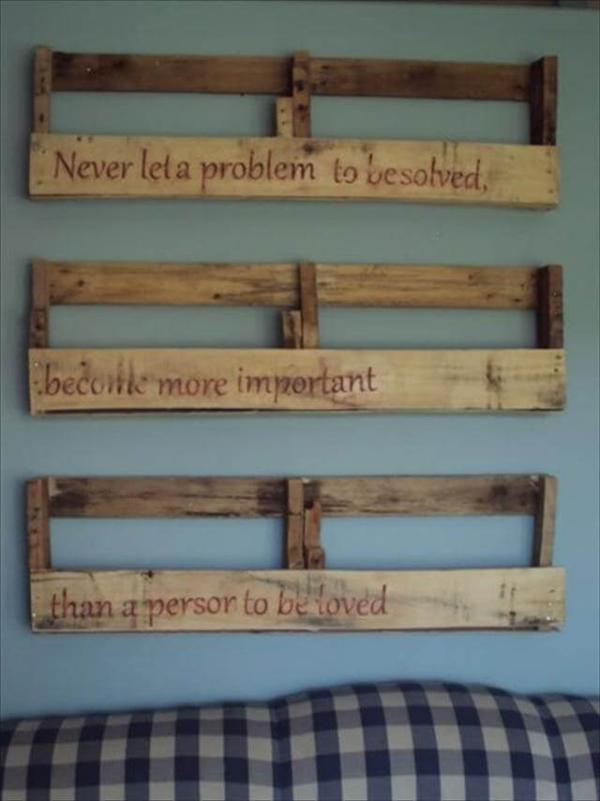 Grace up your interior home walls with these quotes, wooden pallet wall shelves that are looking more than beautiful. This trio of pallet shelves can also be set as a great family rule chart as you can easily stencil or write custom rules or moral quotes on them. Just take the very bottom or top parts apart from pallets to gain these wall shelves, or simply make them with single pallet slats.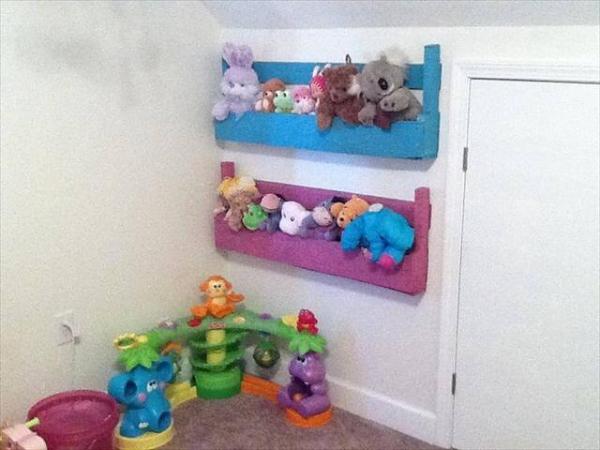 If you are often to worry about better storage of kids' toys, especially of those kids' stuffed toys, then solve this issue also with the free pallets. Again go handmade with the free pallets and build these lasting longer and great-looking shelves out of pallets will nicely hold the kids' stuffed toy collections. Paint them in red or blue or in any color you want.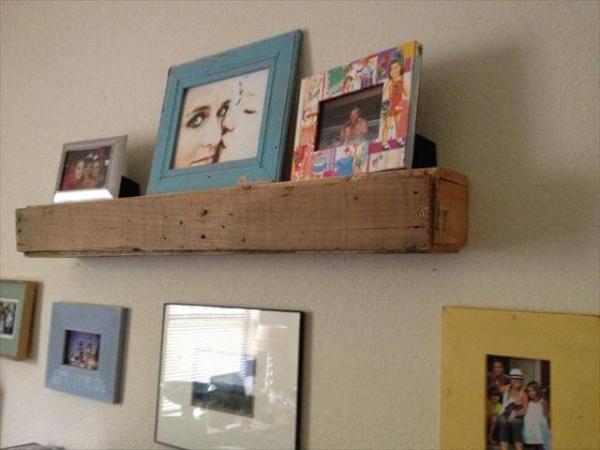 Get inspired by this another great wooden pallet wall shelf that is to make only with a separated pallet chock section. This single floating shelf will nicely display your home decor centerpieces, mural frames, picture frames, and custom accents. One of the best rustic wooden shelves to make in just a few minutes. The best way to repurpose leftover pallet wood slats.
Enjoy and share more and more …… Happy DIY Wooden Pallet Projects.