A media room just can't gain that peak aesthetic value if a functional and all pleasing model of media stand is missing! To buy expensive media cabinets, TV consoles and TV stand may be a big challenge as they are sure to cause a big load on your pocket, but at the same time the DIY solutions can bring a smile on your face as they are always wallet-friendly!
Willing to explore the DIY samples of media stands? This DIY pallet TV stand is an all superb and amazingly functional sample here, raised on short metal hairpin legs and extra storage options too to store the spare media items and books as well! 3 pallets have been stacked to install the storage-friendly lower of this fanciful wooden media stand while there is an erected back also installed with pallet wood providing extra care to your display screen!
Some of pallet cubbies have been regained as drawers for extra secure types of storage and has been dignified with accent metal drawer pulls!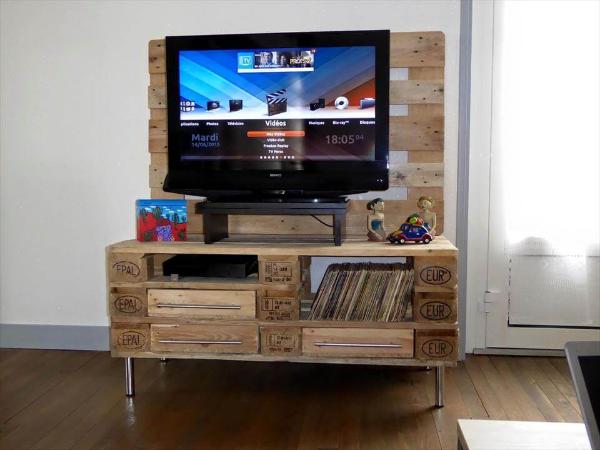 This wooden TV stand is of L-shape that looks amazing and eye-capturing and the whole media items stay on a edged part of the stand!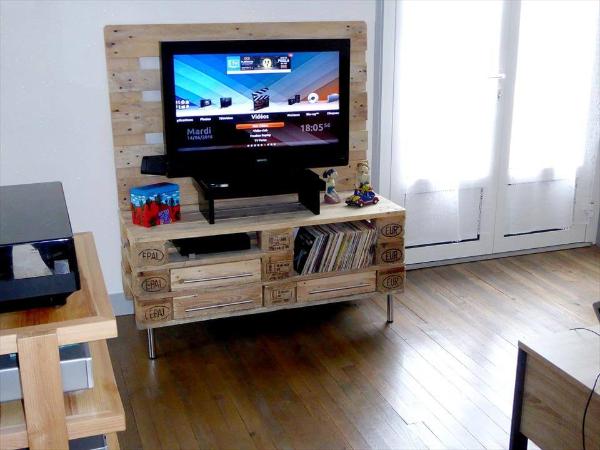 The erected back may provide extra care to TV screen and will also avoid the injurious fall of the screen! The back can also be painted for an amazing background!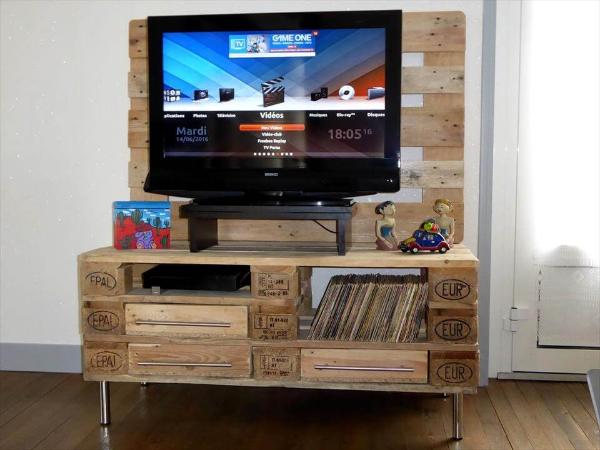 There are short metal hairpin legs and slim rod style steel drawers pulls that brings an industrial vibe to entire handmade design, here all Euro pallet have been put together to build the TV stand!

This custom media console provides open cubbies, secured drawer space and also custom wide pocket for numerous different types of storage and the surfaces have also been gritted till the glowing and brighter tone of wood!
Made by: Esprit Loft Recup