For instant stress relief and also to promote better health and immune systems, we should definitely spend some time at our outdoors, full of pure air and greenery! Patio, garden and home deck are often to organize at outdoor entertainment stations and some kind of sitting sets there can allow you to enjoy the outdoor weather in a more comfortable way!
Help yourself with this no-cost DIY pallet patio furniture or deck sofa set, built in block style and each component of this set like the pallet sofa, chair and pallet table is having all beefy dimensions! Primary frame has been built with modified pallet boards while final filling has been done with pallets slats for a glam robust look! Grey foam cushions have been added to berth of chair and sofa for a better visual and also for an ever soft and warm feel of sitting comfort! There is a grand L-sofa, a chair and a coffee table included to this handmade deck sofa set and you can also copy it for garden, poolside, terrace, front porch and balcony space sitting!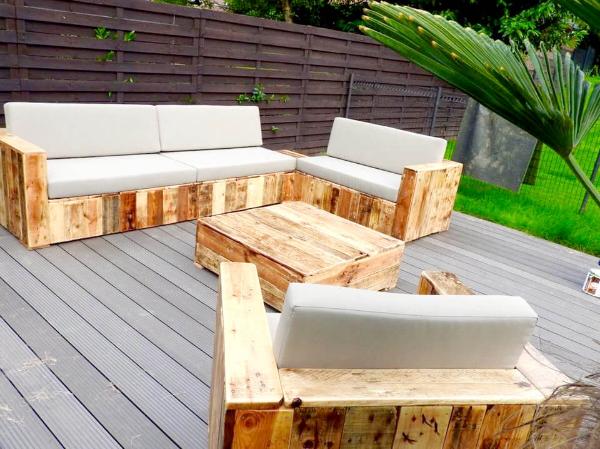 We often want to organize our outdoors to avail the better healing powers of outdoor climates, you can simply do the pallet projects to do so, here along with a deck a better sofa set has also been installed with pallets!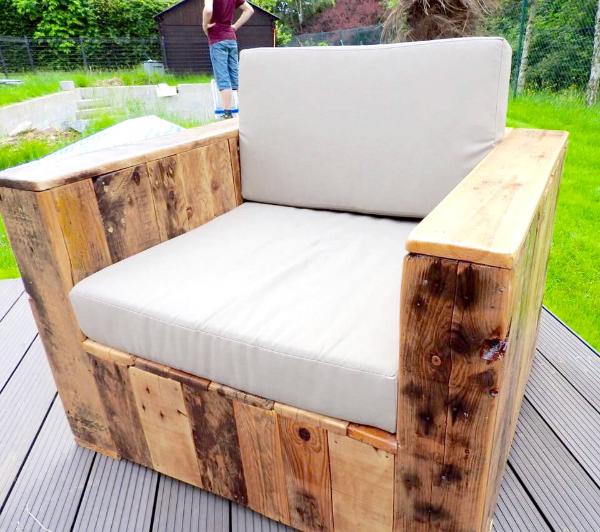 To assure a long life of entire sitting set, the dimensions have been decided to build in a block style as you can see this chair having a look just like a wooden block!

A big L-shape sofa has also been build following the same construction style and hence a full sofa set has been got to organize a deck to catch some rays and to take the morning coffees with a whole family at one place!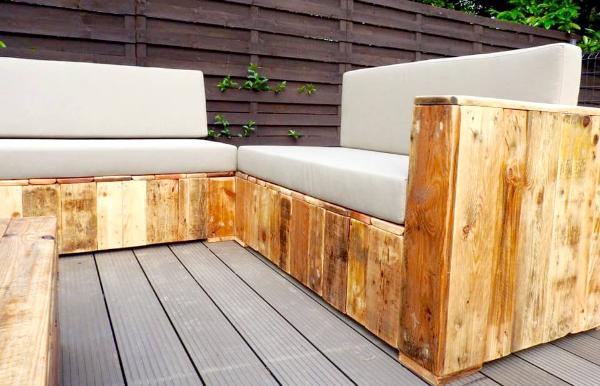 Custom sizes of pallet slats have been mounted vertically to fill up the primary frame of sofa and chair, so you need to deconstruct a pile of pallets before you create a robust filled look of your sitting sofa set!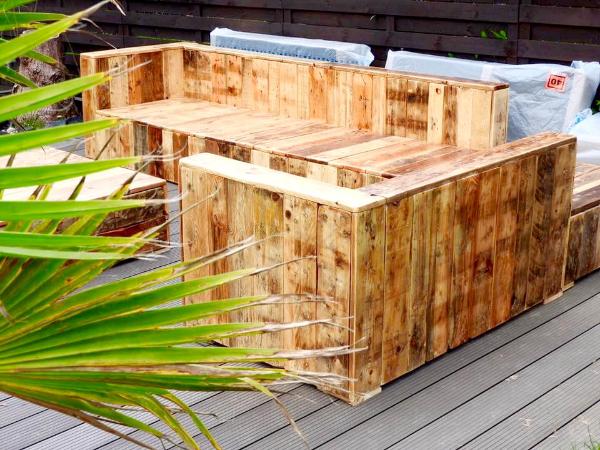 Here is how it will look like after you just completed the filling, The L-shape sofa here comes also with a corner table where you can keep the conveniences while enjoy the conversations and it can also be used for garnishing of entire sitting set!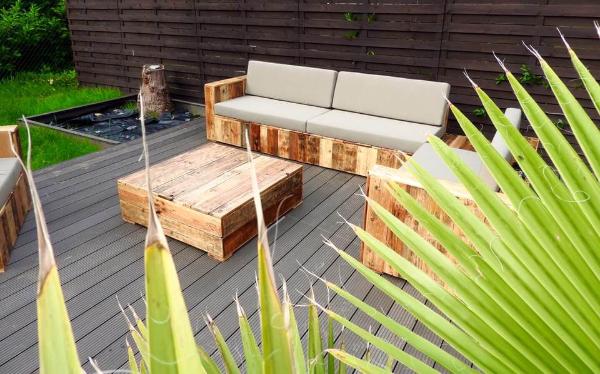 The entire self-installed sofa set here has been intended to organize a deck space so finally the grey cushions have been added to berths and backrest of the seats!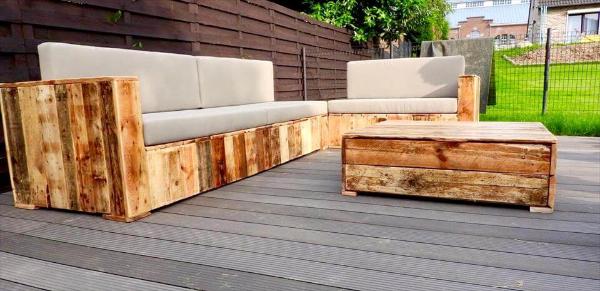 This is how you can earn beautiful sitting sets for any particular outdoor location for free, sturdiness is all guaranteed in all pallet furniture items so what are you waiting for? Just carry some pallets and copy this sitting set for you patio!
Made by: Jacques Lahaye