If you pop into a furniture store, you will be surprised by the variety and confused with the prices. Most decent options will cost you a pretty penny, so you will hardly be able to change the interior on a budget. That's why many people prefer to turn on their fantasy and create something with their own hands, using nontypical and interesting materials. Indeed, when you work on creating your furniture or decorative things, you can design something really unique that meets your needs much better. Today, many people have started paying attention to wooden pallets since they have various advantages.
Firstly, it is a natural and durable material, the scope of which goes far beyond its direct purpose. You can open Pinterest or similar sources to get inspired to bring changes to your apartment. And if you don't have time for such creativity because of assignments, you can always turn to professional academic writers to get your papers done on time.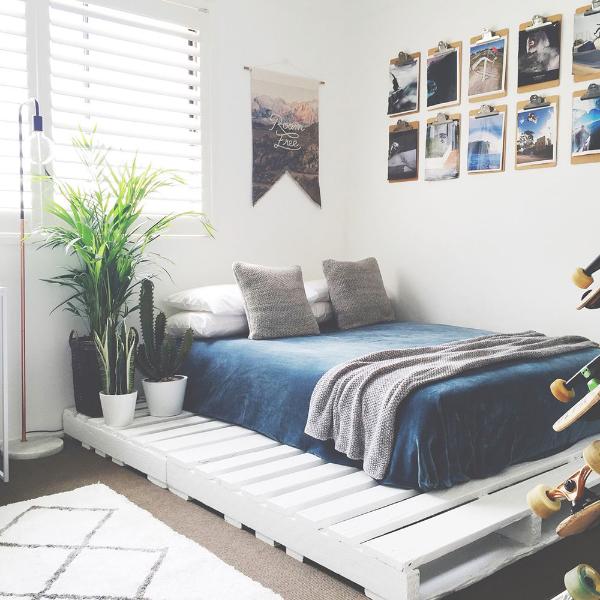 Why do people use it?
Wooden pallets are affordable and cheap material that you can easily process and create furniture from ready-made modules just in several hours at worst. As a rule, the very material represents inexpensive wood species without a pronounced pattern, but rather strong: pine, less often spruce, aspen, and birch. Elements are fastened with brushed or screw nails. Pallets are characterized by excellent geometry, high quality, durability, and, most importantly, environmental friendliness.
It is quite easy to revitalize pallets, extend their lifetime, and protect yourself from splinters. You can smooth out all irregularities with a plane, process the surface with a grinder, spackle cracks, and treat everything with a primer and wood protective compounds. After that, you can paint the pallet in any desired color and use a vanish if you like a glossier surface. There are many possible options for what can be made from wooden pallets, so you are limited only by imagination since people manage to create almost everything from them, starting with shelves and coffee tables to beds.
Coffee table
Most often, wooden pallets are used for creating garden furniture. Even the most inattentive passerby could notice that decent cafes often organize summer grounds using pallet furniture because it is stylish, environmentally friendly, convenient, cheap, and fast. And you can use them for creating an interesting coffee table for your room. If your space doesn't have a feature, it can become one. To make it, you will need two pallets installed on top of each other and fastened with nails. Besides, as a bonus, you will get extemporaneous shelves for storing magazines and other trifles. However, in fact, you can do it with one pallet if you want to create a low coffee table. Everything depends on your preferences and needs.
You will need just to paint a new piece of the room interior and equip the countertop, which can be glass or a sheet of moisture-resistant plywood. If you are going to move it, you can equip the table with wheels. Manufacturing will take a minimum of time, and painting in pleasant shades will allow you to get a stylish table worthy of a cozy coastal cafe.
Couch for home cinema
If you want to create a cozy corner in your room where you can hang out with friends, it is worth thinking about a couch for home cinema. You will need to accomplish it only with a projector and a few good films to arrange a cool evening with friends. To make such a couch, you will need about twelve pallets. And since it will be multilayer, you will need six pallets to form your future coach's foundation. The height of the first tier will be equal to the height of one pallet. To arrange the second tier, you should attach a pallet to the central part of the foundation. The third tier will require sequential fastening of two more layers of pallets. You will need just to paint the couch, grab several mattresses, and decorate it with pillows. Thus, you will get a perfect place for watching movies, discussing various issues like, "Is speedypaper legit?, drinking tea, and just spending time with pleasure. It is a great solution even for pretty small spaces, so you should give it a try to completely transform your room.
Bed
At first glance, a pallet bed seems to be a bold solution. Still, it is gaining momentum nowadays, so people have already begun to use it in country houses, summer cottages, and even ordinary city apartments. You can arrange pallets as you like, depending on what kind of bed you would like to get. The height is regulated by the number of pallets stacked on top of each other, the presence or absence of legs, wheels, etc. The width and length of the sleeping area are also easy to adjust. If desired, you can make the headboard of the bed from the same pallets.
If the wooden base is significantly larger than the mattress, it can be used as an impromptu podium or a bench for feet. The holes that are formed when one tier of pallets is mounted on another can be used to store bedding, books, magazines, or to organize built-in lighting. Pallets are durable material, so there is no need to worry about the reliability of the sleeping place. It is better to pay attention to the choice of a comfortable ergonomic mattress.