Do you want your own outdoor kitchen? If so, there are many steps that you need to take to get it. Outdoor kitchens allow people with backyards the ability to cook outside and eat together as a family or socialize with friends. There is a process of planning and preparing for an outdoor kitchen, but the result will be worth all of this work. This blog post discusses how to get started on your dream outdoor kitchen.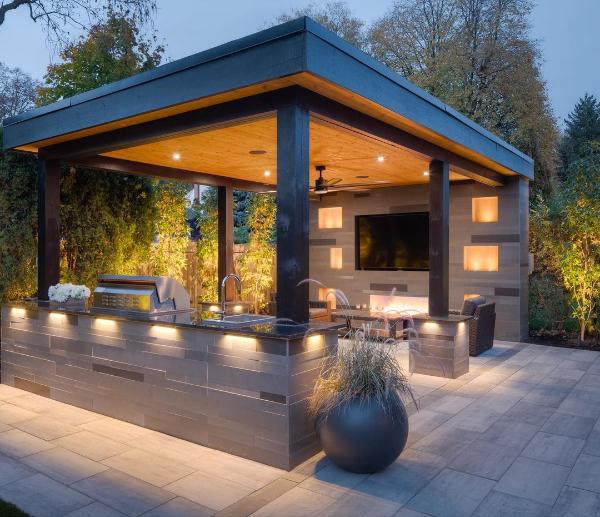 Design
You can hire a professional contractor who has experience designing and building these types of projects, or you can do it yourself with some help from another family member. You can also use free online design software programs that can help you with the layout and design of your outdoor kitchen flames. These programs allow you to create a virtual model of your outdoor space and select various materials, appliances, and other features. It is a great way to get an idea of what your finished product will look like and make any necessary adjustments before construction begins.
Have a Plan
Planning will help you visualize your outdoor kitchen and determine what you need to buy or build. Draw out a sketch of your backyard with the proposed location of the outdoor kitchen. Then, start filling in the details such as what type of grill you want, how many burners, what kind of countertops, etc. Having a plan in place will make it easier to budget for your outdoor kitchen and determine what materials you need to purchase, figuring out what you plan to do with your outdoor kitchen. No matter what you want to do in your backyard with the new space, ensure that the design of your deck matches that goal.
Set a Budget
Having a plan will help you stay on track while planning and construction. Outdoor kitchens can get expensive, especially if you want something with custom features like built-in refrigerators or ice makers. Don't worry; there are ways that you can cut costs on this project without sacrificing the overall design and function of your space. Ensure to look for deals on materials and appliances, and plan to do some of the work yourself. If you have a tight budget, start with the basics: a grill, countertops, and storage cabinets. You can always add on to your outdoor kitchen as your budget allows. But whatever route you decide to go, ensure to stick to your budget.
Choose a Location
You need to ensure that you have enough space for everything and the right amount of sunlight to not look dim under overhangs or trees. When choosing an area, think about what you will be using this outdoor kitchen most often for, whether it's socializing with friends while cooking something delicious on the grill or having family time around a fire pit. Once you know where your ideal spot would be in your backyard, pick out some paving stones and start testing them out for how they fit into the overall design. If certain features must go in specific places, such as placing seating near a fireplace, take note before moving forward with construction.
Decide Whether You Want a Permanent or Portable Outdoor Kitchen
Permanent outdoor kitchens are a great way to add value to your home, and they become an extension of your indoor kitchen. However, they require more planning and construction time than portable outdoor kitchens. If you're not sure whether you want a permanent or portable kitchen, start by considering how often you'll be using the space. Permanent outdoor kitchens are great for more formal occasions but are not suited for everyday use. Portable outdoor kitchens are more casual and can be moved around to different areas of your yard as needed.
Outdoor Kitchen Backsplash
Kitchen backsplash is one of the most popular kitchen design trends of 2022. The simple addition of a kitchen backsplash can completely transform the look of your outdoor kitchen. If you're looking for a budget-friendly kitchen backsplash, there are plenty of options to choose from. Here are some inexpensive kitchen backsplash ideas that will help you achieve the kitchen of your dreams:
1. Use painting techniques to create an affordable kitchen backsplash. You can use stencils to create a pattern or freehand paint a design directly onto the wall.
2. Install peel-and-stick tile, which is an easy and inexpensive way to achieve the look of tile without the hassle or expense of traditional installation methods.
3. Get creative with wallpaper. Wallpaper is an unexpected but chic choice for a kitchen backsplash. Choose a design that complements your kitchen's style and color palette.
4. Give your kitchen backsplash a rustic flare with reclaimed wood panels. You can DIY this project using old pallets or barn wood, or you can purchase pre-made panels at most home improvement stores.
Gather Supplies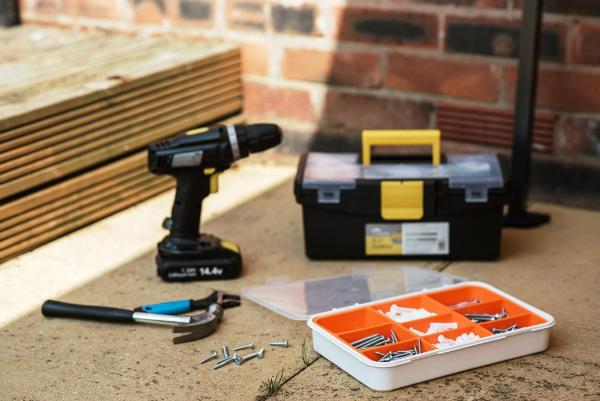 Now that you have planned out your dream outdoor kitchen, it is time to gather your supplies. Ensure you have everything on hand before getting started on the construction process. The last thing you want is to be stuck without a crucial tool or material. Start by making a list of what materials and appliances are needed for this project, then go shopping. Once you have everything in place, it's time to start building.
After following these steps, you'll be well on your way to having your outdoor kitchen. With a bit of planning and some hard work, you can create the perfect space for all of your backyard cooking needs. So get started today and enjoy many summer evenings surrounded by friends and family.