The recent pandemic has put most of the world under strict lockdown. While there are many everyday activities that are not allowed during the lockdown, gardening is luckily not one of those activities. Gardening boosts your mental health by giving you a sense of wellbeing and accomplishment. It is also a great way to bond with your family members during this lockdown.
You and your family's health is your top priority during the lockdown. The recent pandemic will go away soon and restrictions will lift soon and you will be able to go back to your social life very soon. For now, though, you need to keep your family safe and happy. The best way to do so is by keeping yourselves busy with activities that are good for the mind, body, and soul. This is where mother nature comes at play!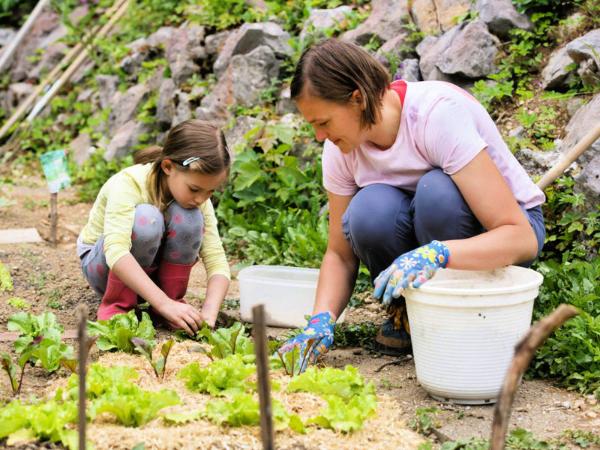 Emile Durkheim saw the isolation and insisted that it is a reason for suicidal behavior. Your garden is a pocket full of nature yearning to heal you of symptoms of social isolation.
For safe garden outings, keep outsiders out. You can only garden with your own immediate family who you share the household you are isolating in.. Follow the instructions of the local authority carefully. It is also important to disinfect high touch surfaces in your backyard. For instance, when restrictions do ease, and someone from outside of the household visits your backyard, you need to disinfect. Additionally, if you are mowing your lawn and cleaning your yard of debris, it is important to keep organic matter in your yard and not visit a composting service.
There are a lot of garden activities that transform a small piece of land into wonderland. Get rid of weeds, renovate your lawn, and trim and prune. Also, implement innovative gardening ideas, Incorporate your children, and do all with proper precautions.
Things Not To Do For a Coronavirus Free Garden
Don't visit other people's gardens.
Keep people out of your garden
Keep your dog or cat away from the garden if the pet has access to the outside world.
This is not the time for a professional landscaper to fix up your garden.
Don't share gardening tools to your neighbors
Weeding
Weeds are not only aesthetically unappealing, but they also compete with your plants for soil nutrients. Keep things natural and avoid chemicals away from your garden when weeding. Instead of poisoning, pull them out with your own hands.
Weeding is easier when the soil is soft. So, before you start weeding, you can water the grounds so it's nice and wet. After that, get down on your hands and knees and tug them out with gloves on.
Try to get the whole thing out including the root. If the entire weed does not come out, it will grow back eventually.
Lawn Renovation
Now that you have all the weed out, it's time to renovate the lawn. This includes mowing it and seeding for a fresh batch of plants. Next top-dress your lawn. This will give back the nourishment that keeps everything looking vibrant.
However, don't hire someone or take help from a neighbor. Also, it's not a good idea to borrow the lawnmower from anyone. As for the seeds, they should be taken out of a sealed clean package. Finally, after mowing the lawn, don't go outside to dispose of the cut grass.
Pruning and Trimming
A lot of people don't trim or prune the plants in their garden. Trimming is for shrubs and hedges. On the other hand, horticulturists prune trees along with shrubs.
I like to compare the techniques to sculpting or photoshopping a glamor portrait. You shape the body of the plant into the desired form. In short, you make your plants look pretty.
The tools that you use should be clean and should not be shared with neighbors. After all, the whole point of gardening during quarantine is to be safe.
Houseplants Need Attention Too
House plants deserve a little love just like your garden. So, don't forget to water them and get the weed out. Repotting is another good idea but you don't necessarily have to go out and buy new pots. You have no idea how many things in the house can serve the purpose of a plant pot.
Also, remind yourself to keep the curtains adjacent to your plant open. House plants need the sunshine as much as your garden does.
Sagging of the plants may be a sign that the house is not humid enough. If this is the case, take them outside and see if the condition improves.
Waste Disposal
Mowing the lawn, pruning, and trimming leaves a mess. Now, before the virus pandemic, you could go out to get rid of it. But sadly that option is off for everyone.
So the most efficient and effective way of dealing with the trimmings is to turn it into plant food. All you have to do is to keep the trimmings in water for a week. The water will absorb a lot of the nutritious extract of decomposing discards. Now you can use the rich water to feed your plants.
Get Your Children Involved in Gardening Activities
You comprehend the severity of the coronavirus situation. The reason is compelling enough for you to follow the rules and stay safe. However, your kids are not sure why they are subject to what feels like grounding punishment. It feels unfair for them.
Isolation can be very harmful to a child's psychological health. You can't let their mind fester in limited space and without company. However, you can't let their friends in to play either. The next best thing is for you to spend time with them in the garden. An open sky almost makes you forget the limits of space.
There are many activities that you can do together to bond and heal. If gardening is boring for your child then no worries. There are many innovative and fun things you can do to revolutionize your garden.
The ones in the list below boost your child's morale. Sneak in as much love as you can while engaging.
Innovative Ideas to Implement in Your Garden
Make a Birdhouse
You can build a birdhouse out of an old dollhouse. Add a bowl to serve as a birdbath. Attach them to a wooden platform then attach that to a tree, fence, or wall. Birds will liven up your garden.
Make Your Garden An Exhibit of Your Children's Art
Hammer or drill in nails into the garden wall, trees, and fences. They should be equidistant from one another both vertically and horizontally. Next, get all the photos and art frames that you have at home and hang them.
After that, have a good old fashion painting session or two with your child. The paintings can now be the showcase of an outdoor exhibition. This activity will boost your child's sense of pride. The garden will look better for it too.
Paint The Walls, Fences, and Pots
Picasso famously stated that all children are born artists, but it is hard to remain one growing old. Let your children's imagination and creativity out on to the garden walls, fences, and pots with paint. Encourage every stroke. You might find out a few underlying secrets that your child hid deep inside.
If you want to do this. Make sure that the paintbrushes and paint cans are clean. Also, cover the floor of the garden just in case the cans tilt.
Decorate Your Garden With Toys
Take all your child's toys out to the garden. Now you too can decorate the garden with them. It could be an elaborate story that unfolds with a protagonist just like Woody from Toy Story.
Make a Vertical Garden
Crates one on top of another make a wonderful platform for a vertical garden. Attach the crates to the fence behind it. You can create a living wall of plants and shrubs. The vertical garden building is a great family time activity.
Make a Hanging Garden
Peg rows can make you a hanging garden. Just fix them on to the fence or wall and hang the pots.
Another way to do this is to seal the bottom of a tire swing. Now it's ready to be a hanging garden that swings.
Conclusion
The garden is safe to go to as long as you take safety precautions. Keep outsiders and outside objects out. Also, don't visit the gardens of others yourself.
Now that you have a lot of time to spend in a garden, start with weeding. Next, renovate your lawn, prune and trim and repurpose trimmings instead of disposing of them outside.
Spend as much time with your children as you can so that they don't develop depression from social isolation. A garden is a good place to bond. You can do a lot of amazing and innovative things together with objects lying around at home.
The bottom line is to stay safe and make the most of it. So, find happiness with what you have. The garden will be your escape from the stresses and worries of the pandemic. Perhaps your own little oasis!