Do you have an empty garage that you're not sure what to do with? Don't worry, you're not alone! A lot of people have this problem. But don't fret – there are plenty of things you can do to make the most out of your garage space. In this blog post, we will discuss some ideas for utilizing your garage space and turning it into a functional area of your home. Stay tuned – we will be giving you a lot of great tips!
Build Or Add A Workbench
A workbench is a great way to utilize your garage space and make it more functional. You can use it for a variety of tasks such as working on cars, woodworking, or simply as a place to put your tools and supplies. If you don't have the time or money to build one yourself, you can always purchase a pre-made workbench from your local home improvement store. Just make sure to measure the space in your garage before you buy it so that you know it will fit!
Add Some Storage Cabinets
If you're lucky enough to have an empty garage, then congratulations! You have a lot of potential space to work with. But what should you do with all that space? Well, one great option is to add some storage cabinets.
Storage cabinets are a great way to keep your garage organized and tidy. They can also help you keep your tools and equipment safe and out of the way. And best of all, they don't have to be expensive.
There are many different types such as out cabinets, upper cabinets, lower cabinets, and more. Moreover, fitting your out cabinet, upper cabinet, or any other ones you decide to get is very easy when working with an empty garage. You can find some great deals on storage cabinets at your local home improvement store. So make sure you consider getting some when outfitting your empty garage.
Turn Your Empty Garage Into A Gym
If you have an empty garage, you may be wondering how to make the most out of the space. One great idea is to turn your garage into a gym. This can be a great way to get in shape and improve your fitness. There are a few things you will need to do in order to create an effective gym in your garage.
First, you will need to invest in some good quality fitness equipment. This can include things like free weights, weight machines, yoga mats, and more. You can find great deals on fitness equipment online or at your local sporting goods store. Once you have your equipment, you will need to set up a workout routine. This may take some trial and error to find what works best for you, but there are plenty of resources available online or at your local library.
Turn It Into A Side-Suite
If you're lucky enough to have a detached garage, you can turn it into a side-suite and rent it out for some extra income. This is a great way to make the most out of an empty garage, and it can be a very lucrative endeavor if done correctly.
To get started, you'll need to check with your local zoning regulations to see if you can legally rent out your garage. Once you've got the green light, it's time to start planning the conversion.
If you're handy with tools, you can likely do most of the work yourself. If not, you'll need to hire a contractor to help with the heavy lifting (literally).
Either way, you'll need to insulate and drywall the space, add some lighting, and install a separate entrance. You may also want to add a kitchenette or bathroom, depending on the size of your garage and your budget. Once the conversion is complete, it's time to start marketing your new rental unit.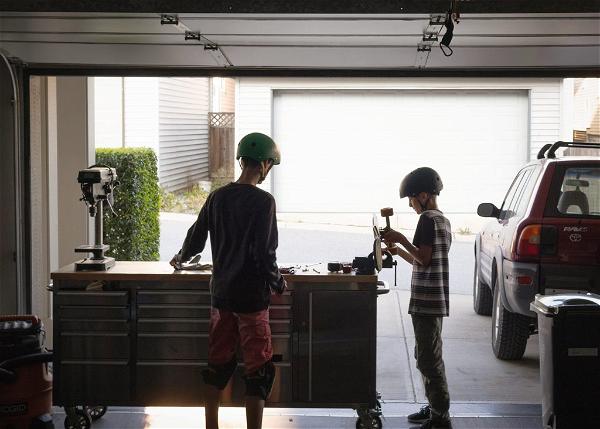 Use It As A Workshop
If you have a lot of tools and are always working on projects around the house, turn your garage into a workshop. This way you will have all the space you need to work on whatever you need without having to move everything around or clean up afterward.
You can also use this space to store any materials or supplies that you need for your projects. Having a dedicated space for your hobbies and projects can make them even more enjoyable.
If you don't have any hobbies or projects that require a lot of space, you can still use your garage as a workshop. This is the perfect place to set up a workbench where you can do small repairs or put together furniture.
There are many different ways that you can make the most out of an empty garage. Whether you're looking for extra storage, a place to work out, or a rental unit, there is an option for you. So take advantage of that empty space and put it to good use!