Have you ever walked into a home that just seemed to glow with warmth? The feeling of the place may have been very inviting, perhaps even romantic. Whatever mood is created, getting this effect would have required more than just having well-designed furniture in the interior. Sure, paint colors and flooring are big factors in creating an interior's ambiance, but it's the way a home looks from the outside that will really draw people in. The exterior of a house can have a huge impact on how people feel about it, and there are some simple ways to make the exterior look brighter and more appealing.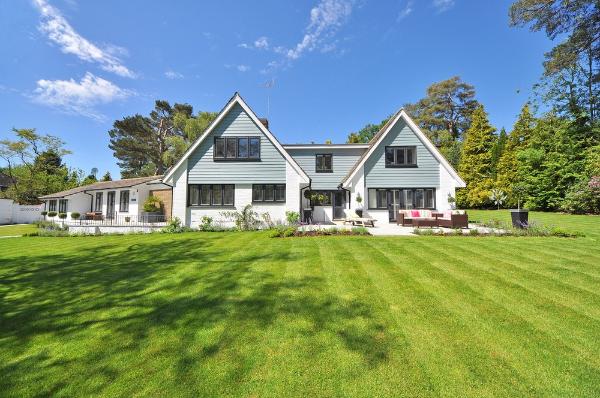 1. Facade Lighting System
Maybe you've seen those beautiful homes that sit atop a hill and glow like something out of a magazine. One reason the exterior looks as wonderful as it does is that they've invested in some great exterior lighting, also known as facade lighting. Having quality lights installed on your home's exterior can do a lot to improve its appeal. Simply getting an affordable exterior wall pack of LED lights can create that warm and lux look to the outside of your home. Of course, when choosing this, you don't want to light up your house like a Christmas tree. Simple, subtle lights will provide just the right amount of mood lighting to make your home's exterior look beautiful.
2. Front Porch Centerpiece
A porch can be a big selling point of your home, but only if the exterior is inviting enough to make people want to step inside. One way you can do this is by adding some lovely outdoor furniture or perhaps even an intricate pendant light that fits the style of your home. If you want to go in a completely different direction, try adding in some flowers or plants that will improve the look of the exterior by making it more natural and beautiful. When thinking about what you'd like to have as the centerpiece on your porch, it's important to think about what will really stand out and draw people in.
3. Backyard Design
If you're looking for an easy way to brighten up the exterior of your house, especially when it's dark out, consider getting some solar lights. These can be a great addition to any backyard and will help make your house look beautiful simply by shining a little light on its surroundings. You'll find that these are particularly helpful if you have a walkway, a garden, or a pool in your backyard that you'd like to highlight. Solar lights are also useful if you have a dark spot that tends to be forgotten by visitors. Of course, the best way to make your house brighten up your home is to leave some room for shadows in your backyard as well. By installing a contrast between light and dark areas, you're sure to have a beautiful backyard that is inviting.
4. Pergola
It's always a good idea to make your home stand out since it will look different from other houses on the block in the best way possible. One way to do this is with a pergola structure that has some lovely outdoor lights attached to them. These can be turned on at night and will create a really nice effect. Not only that but having a pergola can provide some shade to your backyard during warmer times of the year, which is ideal for anyone who has outdoor seating or an outdoor fire pit. The way you decorate it is up to you, so keep in mind that having a pergola will also give your outdoor space an elegant appearance.
5. Spruce Up The Walkway
If you've got a big walkway that leads up to the front door, it's important to take advantage of this space. One way to do this is by placing lights alongside the walkway so guests can see where they're headed at night. Of course, feel free to go with decorative lighting if you'd like as well. You could also have a herringbone pattern created to make the walkway even more visually interesting, This can be done by using bricks of different colors. Of course, if you prefer a more fairytale look, using natural rocks might be something you'd like to explore.
6. Bring It All Together
The most important thing you can do to brighten up the exterior of your house is to make sure that whichever elements you bring to the exterior – ties together well. By putting thought into all of the aspects, your house will look amazing simply by standing out among the rest. Not only that, but it'll make your home's exterior more inviting to visitors who are just passing by as well. Most people focus simply on painting the facade – and that's always a good idea. However, you need to consider the entire exterior including the front porch, backyard, and everything else. By making sure that each aspect looks its best, and the design is cohesive, you'll provide your house with a beautiful backdrop to make it even prettier.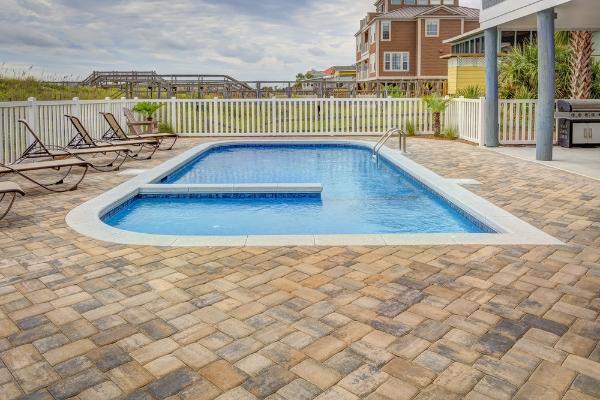 By using these design techniques, you can provide your home with a lovely appearance that goes far beyond what the paint color looks like on the exterior. It's important that you pick and choose elements that will really stand out and bring it all together into one unique look.