Pallet art provides you opportunity having stylish and inexpensive furniture for your home. Many hand crafted items can enhance your home decor without much expense if you have some crafts skills and creativity. One of such items is side table that can be used in many locations such as in bedroom, in living room, TV lounge and even in outdoor sitting arrangements. This is created by reclaimed pallets and their rustic and wrecked looks made them unique and popular in community. It can be made in different sizes as per your location for use but 26″ tall with top measures 21″x19″ is quite suitable for multipurpose pallet side table.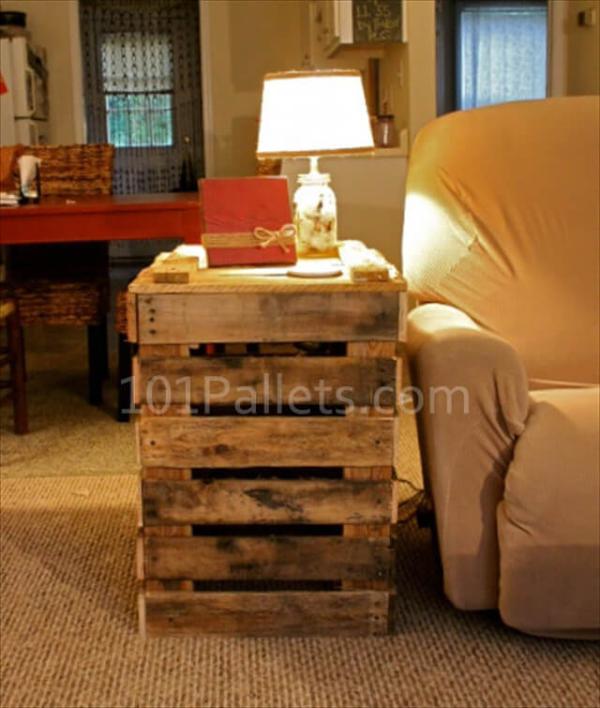 Required Material
For making this inexpensive furniture item you need collect wooden pallets which have natural designs and shades for making diy pallet side table.
Provide some basic tools and materials such as hammer, saw, sand paper, nails and glue etc.
How to make a pallet side table:
Select four strong pallets according to the height size of pallet side table and fix them on the edges of pallets selected for length of table.
On the other side attach the pallets selected for width of table and make a box base for table top.
Fix all pallets around this base at a distance of 1" from each other.
Cover the top of table with pallets adjoining side by side.
Use glue and nails for making the joining strong that can bear loads.
Now use sand paper to make the surfaces smooth. Finally apply varnish coat to all surfaces of pallet side table to give it a fine and shiny finish with security against the moisture in surrounding.
Pallet side table diy design can proudly be used everywhere in your home. you may apply paint of your choice with different textures.