We are really going to surprise you with today's post, we are just dying to share the creative story of some pallets here, and a little paint has been used for preferred final appeal! The story is all about this DIY multipurpose pallet table, having design good for various functional roles! Slats from two pallets have been used and the table has really been turned out great, there are two better finishing plans also given here to give your some appreciable choices!
Prefer the first milk and choco look for the shabby chic or vintage interiors or it the 2nd color inspiration will all make it an eyepiece for interior inspired of beach or coastal decors! Table can be utilized as a kitchen island and may rock also as a breakfast or coffee bar, one can just hire it also to as patio or entryway table and it can even earn lot of fame and respect by becoming a potting bench! Do clone this pallet table with extra brilliant functional behavior!

Give this hand-built table editions multiple ways to serve you, it can be a coffee or breakfast bar for you can even cherish it as a sofa table!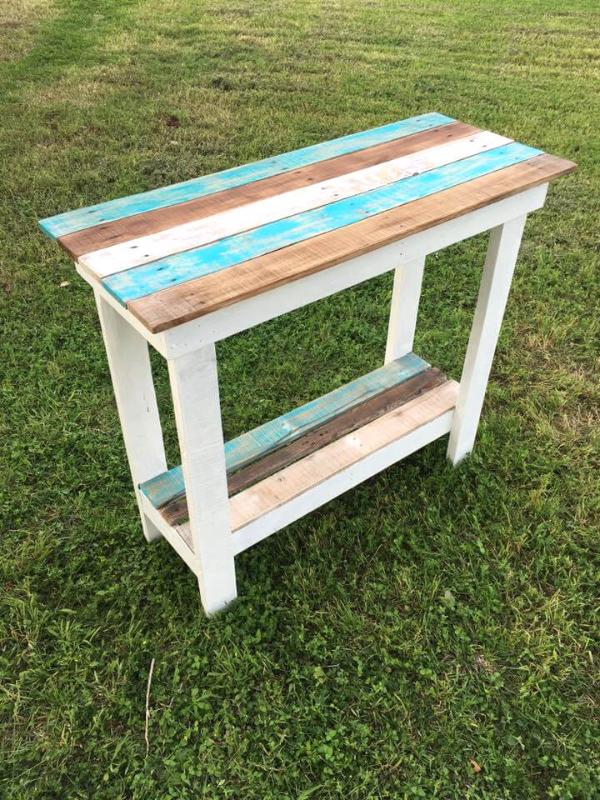 Lower shelf just facilitate the design more to be storage-friendly and there is no lack of features in this table to be a perfect TV console or hallway table in your home!
Made by: Scott Gatlin