It's hard to arrange all the things in the cabinet but if possible then the thought of arranging many cupboards and cabinets terrify. For the solution of keeping the day-basis utensils has been provided by DIY Hook Shelf Pallets. It carries the benefits of three things: a shelf, the hanging hooks, and the cabinet boxes. The given idea explains how to make the hook shelf. The apparatus is easy to gain and has not many expenses to spend on! The pallets are the thrown out pieces from the large building construction companies and they sell it out on scrap prices. Get those out of stores along with the paints, nails, the tools for DIY shelf and paints per matching your room.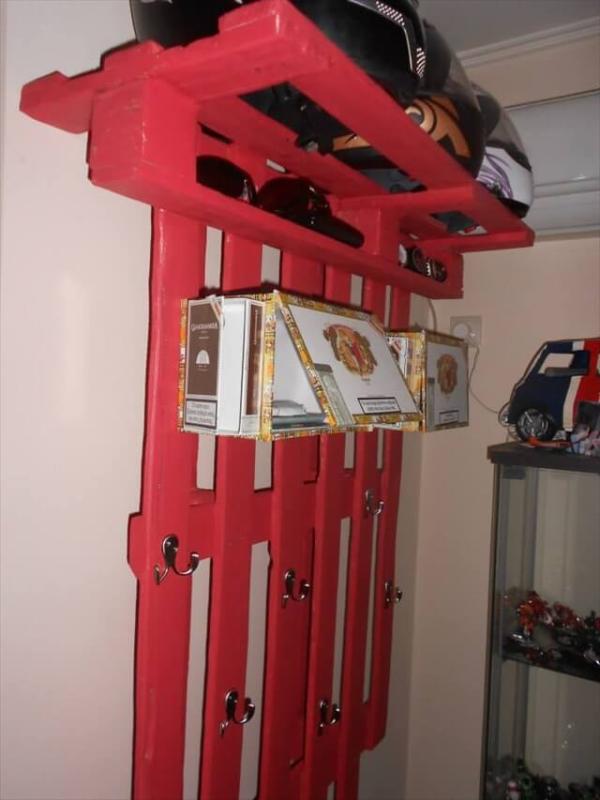 Let's start building the hook shelf from the top. It will require 2-3 wood pieces according to your space. Two medium large wood blocks will be used to support it. At second step nail down the long pallets to the top side. As it looks wood thing wood logs coming behind the top surface. Give them a design: leave the 2 small at sides and 2 large in middle. Now paint the whole DIY hook shelf pallets.

The upper portion can be used for keeping the biking stuff; the just lower shelf part can have an extra pallet for glasses, or small accessories. Stiffly paste and nail the hooks on various positions. The upper two hooks can carry the carton boxes. And for the other go on hanging the jackets, cloths or keys or anything which is in your possession.

Enjoy DIY Hook Shelf from Pallets!!!